The eternal volunteer of Boulder City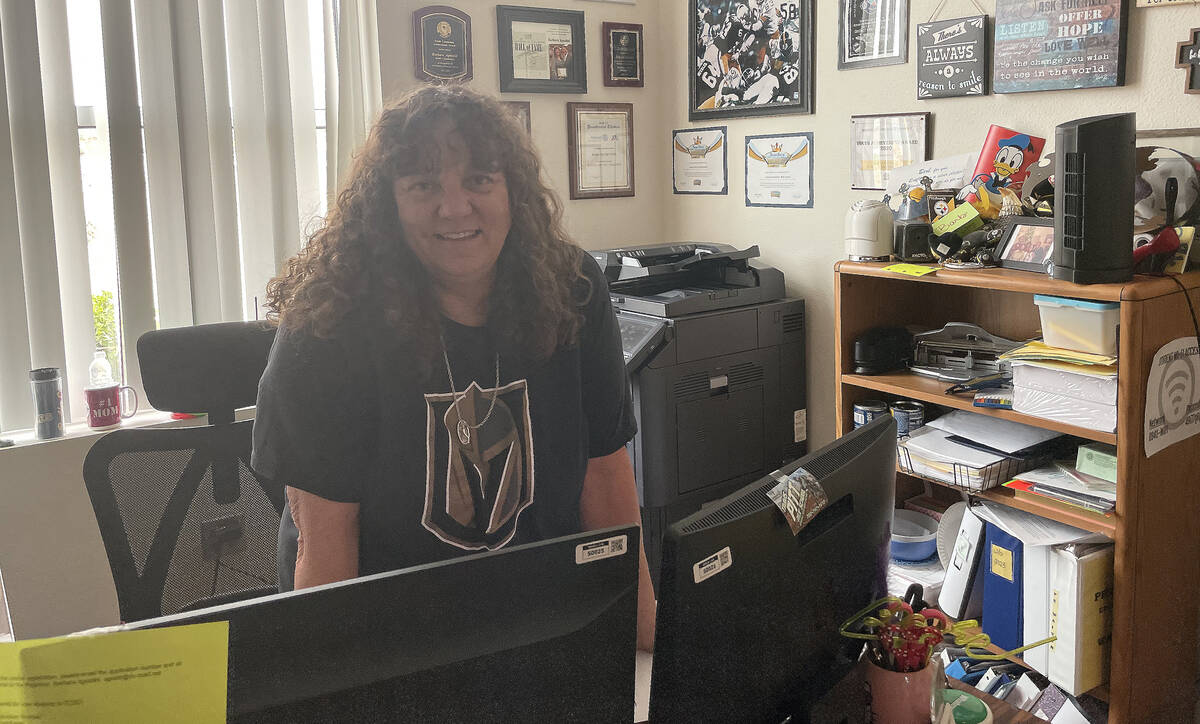 Name any public event in Boulder City and there is one face you are almost guaranteed to see there, Barbara Agostini.
She could be manning a booth or directing traffic in a parking lot or one of a million other activities, but she is always there. Mayors and city council members come and go. City staff may move on to other cities but for at least 26 years, Agostini has been the volunteer everyone could count on.
"Back when my kids were teenagers, they refused to answer the phone between March and July," she said. "Between preparations for Spring Jamboree and then the barbecue and the Fourth of July Damboree, they knew that every call that came in was going to be someone needing to talk to me about an event."
It is not just her kids who have noticed. When the Boulder City Chamber of Commerce asked members to name their "Best Of" honorees for 2023, Agostini got the nod for both Volunteer of the Year and Citizen of the Year.
The beginning of her volunteer juggernaut was pretty humble and actually it started with a complaint.
"My daughter was a Brownie and had been in the parade for the Fourth of July and it was really hot and it was a long way from the staging area all the way through the parade route for a six-year-old," she said.
"I asked someone I worked with at parks and recreation why they didn't move the little kids to the front of the parade to make it easier for them. She said, 'It's funny you say that. I am on the committee for the Damboree and we need more members. You should join.'"
She lets out a loud sigh, remembering her reaction. "And that was the beginning." She has been in charge of the parade for 25 years now.
Agostini has been the registrar at Boulder City High School since long before it moved to its current campus. As one of the few 12-month employees, she interacts in some way with almost every student at the school.
"Grading, all online stuff that has to do with registering, anything that has to do with reports and getting kids into school," she said.
While she has been at the high school almost as long as she has been in Boulder City, she did not land at BCHS right away. "I was a manager at McDonald's when I got here," she said. "But then I saw the opening at the high school and the schedule was just much better for a single mom with two kids," she recalled.
Agostini's two children graduated from BCHS and are now in their 30s and they are not the only markers of the time she has spent at the high school. "I see kids now who are graduating and I worked with their parents when they were students."
She is in charge of the Every 15 Minutes event that seeks to educate students on the dangers of impaired driving which happens every two years and also started what is called the Clothes Closet.
"It started when I told my own kids to clean out their closets and took the clothes they did not wear and put them in a small closet in the old building," she said. "When we moved to the new school, I got a bigger closet."
These days there is more in the closet than clothes. "We keep grab-and-go food there for kids who need it and people donate gift certificates for things like groceries and fast food. It means that if a kid who has no money goes out with their friends they can order something and not feel left out."
Speaking about her most recent award, she said "I didn't even know I had been nominated for anything. Then during Spring Jamboree weekend, while I was volunteering, they told me I had won both volunteer of the year and citizen of the year."
On the day Agostini was interviewed for this story, she had just come back to work from a rare day off. She had been a volunteer at the all-night Grad Night party for BCHS seniors because she is, of course, part of the Rotary Club, too.
"I do all of the big events and most of the small events," she said. "I do Spring Jamboree, the Damboree, Wurst Fest. I do the Honor Society and am senior class adviser here at the school. I volunteer at the police department. I help at parks and rec."
When asked what she does at all of these events her reply is simple, "Whatever needs to be done."