Swim with sharks: Fire captain douses doubts as he returns to sport in race near Alcatraz
August 24, 2016 - 1:06 pm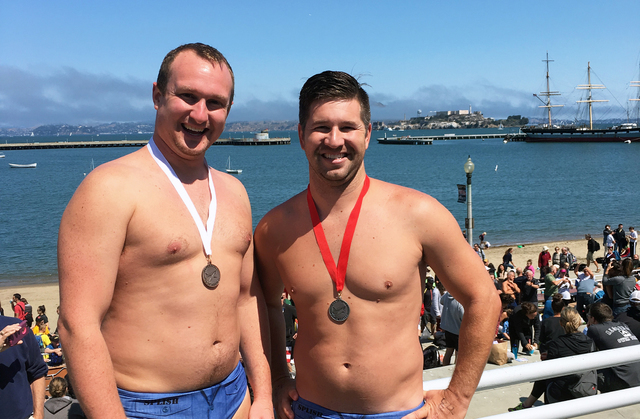 Boulder City local Aaron Bleck swam competitively all through his youth and the fire department captain recently returned to those roots Aug. 13 when he participated in the 24th annual Alcatraz Sharkfest Swim across San Francisco Bay.
Bleck finished second in the 30-34 age group out of 14 swimmers in the nonwetsuit category and Justin Armour, who swam competitively with Bleck while the two were growing up in Boulder City, joined him for the race and came in third in their age group.
Bleck finished the race in 42:50, while Armour's time was 47:03.
Bleck learned about the race from a co-worker and the idea of pushing himself to participate in the race started to become firm in his mind nearly two years ago, and it didn't take much work to get Armour to sign up.
"I just mentioned it to Justin one day after I had decided to do the race and he was on board," Bleck said. "He's a very positive, motivated guy and right away he thought it seemed like a cool idea."
The race began at approximately 9 a.m. after all 800 competitors had been ferried across the bay and dropped off in the water near the infamous prison, from where were challenged to swim the 1.5 miles back to the coast.
Bleck and Armour were among the 150 swimmers who chose to attempt the feat without a wetsuit, an extra challenge that seemed to appeal to only the more serious swimmers, according to Bleck.
It had been more than a decade since Bleck last competed, when he was a freshman in college at UNLV, and it took some serious practice to get ready for the challenge.
"I got back into the pool a couple of days each week for some practice, and I felt good because my form came back pretty easily," he said. "I work out and stay in pretty good shape for the fire department, but the real challenge was building my endurance back up. That and preparing for the cold water."
Bleck was able to tackle both problems by heading to Willow Beach on Lake Mead, where he said the water comes off the bottom of the lake and was reportedly a chilly 53 degrees.
"My dad and I would go out there and kayak upstream about 2 miles, then I would jump out and swim back to the beach," Bleck said. "It's so important to get your body ready when it's that cold to avoid cramping or losing it. The hardest thing is controlling your breathing and not hyperventilating in those temperatures where your body's first instinct is to kind of freak out."
It was a daunting challenge, according to Bleck, and not one he'd envision doing every year, but it is something he would like to do again, perhaps even every couple of years, as it was rewarding and he's pretty sure that with a little more work, he could have performed even better.
"I like to challenge myself personally and always try to better myself," he said. "It's nice to have a goal to work toward, something to motivate you to do something, rather than just sit around and watch the TV."
Bleck began swimming when he was 6 years old, the year his family moved to Boulder City, and he continued through high school and up until his freshman year of college at UNLV. However, the next year he left both swimming and UNLV behind to pursue a career as a firefighter, a path for which the university lacked options.
"I've always had a somewhat short attention span so I knew I didn't want to end with an office job stuck behind a computer," Bleck said. "I've always liked working with my hands; I like helping people and staying active. It's a job where every day is completely different and there aren't many jobs like that. It's nice."
In 2005, at the age of 19, Bleck was still attending UNLV, as well as swimming for its Division I program, when he began to take emergency medical technician classes at American Medical Response. Ten years later, in December 2015, Bleck was promoted to captain at the Boulder City Fire Department, which puts him in charge of his response crew unless the chief is present.
"I'm relatively young for a captain and I'm in pretty good physical shape," Bleck said. "I got this job because I enjoy working with my hands and I don't really want to be behind a desk. Taking that next step to chief may be the right move a little further down the line, but right now I'm thrilled where I'm at."
Contact reporter Hunter Terry at hterry @bouldercityreview.com or call 702-586-6711. Follow him on Twitter @HunterBCReview