Students show they care through valentine's, food drive
February 15, 2017 - 2:36 pm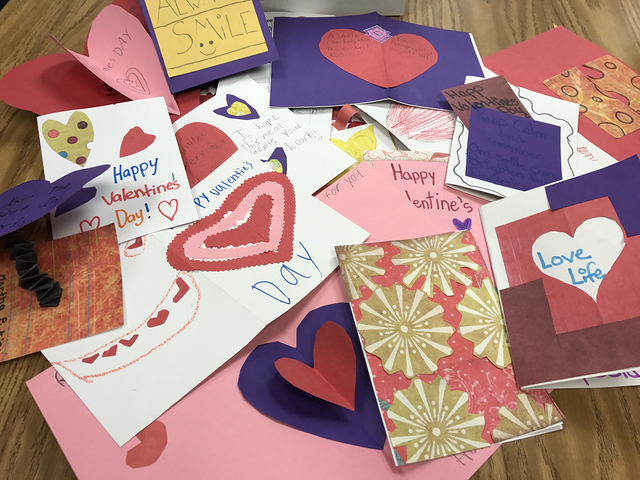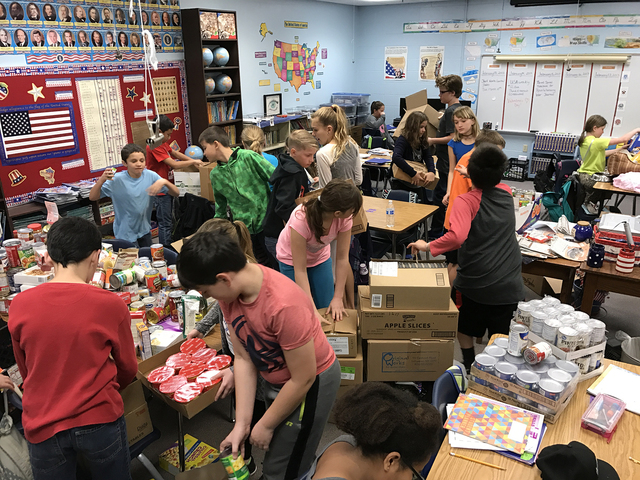 Fifth-graders from King Elementary School made Valentine's Day cards that were given to local senior citizens who receive food through the Meals on Wheels program.
About 150 cards, made by students in the classrooms of Melissa Combs, April Hoover, Lois Klouse, Annaliese Rogers and Carolyn Soliman, were delivered to the homebound seniors.
"The seniors will be so thrilled to receive these Valentine's Day cards. They love getting things from the kids," said Leslie Freebairn, coordinator of the Meals on Wheels program at the Senior Center of Boulder City.
Additionally, the students collected nonperishable donations through Project Eagles Care for Emergency Aid of Boulder City and the pantry at Christian Center Church. In all, 1,027 items were collected.
The food drive doubled as a math lesson for the students, according to Rogers. They gathered data on the types of items collected per grade level, teacher and school to create graphs and histograms.
"These graphs showed the students a quick and easy way to read data on the collection," she said.
Project Eagles Care also had the students making posters promoting adoption for the Boulder City Animal Shelter.
"Our community is so supportive of our schools that, as fifth-grade teachers, we decided that our students would benefit from giving back. We decided that Valentine's Day would be a good time to show Boulder City that we care," Klouse said. "We wanted to help and give back to as many groups as possible, so we came up with Project Eagles Care. Our students are organizing, advertising and running the drives to support the food pantries, animal shelter and Meals on Wheels. We feel that giving back and helping others will help our students grow as citizens of our community."