St. Jude's begins 50th anniversary celebration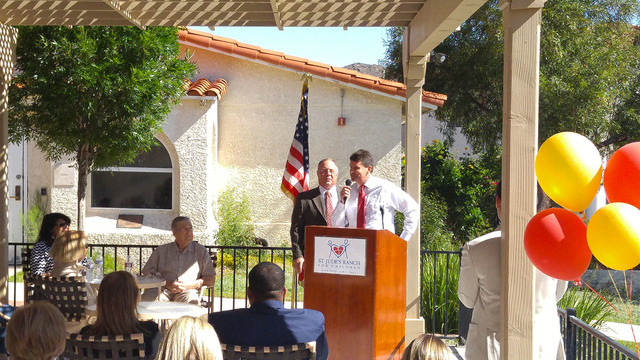 St. Jude's Ranch for Children held a ceremonial ribbon cutting Monday morning, kicking off its 50th anniversary, celebrating half a century of providing support for traumatized children in Southern Nevada.
The event began with an introduction by the Boulder City ranch's new CEO Mark Whitley and congratulatory speeches from Boulder City Mayor Rod Woodbury, Henderson Mayor Andy Hafen as well as legendary Strip performer Shecky Greene.
Along with Frank Sinatra and Dean Martin, Greene was one of the ranch's original supporters and fundraisers when the foster home campus was conceived in 1966.
"People may not know how important this place is to me, but I started this originally with Father Jack Adams," Greene said. "I got the first fundraising shows organized, with all of the celebrities raising money for this incredible cause. When they told me about the 50th anniversary, I just had to be a part of it."
Whitley was named CEO of the ranch in September 2015 after a tumultuous end to his predecessor's administration, which became mired in reports of mismanagement and misuse of funds.
"We did lose the support of some important partners after the problems last year," Whitley said. "But we have things back on track, we've seen an increase in new donors and we're continuing to repair the relationships that may have suffered."
Before he was named CEO, Whitley was the ranch's chief financial officer and has a long background working with disadvantaged youths as CFO for Opportunity Village, and communities and schools before that.
"The children still have the same kinds of needs, hopes and aspirations they've always had," Whitley said. "We're excited about St. Jude's moving forward and this year we'll be having a number of celebratory events through this year to raise awareness, leading up to the big Night of Stars Gala in November."
St. Jude's Ranch takes in children from across Southern Nevada, up to the age of 18, providing clean clothes, a safe home and structured care that takes endangered children, and groups of siblings, out of bad situations and gives them a chance for a better upbringing.
"The ranch has such amazing programs, not just taking care of these kids in need, but teaching them responsibility and how to give back to the community," said Bridgette Terrill, a Boulder City resident who attended the ribbon cutting. "Some of my children's best friends are kids that live here; we're like a modern day Mayberry and I'm so proud that this is part of our community."
To volunteer or find out more about St. Jude's Ranch for Children, visit https://stjudesranch.org/ , call 702-294-7100 or stop by in person of U.S. Highway 93 at 100 St. Jude's St.
Contact reporter Hunter Terry at hterry@bouldercityreview.com or call 702-586-6711. Follow him on Twitter @HunterBCReview.