Springgate-Hill succumbs to cancer
October 20, 2016 - 9:43 am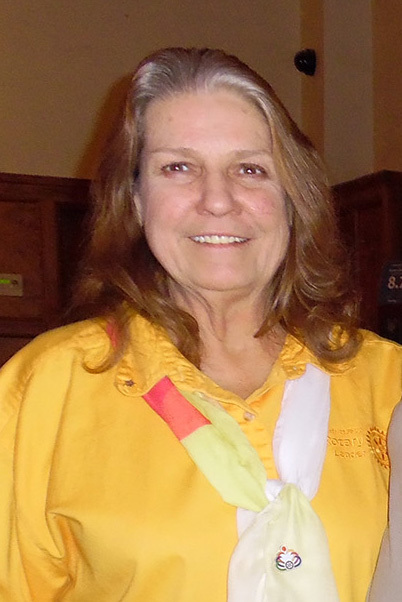 Longtime Boulder City resident and volunteer Glenda "Christy" Springgate-Hill died Friday after battling liver cancer for nearly a year. She was 57.
"Amazing" was the word most often used to describe her by family and friends.
"If she couldn't go out and help people, she wasn't happy," said her husband, Rick Hill.
Springgate-Hill was a past president of the Boulder City Chamber of Commerce's board of directors and of the Rotary Club of Boulder City. She also was involved with the Friends of the Arts and Friends of the Boulder City Police Department.
She volunteered at numerous community events.
"If there is ever a lady in our Boulder City history to be declared 'The Go-To Person,' it is Christy Springgate-Hill," said Jill Rowland-Lagan, CEO of the chamber of commerce. "There was never an event she couldn't handle, a problem she couldn't tackle, or a task she couldn't accomplish. She never gave up on anyone or anything. Christy embodied her personal motto of service beyond self."
She was twice honored by the chamber with its Eva McGarvey Memorial Award for outstanding service to the chamber of commerce and community.
"She just was the one to give you the shirt off her back; she was the most sweetest, selfless person I have ever known. And she gave absolutely everything," said Marcie Gibson, who called Springgate-Hill her best friend. "I don't think there was one event that she hasn't run or had a part in."
Especially active with Rotary, just last week she was offered an assistant governor's position for the region that stretches from Los Angeles to Mesquite, Nevada, said John Chase, a past president of the Rotary Club of Boulder City, who served with Springgate-Hill in the club.
"It talks to the impact she had for the Rotary Club of Boulder City, as well as the district," he said.
"It really stinks," he said about her death. "It's not only a loss for her family and our club, but for Boulder City. … She had her hands in everything; she really cared for the city."
In return, her friends and members of the community rallied around Springgate-Hill in the past months, and Hill said they both were appreciative of all the support and help they received during her illness.
Springgate-Hill was born March 8, 1959, to Glenda and Dewey Shive. She was raised in Yuma, Arizona, and was a 1977 graduate of Yuma Union High School. She attended a medical school for a few years but quit to help her family through a difficult time.
Springgate-Hill spent most of her adult life in Boulder City and was manager of the city's first McDonald's. Most recently, she worked for Papillon Grand Canyon Helicopters.
Hill said he was introduced to his wife when they were playing pool and were married on Thanksgiving in 1991.
In addition to her volunteer efforts, Hill said they enjoyed spending time together camping, boating and going on trips on their motorcycle.
Springgate-Hill was officially diagnosed with cancer Jan. 5, although her doctors had been hinting that she might have the disease since November, she said in April when sharing her story to help raise awareness for the American Cancer Society's Relay For Life fundraiser.
She is survived by her husband of nearly 25 years, Rick Hill; their son, Taylor, and his fiancee Alyssa; stepdaughter, Rochelle Hill, and her three children Jasmine, Serenity and Nolan; her mother and stepfather, Glenda and Chuck Persing; and siblings, Kay Loving, Randy Shive, Lee Shive, Michael Persing, Andrea Persing, Kathy Cruse, George "Bill" Shive, Jerry Shive and Jessie Coolbaugh.
A celebration of her life will be held at 11 a.m. Oct. 29 at Boulder Creek Golf Club, 1501 Veterans Memorial Drive. The Rev. Sandy Johnson, pastor of Boulder City United Methodist Church and fellow Rotarian, will conduct the service.
A luncheon for family and friends will follow the service.
There also will be a celebration from 2-5 p.m. after the luncheon at Jack's Place, 544 Nevada Way.
In lieu of flowers, the family requests that donations to help pay for medical and celebration of life expenses be sent to Boulder Dam Credit Union, 530 Avenue G. The account number for Glenda Springgate-Hill is 76429008.
Hali Bernstein Saylor is editor of the Boulder City Review. She can be reached at hsaylor@bouldercityreview.com or at 702-586-9523. Follow @HalisComment on Twitter.