Sole support: Pavlowski on mission to provide shoes to needy youth
August 18, 2016 - 7:04 am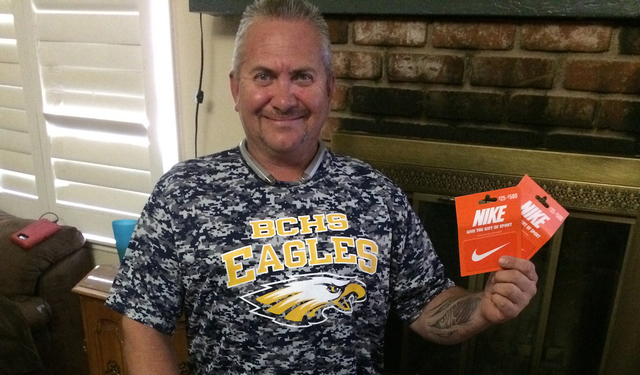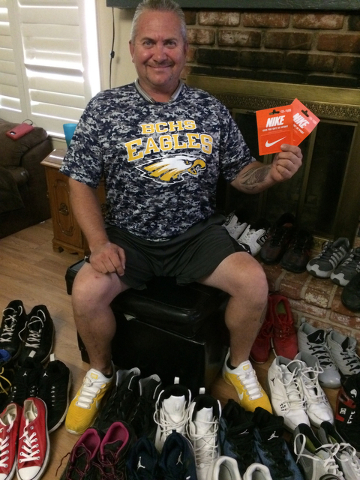 No child should be ridiculed or bullied because they didn't have a new pair of shoes to start the school year.
That philosophy is the driving force behind Rob Pavlowski's one-man campaign to ensure that every kid in junior high or high school in Boulder City who needs a new pair of shoes has one.
He started this effort three years ago, a year after moving to Boulder City from the Las Vegas Valley. He was dropping off his sons, Robert Jr. and Christopher, at Boulder City High School and Garrett Middle School and saw some children wearing shoes that looked like they were falling apart.
"It hurt my heart," he said noting how he remembers always showing up on the first day of a new school year in a new outfit with new shoes.
So the man with a self-proclaimed addiction to shoes went to his closet, pulled out new pairs of Nike, Air Jordan, adidas and Fila shoes and put a message on Facebook that if any child needed new shoes, he had some.
"I didn't ask for anything — and my wife (Dina) was grateful to get the shoes out of the closet," he said.
After that first year, friends began asking if he would give away shoes again and he began collecting pairs to give away. While the shoes may have not been new, they were practically new and he cleaned them up.
"This is nothing I want recognition for," he said. "It's just something we need to do as humans. It doesn't hurt somebody to be nice."
This year, his fourth, Pavlowski wants to give away only new shoes and is asking for donations of shoes or $20 gift cards to the Nike store. He said he shops at the Nike Factory Store on South Eastern Avenue and gets a special rate.
"Now I have six kids looking for shoes, and that's after just 24 hours on Facebook," he said.
He said he doesn't ask for qualifications beyond the fact that the child will be attending junior high or high school and he or she lives in Boulder City. All he needs is a request and a new pair of shoes will be provided.
"It's not on me if you're lying. I will help anyone who asks. I just did what God put on my heart — to make sure kids get shoes," Pavlowski said.
This personal shoe drive is not the only way Pavlowski, owner of Xtreme Detail, gets involved in the community. A member of the Rotary Club of Boulder City's Satellite group, he also volunteers with the Boulder City Chamber of Commerce, helps raise funds for the wrestling team at Boulder City High School and area paramedic Explorers, and sets up fire extinguishers for Boulder City Hospital's Art in the Park.
"Anything we are asked to help with," he said about his philosophy for volunteering.
"For a new resident he has gotten involved in everything he can. He is the epitome of the kind of residents we would love to have in Boulder City," said Christy Springgate-Hill, a past president of the Rotary Club of Boulder City and longtime community volunteer.
Pavlowski, whose grandfather worked on Hoover Dam, said he and his wife made a commitment to raise their kids in Boulder City because it was the kind of place where you could be friends with your neighbors and truly become a part of the small town.
"I don't see myself as a hero — just as someone who wants to help," Pavlowski said.
Hometown Heroes focuses on the people who make Boulder City a great place to live. If you know of someone who deserves to be recognized, please send a short paragraph about why you feel this person should be honored, along with how to get in touch with him or her and your name and telephone number, to hsaylor@bouldercityreview.com.
Hali Bernstein Saylor is editor of the Boulder City Review. She can be reached at hsaylor@bouldercityreview.com or at 702-586-9523. Follow @HalisComment on Twitter.