Slow drains can lead to costly repairs
January 11, 2023 - 4:04 pm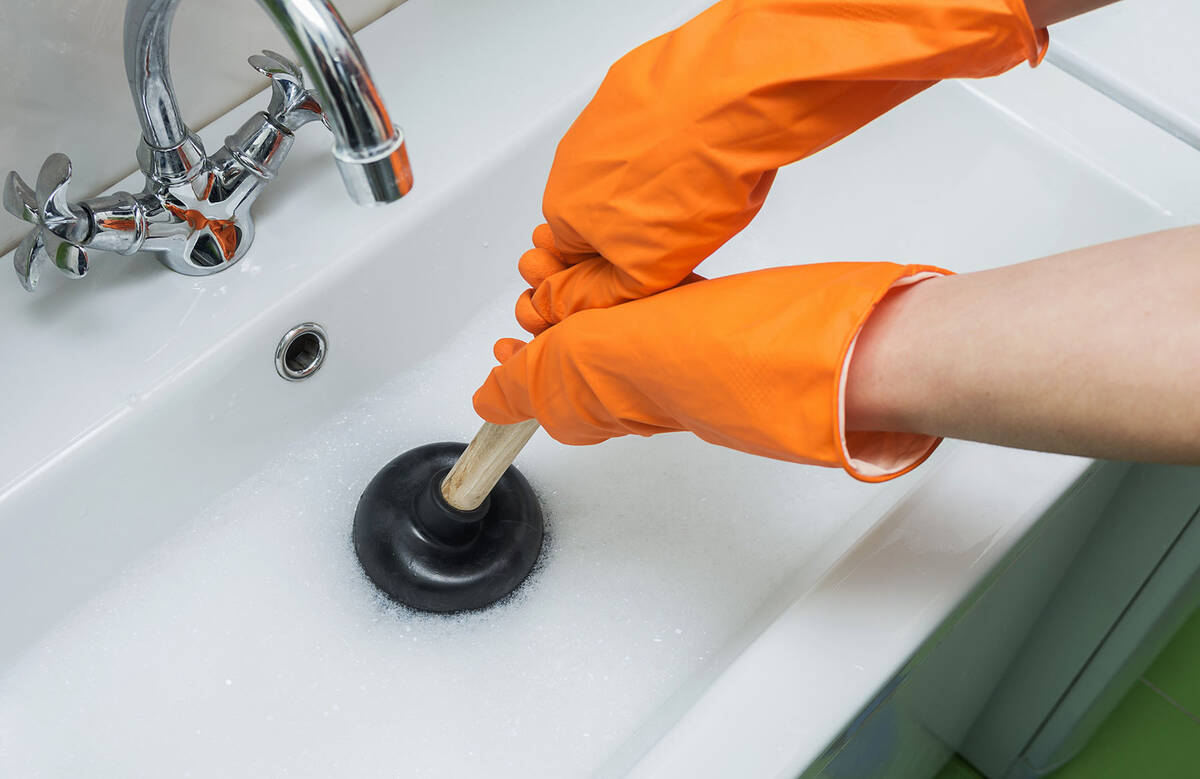 Nothing puts a kink in your kitchen or bathroom like a backed-up drain. Treat it quickly and avoid an out of commission sink, shower or tub. Let it go from slow drain to standing water and you'll be in for a messy, smelly, unsanitary and potentially costly repair.
The best way to avoid getting a clog is by not putting things down the drain that don't belong there. Hair (pet hair) and grease are obvious culprits. Even tiny bits of grease that liquefy in hot water, become solid through cooler sections of your waste line.
Hardened grease and sludge build up inside the pipe, narrowing its diameter — like clogged arteries — until there's a blockage. Hair will clump as well and act as a net, catching small particles that would normally pass through, multiplying the issue.
Less obvious cloggers are starchy foods that expand in water and become paste-like. Rice, beans, potatoes, etc. are no-no's down the garbage disposal. Fibrous foods like celery and artichokes can wrap around disposal lugs and jam the unit. Other disposal taboos are rinds, stems, pits, coffee grounds and eggshells. A general rule of thumb: if you wouldn't eat it, don't put it down the drain.
InSinkErator, the world's largest maker of garbage disposals, recommends the following to clean your disposal:
"▶ Turn off power. Turn off the garbage disposal and disconnect the power supply.
▶ Clean the baffle. Reach through the sink opening and clean the underside of the baffle and inside the upper lip of the grind chamber with a scouring pad.
▶ Fill the sink with water. Place the stopper in the sink opening and fill the sink halfway with warm water.
▶ Mix baking soda and water. Mix ¼ cup of baking soda with water in the sink. Turn on the garbage disposal and remove the stopper from the sink at the same time to wash away loose particles."
An accidental drop of say, an earring, down the drain can usually be retrieved from the P-trap. This "P" shaped pipe is designed to trap sewer gasses from backing up into the house, but luckily traps most things that fall down the drain.
To open the trap: Shut off the water. Clear the area around trap. Place a bucket under the trap and unscrew the nuts at the top and bottom of it. Empty the water and debris in the bucket (it will likely be gross). Retrieve your article. At another sink or outside clean/hose out the trap and reassemble.
If the bathroom sink has a pop-up stopper, the dropped article may have gotten tangled in hair trapped around it. DIY videos are available to see how to unscrew and clean a pop-up.
There are basically two approaches for clearing drains: chemical and mechanical. Chemical uses a caustic product that "eats" through the clog.
Caution: never use a chemical drain opener in standing water. The chemical will sink to the bottom of the pipe and damage it as well seals in the plumbing system. It will also be dangerous to snake or plunge with corrosive chemicals splashing around. Be aware they produce toxic fumes and should be used with extreme caution.
Mechanical drain openers range from plungers to motorized snakes, the latter of which is better left to professionals. Remember when plunging, it's all about creating suction. The plunger head should be totally submerged in water. Also seal overflow holes in the sink or tub to create proper suction.
A handheld drain auger is a practical DIY tool. Keep in mind that when feeding the cable down the drain, the first time it gets stuck, you likely hit an elbow or joint; it takes time to get to the clog, so have patience.
Two things I do regularly to maintain my pipes: 1. Pour boiling hot water down them every month or so to loosen sludge/biofilm; and 2. Use a natural, nontoxic drain cleaner like Drainbo once a month to decompose debris without harming pipes or the environment.
Norma Vally is a seasoned veteran of home improvement; her career includes four seasons as host of Discovery Home Channel's Emmy-nominated series "Toolbelt Diva." A columnist and author, Vally splits her time in Southern Nevada, Los Angeles and New York City. Follow her on Facebook at Norma Vally "Toolbelt Diva" and visit her at www.NormaVally.com. Email Norma@NormaVally.com.