'Shrek' to christen new theater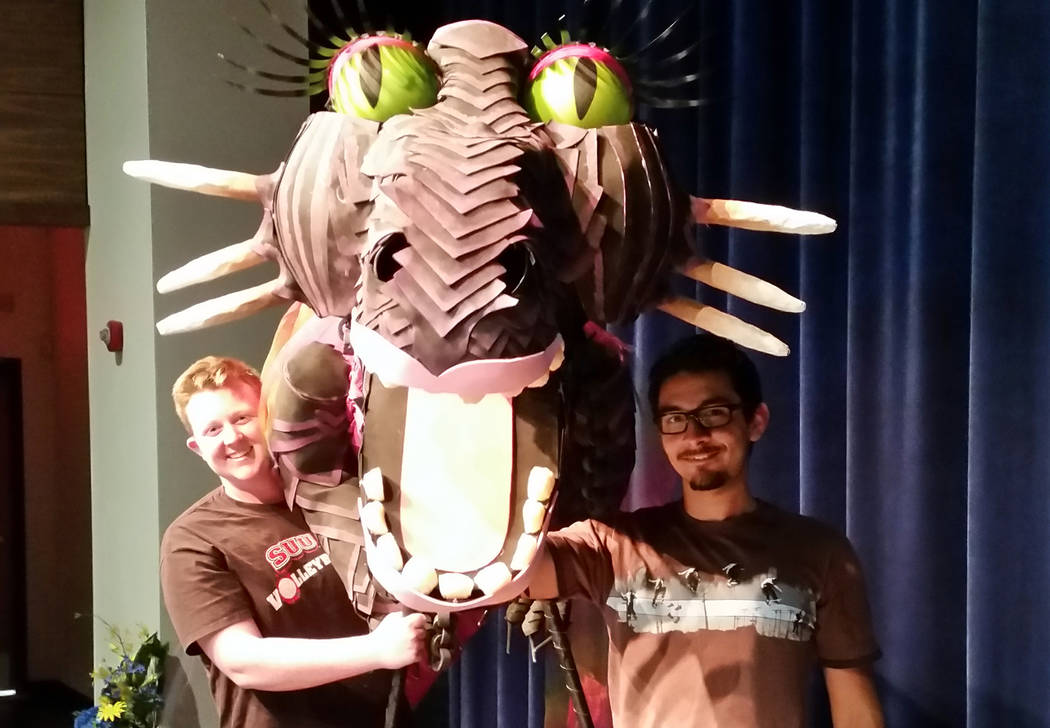 Students at Boulder City High School will be performing "Shrek the Musical" next week, the first drama production in the new theater.
Drama teacher Krysta Phenix said the school usually does two productions a year, but this is the first musical students have done since 2015.
"I knew that it would be possible with the compressed timeline because of the theater opening in March," she said.
She and the students had five and a half weeks to rehearse, rather than the usual 10 a musical takes.
Because of the time constraints, Phenix said that doing a fantasy story can be easier for performers, especially if it's their first performance or musical.
"It's an easier leap to play something in a fable," she said. "I think it's a good jump for them."
There also wasn't a lot of time to learn how to operate the new equipment or coordinate information about it beforehand. Phenix said she and the students are doing that while they are rehearsing.
"There are a lot of challenges," she said. "Time is the biggest one. Because we didn't have the theater, it was difficult to plan."
Despite these issues with making the production happen, Phenix said she isn't worried. Rather, she is focusing on the process and what the students can learn from it.
"I care more about what the kids are learning," she said. "It's been exciting seeing the kids develop and experience something new."
Presenting a musical on campus is giving many students an opportunity to participate in one for the first time.
Senior Lauren Stewart is playing Fiona. This play is her fifth drama production but her first musical. She said she's excited to do this for her last high school performance, because she can "go out with a bang."
She's also looking forward to the audience, "because there is nothing better than at the end when everyone is clapping."
"I like it better because it's a fantasy," she said about performing in "Shrek." "It's something different."
Boulder City High School student Aron Eaton has been in various productions at school and with community theater groups. He is playing Donkey in what will be his third musical. He said he's looking forward to performing in the new theater.
"It feels different, because it feels like the real thing," he said. "You're actually in something."
"Shrek the Musical" will be performed at 6 p.m. May 9-12 in the theater at Boulder City High School, 1101 Fifth St. Tickets are $5 in advance and available for purchase from the school banker. They are also available at the door for $8.
If you go
What: "Shrek the Musical"
When: 6 p.m. May 9-12
Where: Boulder City High Schoo, 1101 Fifth St.
Cost: $5 in advance, $8 at the door