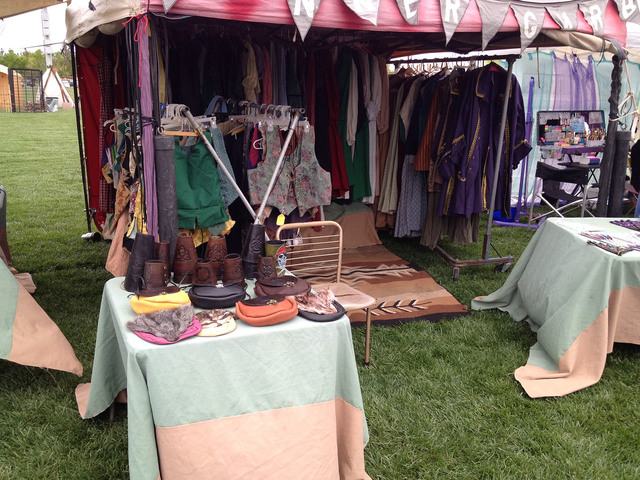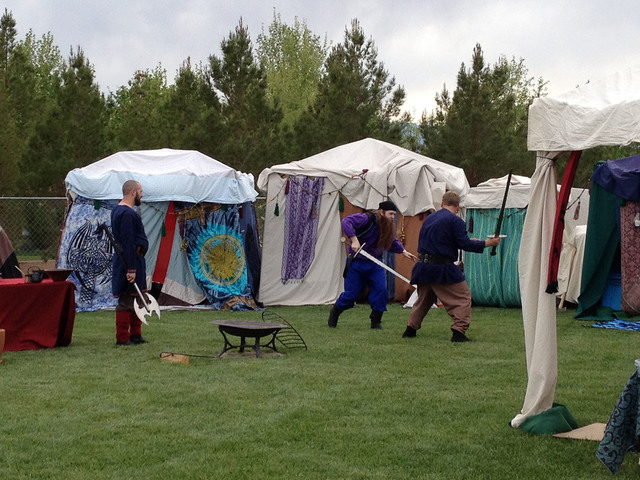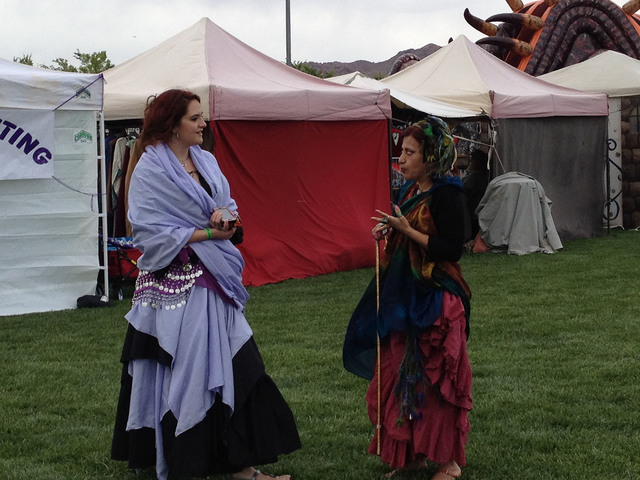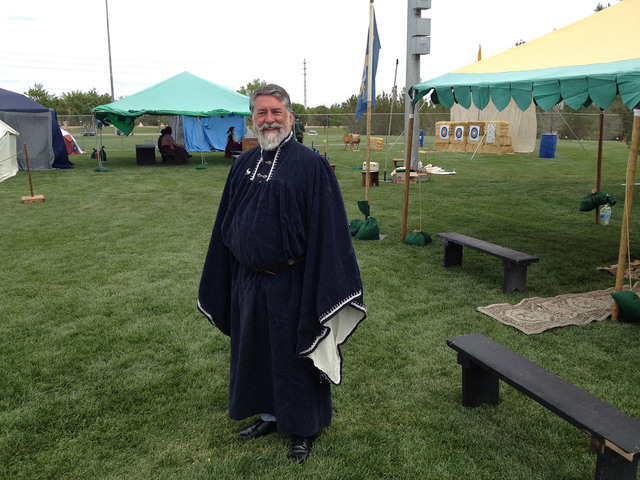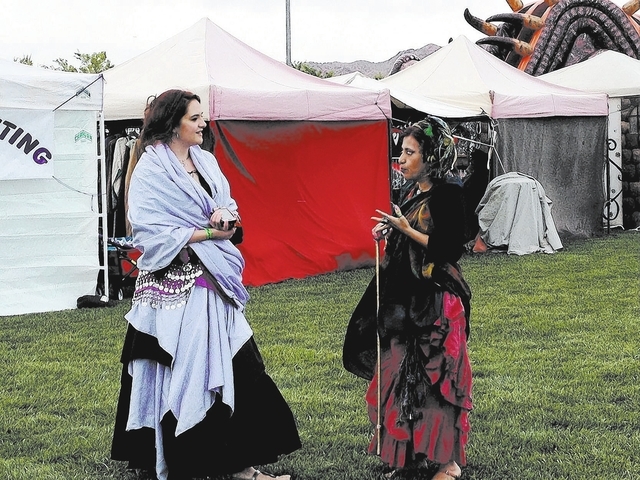 On a muggy Friday afternoon at Veteran's Memorial Park, Sir Gregor stands dignified with his handlebar mustache wearing his navy blue cloak.
"Your majesty," he says softly as he bows before a woman dressed in medieval clothing.
He bellows out a hearty and majestic laugh and tells everyone he's dressed in a houppelande, a long-sleeved robe that became popular in the 14th century. He never breaks character.
It's the ninth consecutive year Boulder City has hosted a Renaissance Faire, and Sir Gregor has been a part of every one. He runs the archery demonstration so lords and ladies can hone their bow and arrow skills.
"The nostalgia of the chivalrous period is why I love it so much," he says. "The lure of full-armed combat is so historic."
Like Sir Gregor, Amy Gylstorff and Don Charette enjoy the history of the Middle Ages. They sit on a log near their pirate ship and sip from their chalices. They're from the pirate guild, one of nine guilds featured at the festival. The familiar environment and the history behind the Middle Ages lifestyle makes the experience worthwhile for them.
"It was a time of great community," Gylstorff said in reference to the Renaissance period. "And having all of the guilds together make this an extended family."
Charette said for him, the opportunity to be somebody different is an exciting feeling.
"I just like escaping from reality for a bit," he said. "You can get away from your 9-to-5 job, eat good food and drink good mead."
The pirates, Vikings, Romans, Gypsies, Elizabethan royalty and the French were some of the guilds on display at the Renaissance Faire. Festival organizer Cathy Strachan said all of the guilds researched their history and made their own clothing.
Strachan, the adviser for Future Business Leaders of America at Boulder City High School and coordinator of the Renaissance Faire, said the fair gives FBLA students the opportunity to learn how to coordinate an event. It provides funds for the Boulder City High club to attend competitions and events, said Jill Rowland-Lagan, CEO of the Chamber of Commerce.
But the inability for vendors and guilds to put stakes in the ground has hurt the festival's turnout, according to Strachan.
"We used to have 18 guilds," she said. "This year we only have nine."
John Pierce, who goes by Capt. Long John MacEwen when in character, said he and other guilds hope to convey the importance of the historical period to those who attend the festival.
"We're trying to teach history through living history," he said.
Those who attended the festival had the opportunity to learn how to make rope, play with an enormous wooden chess set, fight with swords and go down a giant inflatable slide that resembled a dragon. Craft beer and giant turkey legs were also available for festivalgoers.
There was even a man teaching people how to play the harp.
Strachan said she's hoping to have jousting at next year's festival.
Contrary to popular belief, she said, the people who participate in Renaissance Faires don't just dress up in costumes and look for excuses to get drunk.
"These are people who are interested in history," she said. "Whatever time period they choose to do, they research it as much of possible."