Seniors re'Kindle' love for books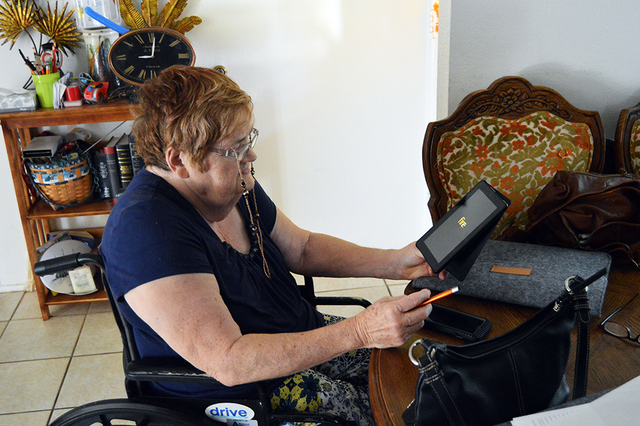 The Senior Center of Boulder City is trying to get seniors back into books with a new program that combines reading and technology.
With the help of the Boulder City Library, the senior center launched its e-reader program that allows elderly members of the community to borrow Amazon Kindles.
A Kindle is a device that allows people to store, read and listen to books electronically.
The program was created by senior center employee Emily Clark, who wanted to help homebound seniors or seniors who could not afford an internet connection to borrow a free device that could store a large number of books.
"This is about giving the homebound seniors in our community something to read," Clark said. "I love to read and I cannot imagine being old and unable to leave your house to get new books. This program was created so no senior in the community has to be without a good book."
Utilizing grant money from the MGM Resorts Foundation, the senior center has 21 Kindles available and seniors can use them for as long as they want.
Clark said the reviews she receives on the program are mixed.
"Some people love our program. I come by and ask them what books or magazines they want and they just love reading off the Kindle," Clark said. "Other people don't like it because learning new technology is hard. I visited a 95-year-old man who wants nothing to do with the Kindle."
Sheryl Calvert of Boulder City said she loves the program and it has helped her keep up with her love of reading after heart problems and a leg amputation left her homebound.
"I use the Kindle daily," Calvert said. "After my health kept me in my house so much I couldn't get new books, but the Kindle is great! I am really grateful to have a program that lets me continue my love of reading."
The Boulder City Library made sure the program went off without a hitch by assigning a library card to each Kindle, assuring program participants that they would not have to pay for a book.
The online library card also makes it possible for program users with an internet connection, like Calvert, to check out books from their home.
Calvert said she checks out books online all the time.
"I am always checking out new books right from my Kindle," Calvert said. "I can read a book within a day so it is great to have a whole bunch of books right in front of me."
Calvert added she enjoys using her Kindle rather than reading from a book now because the lightweight device is more versatile.
"At my age it is really hard to hold a book for a long time," Calvert said. "The Kindle is so easy to hold and I can do other things like play solitaire or do a crossword puzzle."
Library technology specialist Samantha Evangelho said helping Clark set up the Kindles was a no brainer and worthwhile thing to do.
"It just sounded like a good service so it didn't make sense to not help out," Evangelho said.
For more information about the e-reader program, call the senior center at 702-293-3320 or send an email to scbceread@lvcoxmail.com.
Contact reporter Max Lancaster at mlancaster @bouldercityreview.com or at 702-586-9401. Follow him on Twitter @MLancasterBCR.