Salon joins new businesses on Elm Street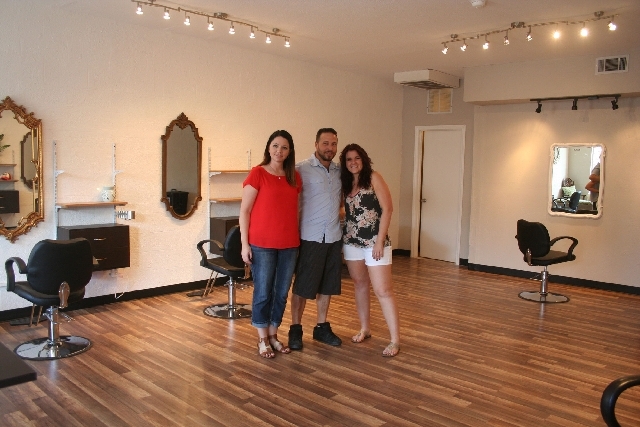 The latest beauty salon in Boulder City opened last month, but will host its grand opening Aug. 17
Serenity Salon and Spa, 1005 Elm St., opened July 23. The business is owned by husband and wife Ted and Sarah Iwinski, and family friend Lacey Daly.
Sarah Iwinski said the salon provides many kinds of beauty services ranging from hair to nails, facials to body waxing, spray tanning and more.
"You can get absolutely everything done, except a massage," she said.
The salon will employ at least six hairdressers, two nail artists, an esthetician, and a person to work the spray tan booth.
The grand opening, which will run 9 a.m. to 8 p.m., will focus on a back-to-school drive for school supplies to be donated to Boulder City schools.
"We are doing a back-to-school type of event for the grand opening," Sarah Iwinski said, "where if you bring in a school supply you get a kids hair cut for free."
Hailey Broadbent, a 2007 Boulder City High graduate, will be one of Serenity's hairdressers.
"I'm excited about the excitement and passion being put into the salon," Broadbent said. "Also how much I will grow from all of it. I will be working in Serenity part time until summer, and will get more hands on as I build up my clientele in this town."
Broadbent graduated from Aveda Institute Academy of Las Vegas in 2008.
Serenity will sell men's and women's hair products, such as Matrix, Rusk, Sexy Hair, and more. The Iwinskis said their clientele will range from high school-age to middle-aged customers.
Sarah Iwinski had always known she wanted to own her own salon. Boulder City, she said, seemed like the right place to do it when she and her husband moved here a few years ago.
"I have been a hairdresser for 17 years, so it's always been something I've strived for," she said. "The opportunity opened up and we were able to jump on it. We live in Boulder, so it's two streets up from our house. I work in Henderson right now, so it will be nice to have something close."
Daly also worked at the same hair salon in Henderson.
The owners have revamped the salon building, which was sitting empty when they acquired it.
"It's fun to see it all come together," she said. "Two months ago this place had blue carpet."
The salon has a modern finish with touches of antique décor to accent the vintage town in which it resides.
"We gutted the whole place," Sarah Iwinski said. "At first we wanted something more modern and clean, then when it comes down to it, that's really not Boulder City. We are trying to incorporate some of the clean modern, with the old Boulder City."
Sarah Iwinski grew up in Alabama. She moved to the Las Vegas area in 1999 after attending at Utah State University and New Horizons Beauty College.
"My roommate was in beauty school," Sarah Iwinski said. "I was working two jobs and going to school full time and my roommate made more money than me only working 25 hours a week. I went to beauty school and still graduated college in four years."
The Iwinskis still strive to continue learning about beauty care.
"I constantly take classes, and keep up on what's going on," she said. "This year alone, Ted, who is a hairdresser also, and I have taken eight classes just to keep up."
Serenity will be open 9 a.m. to 8 p.m. Monday through Saturday.
Serenity joins a group of new businesses on that stretch of Elm Street. Family Barber opened in February, and Fox Smokehouse BBQ opened in March
"We are excited to be out here and excited to work," Sarah Iwinski said.