Robotics team 'climbs' over competition; BCHS High Scalers rank first in scaling, place in top 10 overall at regional contest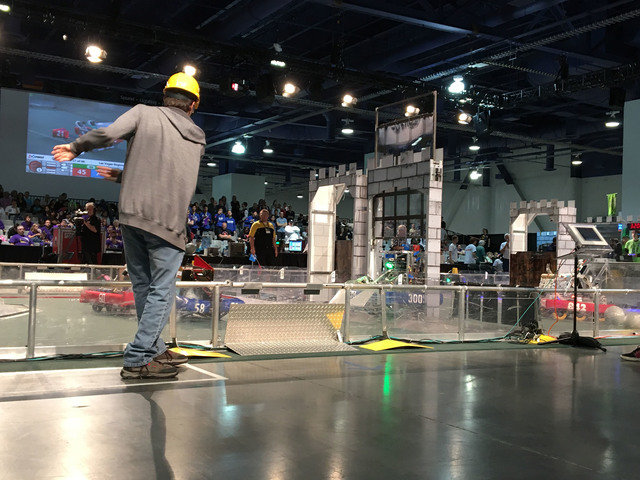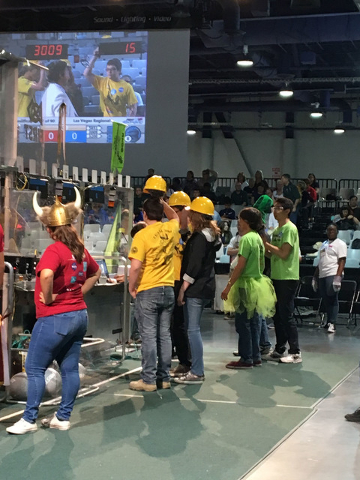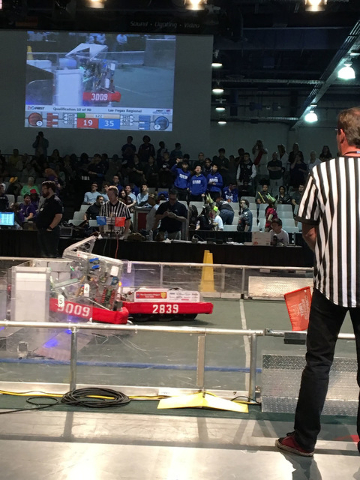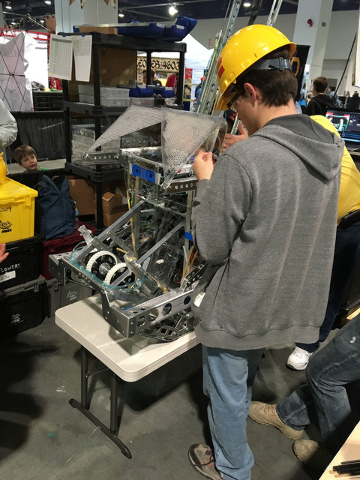 The High Scalers, Boulder City High School's robotics team, now in its eighth year, competed against 48 robotics teams from around the world to take 10th place at a regional competition held at the Las Vegas Convention Center last weekend.
The competition, which ran March 31 to Saturday, brought high school robotics teams from California, Nevada, Arizona and Colorado as well as about 10 teams from Mexico, Brazil, China, Denmark and Germany to the FIRST Robotics Las Vegas regional competition near the Strip.
"What they call it is a sport for the academics," said Boulder City High School robotics advisor Garth Schulz.
Schulz and three mentors were on hand at the competition to help the students solve problems and repair their robot when necessary between matches.
"FIRST Robotics Competitions combines the excitement of the sport with the rigors of science and technology," the Clark County School District announced one day before the start of the Stronghold competition. Teams of about 10 high school students "are challenged to build and program a robot to perform tasks against competitors."
These tasks include trying to breach opponents' fortifications, weakening their towers with boulders and capturing opposing towers. Robots score points by breaching opponents' defenses, scoring boulders through goals in the towers and eventually surrounding and scaling the towers, according to the competition's website.
Teams participated in practice sessions March 31 at the convention center and qualification matches began at 9 a.m. the next day.
The High Scalers, a team of one coach, four drivers, two team scouts and a safety captain, competed as part of several three-team alliances in eight matches Friday and three more Saturday. They won eight of the 11 matches and earned the competition's top marks in the scaling challenge.
Boulder City High School's team, made up of three seniors, one sophomore and four freshmen, "had the highest scale/challenge points of all teams at the conclusion of the qualification matches," team mentor John Richner said. "Points are based on the robot's ability to scale/climb the tower."
It came as no surprise to the High Scalers, who also won the most scale/challenge points of 52 teams at a Flagstaff competition in March and named their team after their robot's ability to climb walls.
"We also won the 'Excellence in Engineering Award,' sponsored by Delphi, which 'celebrates an elegant and advantageous machine feature,' for our unique and reliable design for our robot climbing feature," Richner said.
Schulz said while the robotics club teaches students programming, building, electronics and engineering, it also teaches them to challenge themselves and that college is within reach.
He and the mentors created a board of the club's alumni, which includes two 2016 Olympics hopefuls and students studying engineering at West Point, University of California, Berkeley, University of Nevada, Reno, and UNLV, among other schools.
Six other Clark County schools also competed at the Las Vegas event: Cheyenne, Cimarron-Memorial, Clark, Sierra Vista and Sunrise Mountain high schools and Northwest Career and Technical Academy.
Boulder City and Cimarron-Memorial high schools were the only Nevada teams to place in the top 10, according to final rankings on the competition's website. Cimarron-Memorial ranked first in the competition.
Contact Kimber Laux at klaux@bouldercityreview.com or 702-586-9401. Find her on Twitter: @lauxkimber