Receptionist's keen eye helps save man's life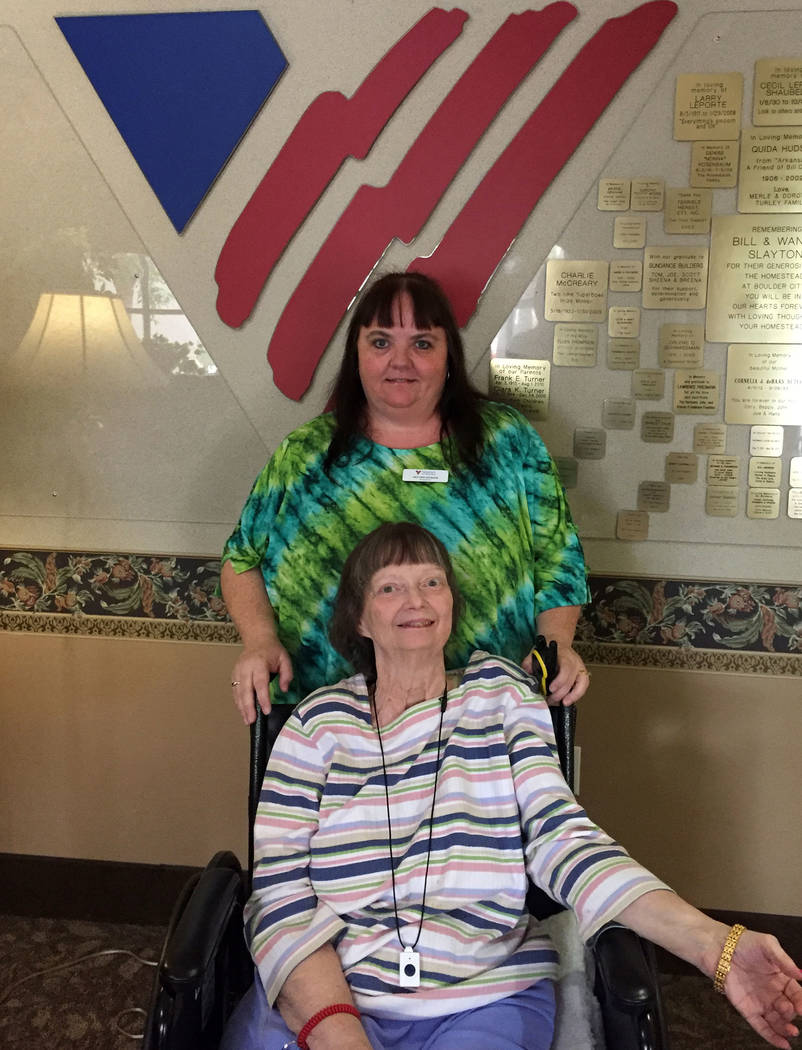 When Heather Seamans arrived at work at The Homestead at Boulder City on April 3, she didn't expect to see anything out of the ordinary. But she did, and it ended up saving someone's life.
"Being at the reception desk, I become familiar with the patterns of the families," she said.
One of those families is Ben and Arlene Clayton. Arlene had a stroke a few months ago and is currently a resident at The Homestead. Her husband, Ben, would visit her every day, and Seamans had grown accustomed to seeing him.
Seamans said April 3 was fish day in the cafeteria, and Ben was always excited when they served it. But this day she didn't see him.
"It's not like him not to be here," she said.
Seamans was a little concerned but thought maybe something simple had come up, and he couldn't come by. She asked Arlene to be sure.
"She said she hadn't seen him and couldn't get a hold of him," Seamans said. Seamans then called the police department and asked officers to check on the Claytons' house. She didn't hear anything and called them back to do another check. When her shift ended, Seamans stayed for another hour, hoping to hear something about Ben. She didn't, so she decided to stop by their house on her way home.
When she arrived, the police and ambulance were there, and it appeared that Ben had suffered a massive stroke that paralyzed the left side of his body. He didn't want to leave in the ambulance. Heather told the paramedics who she was and that she knew him and his wife. She was able to reassure him that everything would be OK.
She said that she could tell Ben recognized her and was listening to what she was saying. He then left with the ambulance and went to the hospital.
"I'm just thankful that Heather was there and that he got to the hospital," Arlene said.
Arlene said that she is also thankful to The Homestead for helping her so much.
Currently, Ben is at Boulder City Hospital in its long-term care wing. Once he's able to leave the hospital, Arlene said, they are hopeful he will be coming to The Homestead.
Seamans is passionate about helping the elderly and has a personal motto of "Don't forget those who are forgetting." She said she is equally invested in every resident and family at The Homestead.
"I was really concerned about him," Seamans said. "They have no family here in town. I was really, really glad I went … The elderly pull at my heartstrings. They feel like my grandparents. That's how invested I am." The Homestead's administration was also pleased with Seamans' actions.
"Our residents and their families who live outside of our assisted living community are all part of The Homestead family," said Michael Fox, director of the facility. "I'm always proud when my team steps in to help within and outside of the apartment building for a medical or personal need."
Seamans has worked at The Homestead for six years. She and her family have lived in Boulder City for seven years.
Contact reporter Celia Shortt Goodyear at cgoodyear@bouldercityreview.com or at 702-586-9401. Follow her on Twitter @csgoodyear.