Reason to celebrate: BC boy gets life-altering surgery thanks to area Shriners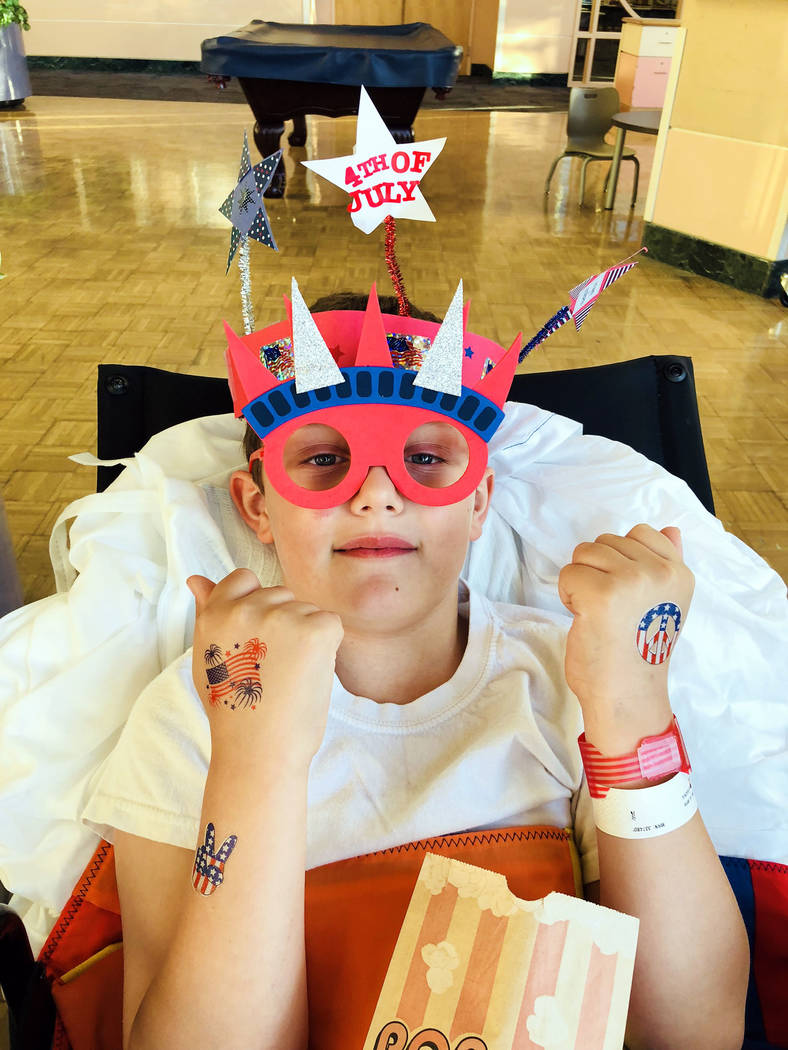 As the nation marked the anniversary of Independence Day this year, recalling the life-altering events that shaped the country, one of Boulder City's young residents experienced a life-changing opportunity of his own.
T.J. Bertoli had surgery at Shriners Hospital for Children in Sacramento for Legg-Calve-Perthes disease, a childhood hip disorder that causes the head of the femur to die and stop growing.
T.J. was diagnosed with the disease around his eighth birthday last year after he started limping. His parents thought he had pulled a muscle while he was playing, so they had him stay off of his leg for a week.
"His limp actually got worse," said his mom, Tara Bertoli.
They took him in for X-rays, which resulted in the diagnosis.
"That's when everything changed," she said.
According to the Mayo Clinic, Perthes interrupts the blood supply to the ball of the hip joint. As a result, the bone begins to die, causing it to break apart and lose its round shape. The blood supply will eventually be restored by the body, but if the ball is no longer round after it heals, it can cause pain and stiffness. That renewal process can take up to several years.
Bertoli said the disease usually presents itself by age 4, so T.J.'s case was late-onset and doctors wanted to take the wait-and-see approach for treating it.
After the diagnosis, T.J., a student at Grace Christian Academy, started using forearm crutches and had to keep all the weight off his left leg.
His plight came to the attention of local Shriners during a regular Thursday visit to the school by veterans from American Legion, Post 31, who join students to recite the Pledge of Allegiance.
According to Bertoli, some of those veterans are also a part of Boulder City Shriners, Lodge No. 37.
"They would always approach him and treat him special," she said, adding that they asked about her son and if she had reached out to a Shriners' hospital for help.
Shriners International is a philanthropic fraternity that is part of Freemasonry and dedicated to providing care for children and families. It has hospitals across the country.
Second opinion
Bertoli said she and her husband, Troy, decided to get an opinion from the Shriners Hospital for Children in Sacramento, where there was a Perthes specialist. After the appointment, they decided to have the doctor perform surgery on T.J.'s leg rather than wait to see if it would heal.
"We thought that surgery would give him the best chance of recovering. … The body is regrowing the blood supply (blood vessels) to the ball of his hip," she said. "He will regrow the ball of his hip."
T.J. had the surgery over the Fourth of July holiday.
Bertoli said the hospital staff was great and made sure T.J. could see fireworks that night.
"The Shriners was just the best experience," she said.
T.J. is home and limited to moving between his bed and the wheelchair. Bertoli said he can't put any weight on the leg for six months because the new hip ball is like a marshmallow.
"It's just critical he doesn't put weight on his left leg," she said. "If the ball doesn't grow back, he will have to have a hip replacement after he stops growing."
T.J. has told his mother and visitors that he feels like he is getting better daily and doesn't have any more pain
.
Be aware
She said this experience has taught her the importance of not overlooking what seems like a minor injury.
"I almost overlooked it as a pulled muscle," she said. "If your child limps, take them to the doctor because it is not normal. Because it could be life-changing. It was life-changing for us."
Bertoli said she is thankful for the support she and her family have received.
"We just want to give the biggest thank-you to our town," she said. "All the neighbors, T.J.'s school, extended family and community members have come to our home, sent letters and cards, posted on Facebook and texted the kindest and (most) uplifting thoughts. It has been exactly what we have needed.
"Also, we are convinced everything happens for a reason. Without the encouragement from some local Shriners standing outside at Grace Christian Academy, our son (might) not have gotten this surgery. All the stars lined up, and the future is looking bright for T.J.
We are so thankful for your prayers, and ask that you continue to pray for patience and a complete healing for T.J."
Contact reporter Celia Shortt Goodyear at cgoodyear@bouldercityreview.com or at 702-586-9401. Follow her on Twitter @csgoodyear.