Rangers plan meteor watching event for shower's peak
August 10, 2016 - 2:00 pm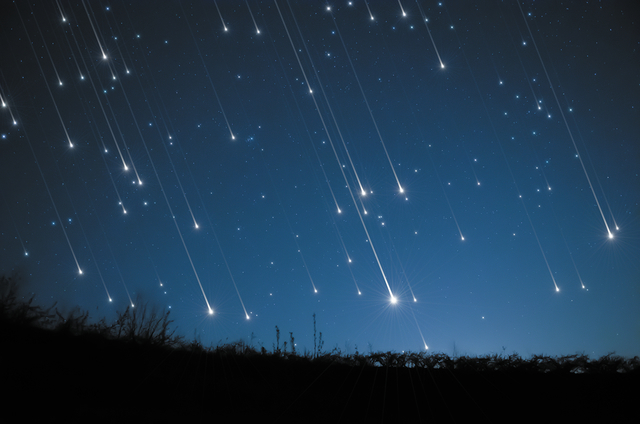 Shooting stars will fill the sky this week as the Perseid meteor shower makes its annual appearance, and with little light to obscure the sky Lake Mead National Recreation Area is among the premier locations for viewing the plummeting rocks.
Park rangers will host a viewing party and camp-out at the Callville Bay picnic area, where attendees can enjoy the show while learning about astronomy, meteors and nocturnal, outdoor survival.
The Perseid is always a noteworthy event that attracts a crowd of viewers, but this year is expected to be special, according to Lake Mead National Recreation Area representative Chelsea Kennedy.
"It's always a fun event that usually has a great turnout, but this year we are expecting it to be even better because this will be an outburst event," Kennedy said. "This year's shower will have at least twice as many meteors shooting across the sky as in previous years, as many as 200 per an hour."
Since Friday is when the shower will be at a high point, that number could easily climb higher, according to Kennedy, especially at the peak viewing time of 1 a.m.
Although the viewing party will be at night, it's still the middle of August and attendees are advised to bring water along with their folding chairs. As it is expected to be a fairly busy event, rangers will be on-site with telescopes for attendees to use for stargazing; amateur astronomers with their own equipment are invited to bring theirs along.
The viewing starts at 8 p.m. Attendees are advised to arrive around 7:30, especially campers, so they will have time to get set up before things get started. However, Lake Mead National Recreation Area is open 24 hours a day, seven days a week, and rangers will be guiding the viewing late into the night.
Standard entry fees of $20 per car will apply, as well as camping fees of $20 per site for those who intend to stay the night.
For more information, call 702-293-8990 or visit https://www.nps.gov/planyourvisit/event-listing.htm?eventID=36026.
Contact reporter Hunter Terry at hterry@ bouldercityreview.com or call 702-586-6711. Follow him on Twitter @HunterBCReview