Railroad Pass Casino keeps familiar feel from bygone era
January 9, 2014 - 5:15 am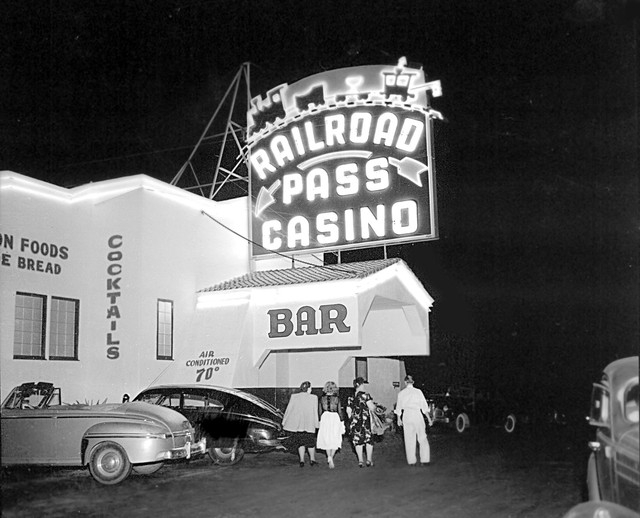 As they prepared for the construction of Hoover Dam, U.S. Department of Interior leaders decided that an abundance of bootleg liquor, gambling dens and brothels made the then-tiny Las Vegas far too wicked a place to house the workers.
So they decided on Boulder City, located on federal land, which allowed vice to be outlawed.
But they could not control a patch of desert one mile west of the city limits called Railroad Pass, where a true sin city arose for workers wanting to wager, drink or pay for sex. As the project moved to completion in 1935, all the vice establishments disappeared except for the Railroad Pass Casino, the oldest existing casino in Nevada or the entire country, depending on whom you ask.
The Union Pacific Railroad chose the pass, which got its name in the 1890s, as the place to lay the tracks between its main line to the site of the dam. Legend has it that the first cargo it carried was lumber to build the Railroad Pass Club, the casino's predecessor.
When Nevada re-legalized full casino gambling in 1931, Railroad Pass received license No. 4, which it retains to this day. Nos. 1 and 2 were never issued, and No. 3 went out of business decades ago.
At the time, an article in the Las Vegas Review-Journal described it as a "monstrous gambling casino and dance hall" that placed "the booze business and lewd women" within easy reach of workers. One small room with a battery of electric fans when it officially opened on Aug. 1, 1931, the casino and dance floor were essentially the legitimate fronts for the speakeasy in back during Prohibition.
Over the years, ownership changed several times, with the casino being rebuilt in the 1970s and the hotel tower opening in 1987. MGM Resorts International acquired it in 2005 as part of the Mandalay Resort Group purchase and has largely left it as is, a relic of the days before the Strip became a multibillion-dollar industry. At 120 rooms and an 11,000-square-foot casino with six tables and 324 slots, it is easily the smallest of MGM's properties.
Editor's Note: This article is part of the Las Vegas Review-Journal's Nevada 150 project, a yearlong series highlighting the people, places and things that make up the history of the state.