Pop art painting nets recent graduate award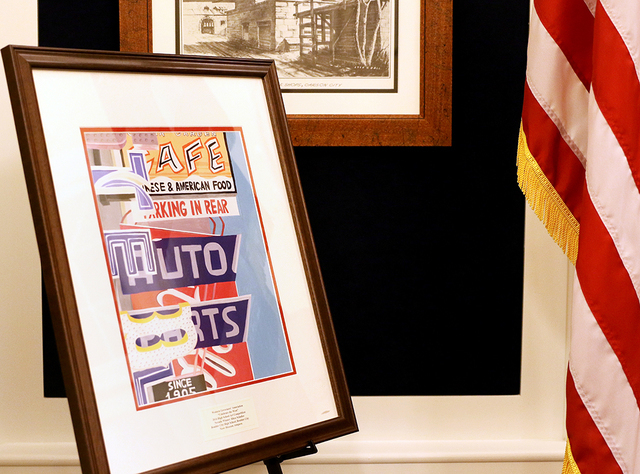 When Rhea Schaller was announced as the Nevada winner of the Western Governors' Association Celebrate the West high school art competition, she forgot that her artwork was even submitted for consideration.
"I honestly forgot about the competition," Schaller said as a shy smile crept across her face. "I didn't actually want to be in the competition, but my art teacher submitted my work."
Boulder City High School art teacher Laura McCubbin, who teaches Advanced Placement art, was so impressed with Schaller's artwork that she insisted it should be submitted in a competition that spans 19 states.
Her winning artwork is on display in Nevada Gov. Brian Sandoval's office.
The painting, titled "Neon Museum," is a pop-art homage to the early bright lights and neon signs of Las Vegas. Schaller said that she used pop art because the style is unique and realistic.
"I wanted to make a pop-art painting because the style is just really real and different," Schaller said. "It worked really well with the neon theme."
Pop art is an style where the artist takes everyday items from the street or media and prominently composes them into art.
Schaller went to the Neon Boneyard in the Neon Museum in Las Vegas, where she took photos of the signs that would best represent her painting.
Schaller said taking photos of the signs she wanted to paint was her favorite part of the whole the process.
"Taking photos for my composition is the most fun part," Schaller said. I like to figure out how to take a photo that is best for my painting. Plus it is a lot easier to take pictures than paint them."
Schaller's mother, Mary-Lynne Schaller, said her daughter has always been an artistic and creative person, an opinion her daughter does not share.
"When she was little we would just give her blank canvases and she would paint them in," Mary-Lynne Schaller said. "Art was always a part of our home."
Schaller said she is the opposite of how her mother describes her.
"I just go with the flow and that is how you make it," Schaller said. "The stress of AP art was overwhelming for me. Trying to come up with new ideas for paintings was not something I really want to do again."
The members of the Western Governors' Association seem to think she was a creative artist when they selected her painting to be displayed in the governor's office.
"I am so happy to be able to let you know that your work "Neon Museum" was chosen as the winning entry for Nevada! Of the so many wonderful entries we received, your awesome painting really stood out and captured Las Vegas, and living in the western U.S.," Governors' Association representative Christine Ogsbury wrote in an email to Schaller.
Despite her success, Schaller said she does not see herself pursuing a career in art now that she is out of high school. She said she hopes to join the military or study hospitality in college.
Although Schaller does not want to be a professional artist, she still thinks she will continue to paint as a hobby.
"It is something to do and I do enjoy it so I will probably continue doing art. I just don't want to enter anymore competitions," Schaller said.
To check out the other state winners in the art competition, go to http://tinyurl.com/WGAwinners.
Contact reporter Max Lancaster at mlancaster @bouldercityreview.com or at 702-586-9401. Follow him on Twitter @MLancasterBCR.