December 6, 2017 - 4:31 pm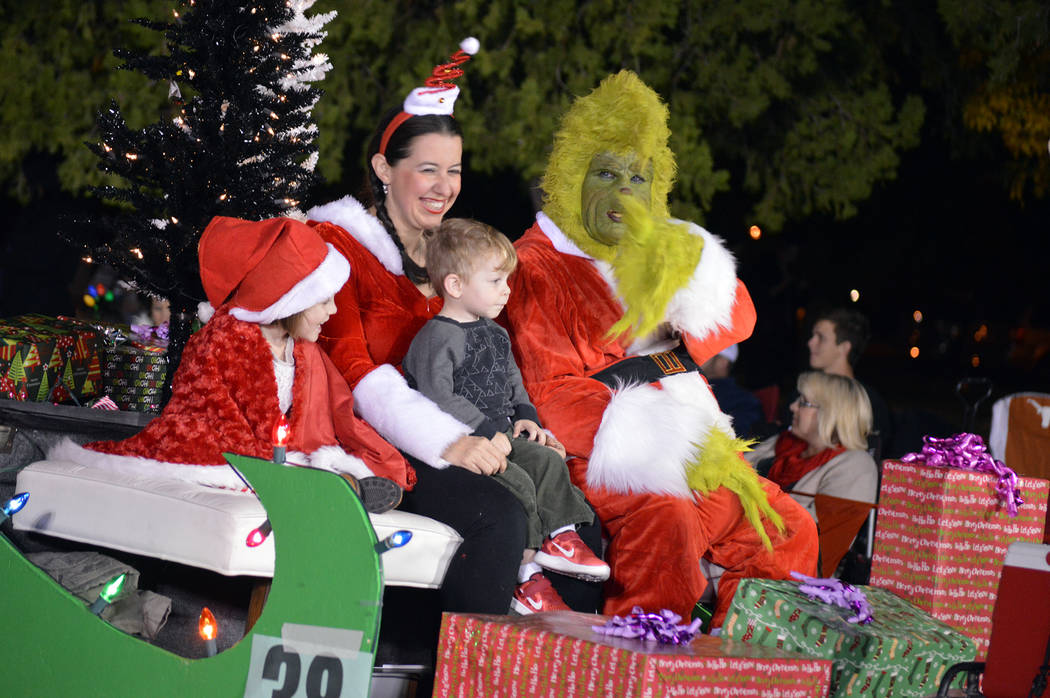 This year's Santa's Electric Night Parade in downtown Boulder City lit up the town and sparked the Christmas spirit for those who attended.
The parade, put on by the Boulder City Chamber of Commerce, featured floats, bands, music, entertainment and a visit from special guests, Santa and Mrs. Claus. It was the capstone of the weekend's Christmas celebration and came after three days of celebrations in town.
"The parade was great and lots of people (attended)," said Jill Rowland-Lagan, CEO of the chamber of commerce. "More than ever. Businesses were jammed, which is perfect!"
Locals and people from throughout the Las Vegas Valley came Saturday, Dec. 2, to watch and participate in the experience.
"We've just been coming for years," said Taylor Hall. "It's a Christmas tradition."
Hall, who lives in the Centennial Hills area, said she enjoys that the parade is not in Las Vegas. She, her sister, son and nephew come every year to enjoy the change in scenery.
"I just love the small-town Boulder City," said Cindy Wunderlich, who enjoys going to the parade with her two small grandchildren.
"We take our kids every year," said Jamie Crain.
Crain's 18-month-old son, Cayden, said he was excited to see the lights.
"He hasn't been old enough to appreciate it before, and he really likes lights," she said.
In addition to the lights, children enjoyed other things about the parade.
Local resident Colton Urioste, who is 5 years old, said his favorite part of the parade was the candy, and his 7-year-old brother, Cash, said that his favorite part was the floats.
There were 90 entrants, including several with multiple vehicles. Rowland-Lagan said several had more than 20 and one entry had 40.
The parade also featured a contest for all of its entries with winners chosen from each category. Each winner received a certificate from the chamber as well as a gift certificate to a local chamber member business.
Contact reporter Celia Shortt Goodyear at cgoodyear@bouldercityreview.com or at 702-586-9401. Follow her on Twitter @csgoodyear.
Santa's Electric Night Parade Winners
■ Band/Marching Unit
First place: Boulder City High School Marching Band & Guard
Second place: The Las Vegas MOB
■ Business
First place: Serenity Salon & Spa
Second place: Desert Sun Realty-Bret Runion & Associates
Third place: Boulder Business Development/Lions
■ Community Organization
First place: Super Summer Theatre at Spring Mountain Ranch State Park
Second place: Cinderella Girl Youth Development Scholarship Program & Pageant
Third place: Boulder City Cub Scout Pack 30
■ Politician
First place: David O. McKeon for U.S. Congress
Second place: Fisher for Nevada
■ Dance Unit
First place: Dance Etc.
Second place: Class Act Dance & Gymnastic
Third place: Brenda's Desert Dynamite
■ Family/Club
First place: Silverstate Wranglers
Second place: Flintstones
■ Other
First place: Miss Nevada and Arizona Junior High School/Collegiate/The Nevada Crown Academy Princesses
Second place: Lake Mead National Recreational Area
Third place: Zelzah Shriners
■ Individual Adult
First place: Cazman & Julie
Second place: John Walker
Third place: I want a hippopotamus for Christmas
■ Military Group
First place: Rudolph comes to Boulder City
Second place: Bonanza Army JROTC
Third place: The Red River Valley Association
■ Motor/Car Group
First place: Vintage Friends and Family of Volkswagens
Second place: LVQM Club
Third place: "Star Wars" landspeeder
■ Religious Organization
First place: Grace Christian Academy
Second place: Lake Mead stake, The Church of Jesus Christ of Latter-day Saints
Third place: Faith Christian Church
■ Youth Group
First place: Boulder City 4-H Club
Second place: Martha P. King Elementary School fourth- and fifth-grade choir
Third place: Boulder City Little League