Outdoor shade can cool, bring energy efficiency to home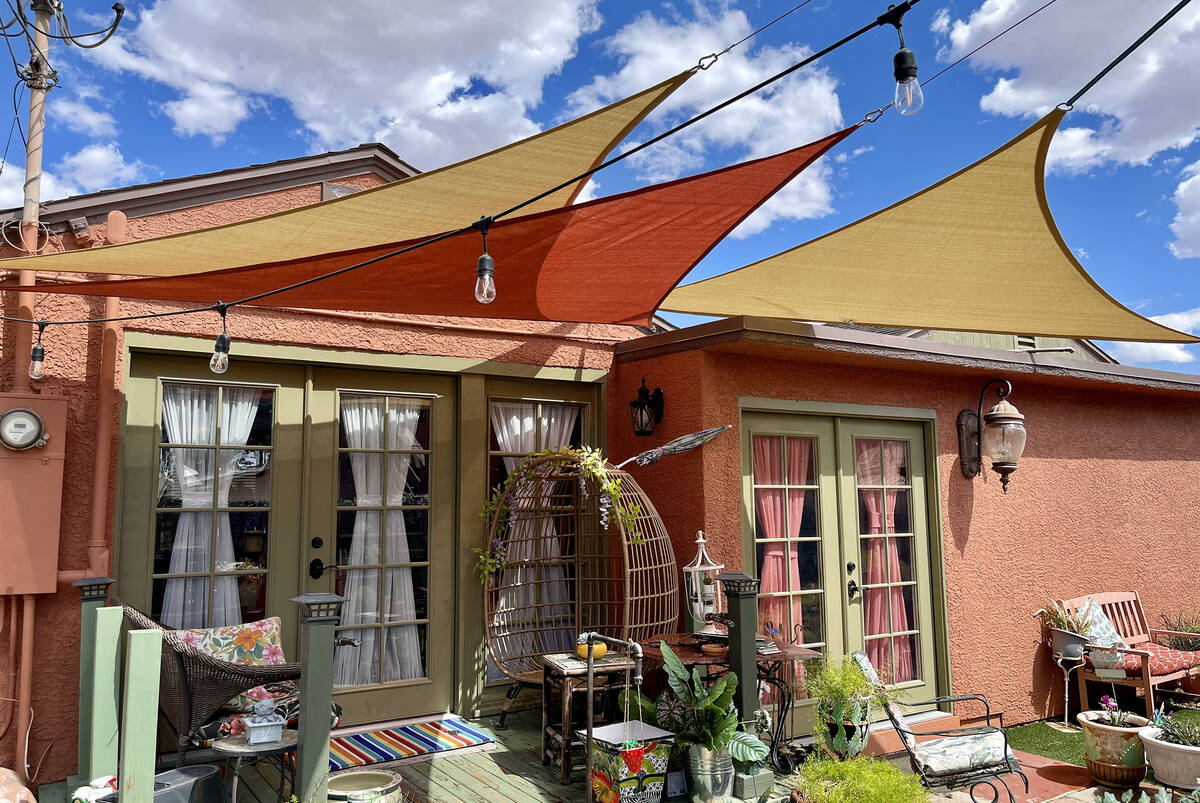 We all know cool shade is a hot commodity during summer months. The amount of shade around our home determines whether outdoor living spaces are something we can enjoy as days get longer and sun gets stronger. Besides making us feel more comfortable, shade can help keep the sun from fading or damaging our yard furniture, plants, equipment, etc. Shade abutting a home can reduce heat gain, making indoors cooler and more energy efficient.
There are countless options when it comes to creating exterior shade. From awnings, umbrellas and roller-shades to permanent structures like pergolas and verandas. Mother Nature offers shade trees, her perfect parasol. They provide cooling shade while oxygenating the air and can be a wonderful investment for a stunning aesthetic in your yard.
Boulder City has oodles of mature, large and shady mulberry trees. My home has three and we love them. Sure, they're torture when dropping pollen "worms" in spring and a gazillion leaves in fall, but that 30-plus-foot dense canopy is priceless. The temperature variance beneath its umbrella can be 20 degrees cooler than full-sun parts of our yard.
Alas, due to their nasty airborne pollen concentrations, in 1991 Clark County Air Pollution Control Regulations prohibited further planting of mulberry trees.
Happily, there are many other shade tree choices that thrive in our desert. Purple Robe Locust Tree, ash trees like Modesto, Fan Tex, and Raywood, etc. all offer large canopies and have a moderate to fast growth rates. Considering our water issues, it's nice to know that trees don't just provide shade and protection, they absorb water, helping it to get back down into the ground and not just running off.
Building a shade structure in your yard provides immediate cover and creates visual interest. My friend built a large wood pergola, attached to his home, on the southern side of his house. He described it as being "a bear" of a project, but he's happy with the results—not only that the patio is shaded, but inside his home is markedly cooler.
Pergola kits can also be ordered online, choosing size and color, then drop shipped to your home. Building them can be challenging—like an Erector Set with no instructions.
It's important to go with an online company that has strong reviews, good customer service, minimum 10-year warranty, and clear instructional videos.
Based on my research, aluminum is highly preferred over wood for shade structures. It won't rot or decay, it's impervious to bugs and moisture, less expensive, and virtually low to no maintenance. The basic types of covers are attached or free-standing, insulated, solid, and open-slatted.
Tom Perks, owner of Shade In A Day (Henderson), builds many of these types of patio covers in Boulder City. He explains that if it's attached to the home, it requires a building permit, that his company pulls. It's built in a day, followed by an inspection from the city for final approval.
It's important to choose quality materials, especially given our extreme weather. Perks recommends EliteWood. It's engineered for a minimum of 100-mph winds, HOA approved nationwide, and looks and feels like real wood. Perks personally has an EliteWood patio cover that's 23-years-old and he says, "it still looks great."
A less expensive DIY option is shade sails. They're sold in a variety of sizes and colors, or can be custom made. You can install one, or multiple in varying configurations. I recommend using structural hardware and stainless-steel wire rope as opposed to cotton or synthetic. Cutting and crimping loop ends is easy with a proper crimping tool, although it does take elbow grease. Be sure that hanging points are sound, whether attached from a post or to a structure. According to Boulder City staff member Nathan Ball, no permit is required for residential property owners who want to install solar shades in Boulder City.
"Most contractors prefer two points of connection to the structure to ensure stability and safety," he said.
Norma Vally is a seasoned veteran of home improvement; her career includes four seasons as host of Discovery Home Channel's Emmy-nominated series "Toolbelt Diva." A columnist and author, Vally splits her time in Southern Nevada, Los Angeles and New York City. Follow her on Facebook at Norma Vally "Toolbelt Diva" and visit her at www.NormaVally.com. Email Norma@NormaVally.com.