Off-road enthusiast 'SCORE's big in Baja race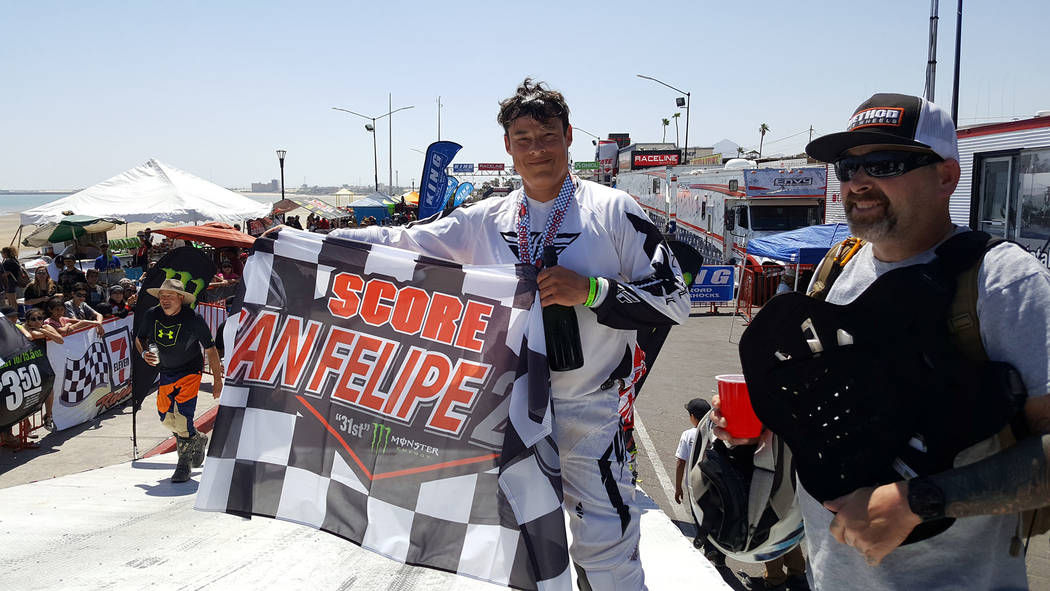 Boulder City motorcycle rider Kevin Johnson won big at the recent 2017 SCORE San Felipe 250 by placing first in the Pro Moto 40 class.
The 272-mile off-road race takes place on Mexico's Baja California Peninsula. It's the first of four in a series along with the SCORE Baja 500, the SCORE Rosarito Beach Desert Challenge and the SCORE Baja 1000. The Pro Moto 40 class is for riders 40 and older.
"What's spectacular about it is we did it with two guys," he said. "It was eye-opening because we beat other teams with four people on a team."
Overall, Johnson and his partner, Ryan Gustine, had the fourth fastest time of the race, ahead of bigger teams with younger guys. They finished the race with a time of 6:06:45. In all, 38 teams competed.
Johnson has been doing this race series since 2003 and has participated in each of the four races.
"The best part is making it to the end, that everyone is alive, that everyone is OK," he said. "Winning and placing is just the icing on the cake. It's not you against the other riders. It's you against Baja. If you are there at the end, it's a success."
Johnson said off-road races are dangerous and take place in the rocky and sandy terrain of the desert. The course is also used by the cars and trucks that are racing, making it more even more difficult and treacherous.
In 1995, Danny Hamel of Boulder City was killed while racing in the Baja 500.
In addition to being racing partners, Johnson and Gustine are cousins who have been pushing each other since they were born.
"We have this twins' sense, and we know what needs to be done and what is expected of each other," Johnson said.
Gustine isn't the only member of Johnson's family who helps at the races.
"My entire family gets the sponsorships for us to go," he said.
They also set up the accommodations, transportation and whatever else is needed during the race.
"It wouldn't be possible without them," Johnson added.
Originally from San Diego, Johnson relocated to Boulder City 10 years ago because of its proximity to the desert so he could train. He trains about 30-40 hours a week and utilizes the desert, mountain bike trails and the recreation center.
When he's not racing or training, Johnson is operating the Baja Ride Co. and giving off-road tours of Baja.
Johnson said he has no plans to stop racing and hopes to race in the SCORE International 60 class one day. "It's pretty much in me," he said. "I don't see stopping it unless I get injured."
For those who may want to get into off-road racing, Johnson encourages them to start local and build their skills. "Find someone with experience who can help you down there," he added. "It's another country … It's not like racing in the States."
Contact reporter Celia Shortt Goodyear at cgoodyear@bouldercityreview.com or at 702-586-9401. Follow her on Twitter @csgoodyear.