Nine statues unveiled on Art Walk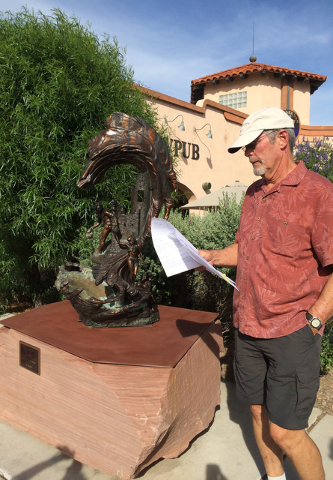 On the surface, a desert tortoise, wise old owl, polar bear, Anasazi family and Olympic diver would seem to have nothing in common.
But they do.
All are subjects of works of art created for this year's Boulder City Public Art Scape exhibit in downtown.
The outdoor gallery debuted nine pieces during the ninth annual Art Walk on Saturday afternoon. About 50 people participated.
"I am extremely pleased," said Darlene Burk, who helped create and spearheads the Public Art Scape committee. "It went out on a very good note."
Although the Public Art Scape has funds for this year's exhibit as well as to purchase several statues, the nonprofit group's board agreed to disband the organization late last year.
Burk and her husband, Vern, who are the primary force behind the project, cited health issues as the reason for them to step down.
Since the Public Art Scape began, the group has purchased 22 statues valued at $250,000, which it has donated to the city for permanent display. Additionally, four pieces have been purchased by individuals and two were purchased by groups of community residents.
"It takes a vision, and passion and an idea. Vern and Darlene had an idea of what culture can do for this town," board member Eric Estes said.
He said the downtown gallery has helped make Boulder City a destination for visitors.
Most of the nine artists whose work is on display walked along with the group, offering the stories behind what inspired them or the meaning of their pieces.
Additionally, they thanked Burk for her hours of work on the Art Scape project and told her how much it meant to share their sculptures with the Boulder City community.
After the Art Walk, participants attended a reception at the hotel where awards were presented for the best pieces in the 2014-15 exhibit season.
In the bronze division, Gregory Johnson's piece "Jack's Storytime," which features a young boy reading to a Mother Goose, a frog, turtle, rabbit and pig, won first place. The statue was purchase by a group of residents and has been permanently installed at the Boulder City Library.
Taking second place was Jerry Anderson's "Pegasus." The sculpture features the winged horse taking flight from the hands of Zeus, who is also throwing a thunderbolt. It becomes part of the group's permanent collection.
In the mixed media category, Sandra Messina's "Majestic Monarch," a colorful statue of a butterfly, placed first.
Second place was awarded to Damian Radice's "This Is Living!?" The kinetic sculpture incorporated an old parking meter and its eyes would light up and spin if someone put a coin the man's left ear.
For more information about Public Art Scape, visit pretto.com/artscape/.
Hali Bernstein Saylor is editor of the Boulder City Review. She can be reached at hsaylor@bouldercityreview.com or at 702-586-9523. Follow @HalisComment on Twitter.