Music is magical, 'accordion' to Williams
March 19, 2014 - 12:18 pm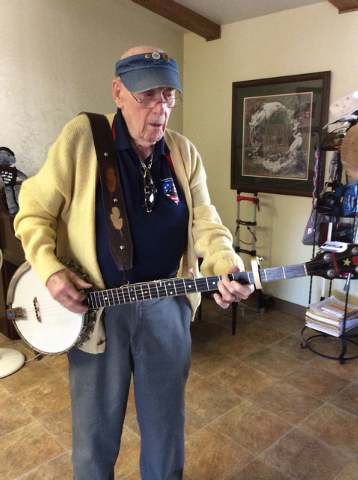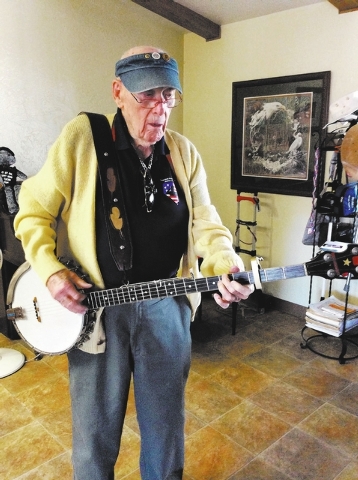 As long as the ladies are willing to sing, Chet Williams is ready to play their musical accompaniment on his accordion.
Williams, 95, volunteers at the Nevada State Veterans Home once a week to play music in the facility's Alzheimer's unit.
"I play what the people want to sing, from folk songs to jazz, better old than new," he said.
Williams began playing music at the veterans home shortly after it was completed in 2002.
Even now, although he is also a resident of the facility, he volunteers to play almost every Tuesday.
He said the music does great things for the residents.
"It is really astounding."
Angela Metcalf, volunteer coordinator at Nevada State Veterans Home, said all the residents benefit from music therapy, especially those with Alzheimer's and other forms of dementia.
"We are lucky to have such a great program," she said.
Metcalf called Williams a "fabulous individual" and said the facility is lucky to have him be a part of the home, adding that residents and visitors feel the same.
Although he also plays the guitar, as well as the piano, banjo, ukulele and harmonica, Williams laments the demise of the accordion.
"It has limited use these days with so many guitars around. It seems everyone is born with a guitar these days," he said.
Williams began playing the accordion when he was in junior high school. He said lessons were offered in the Italian market district of Boston, not too far from his home. Both of his parents had a musical background: His father was a piano player, and his mother was a music teacher.
Learning to play a musical instrument was his mother's legacy to him. Williams said she died when he was born, but left money for him to take music lessons when he was old enough.
Williams said he started with piano, which he studied for five years before he moved to the accordion.
When he was in junior high school, Williams and his friends formed a "hillbilly band." They played at the local movie theater.
"In those days, they had live music between the shows."
He also performed for a radio show between its stock market reports.
Although his accordion followed him to college, his musical career was put on the back burner for World War II. He enlisted in the Army Air Corps and was part of the crew that helped manage parts and airdromes.
After the war, he embarked on a career to teach teachers how to become better educators. Williams spent time in Somalia and Western Samoa working for UNESCO before joining the staff at Texas A&M in Texarkana, Texas.
Upon retiring in 1988, he and his late wife, Beverly Austin Williams, moved to Boulder City and music again became a part of Williams' life. He joined the Nevada Old Time Fiddlers and the Front Porch Pickers and began playing at facilities throughout Southern Nevada. Williams also participants in regular jam sessions at Senior Center Boulder City.
In addition to the joy he said his music brings to others, it also has introduced him to many people, including the late Pete Seeger, who was a good friend.
Williams said they met when Seeger would play at universities where he taught.
"When he was blacklisted, he played at the colleges," Williams said.
Because of their friendship, Williams wrote a letter on Seeger's behalf to help him fight against charges of being a communist in the late 1950s. They also would stay at each other's homes when traveling.