Mom finds her element in classroom
October 11, 2017 - 3:28 pm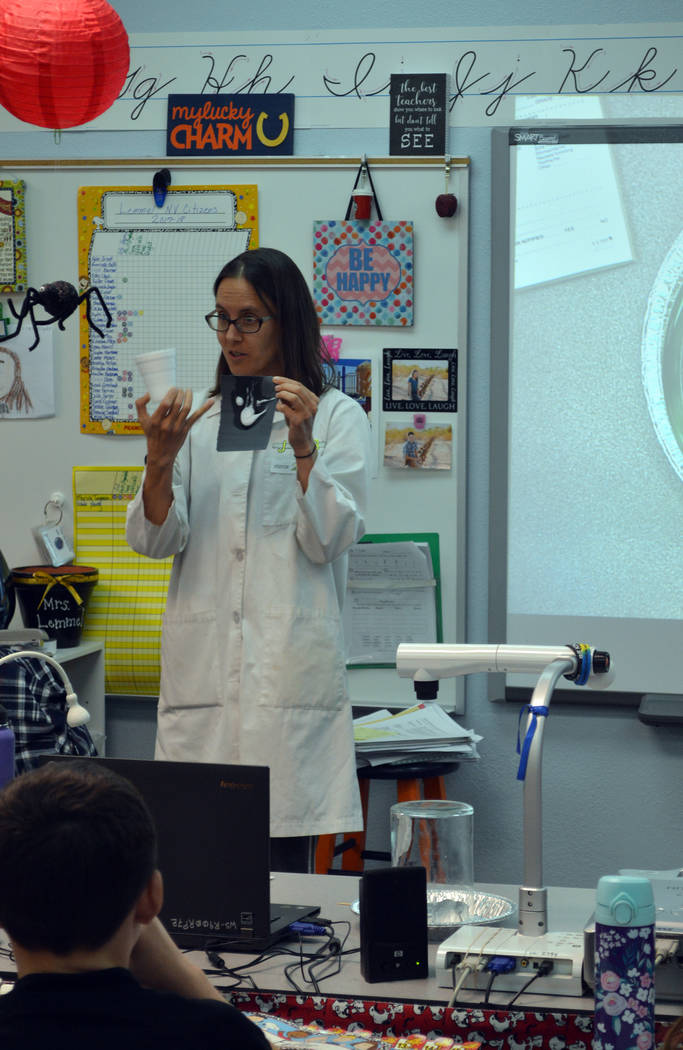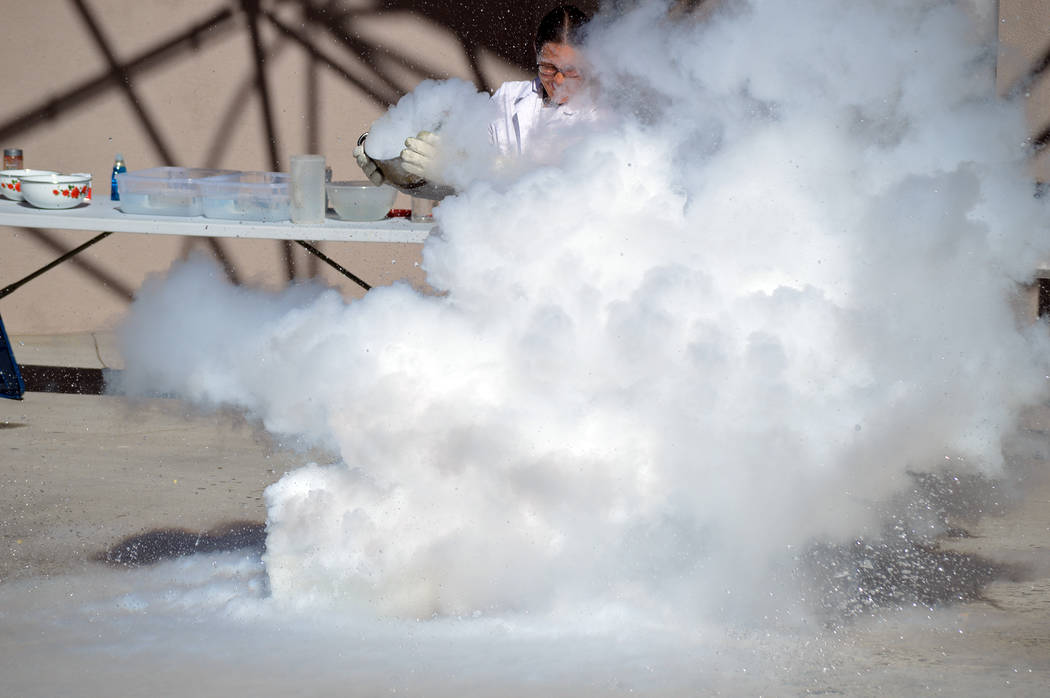 Boulder City resident Jenny Ballif never planned to have a full-time career in scientific research, yet she spends much of her time researching and performing live experiments for children in town and throughout the Las Vegas Valley as Science Mom.
A 2007 graduate of Utah State University, Ballif said that she went to school for her master's in plant science with an emphasis in molecular biology because her husband, Serge, was getting a master's in mathematics at the same time. She opted not to pursue a career in scientific research when she finished because the field was either full-time or nothing, and she didn't like the competitive aspect of getting works published to obtain funding.
"I enjoyed it, but I knew it wasn't a long-term career goal," she said.
Ballif and her husband have three kids, Andrew, Annabelle and Eliza, and about five years ago Ballif started anew in the science field with her son's class.
"When my son was in first grade, I asked his teacher if I could do a science experiment in class," she said. "She said, 'Sure,' and afterwards asked if I could do one every week."
The students started calling her Science Mom, and the word spread to other teachers and schools in town. Ballif said that within a year she was doing experiments in about 10 classrooms a week.
"I heard about her and was excited to have her daughter in my class," said Angie Lemmel, a fourth-grade teacher at King Elementary School.
Ballif's daughter Annabelle is currently one of Lemmel's students.
"She's great with the kids and answers all their questions," Lemmel said.
Lemmel said that she also likes that the kids get exposed to different kinds of science through the experiments. Ballif's most recent experiment showed them what plastic is made of and how it can be dissolved.
"My favorite part of Science Mom is the kids, the look of wonder and delight they have about science," she said.
Ballif added that her favorite moments are when kids say that they enjoyed learning about science and what it can do.
In addition to going to school classrooms throughout Boulder City, Ballif took her experiments online about a year ago when she created a channel on YouTube, called Science Mom. She also started visiting classrooms outside Boulder City to grow her YouTube channel and promote the coloring books she creates.
She recently released her first one on water. She has another one being released shortly and plans for seven more on that topic.
The sales of coloring books help offset the expenses she incurs taking her experiments to classrooms.
Contact reporter Celia Shortt Goodyear at cgoodyear@bouldercityreview.com or at 702-586-9401. Follow her on Twitter @csgoodyear.