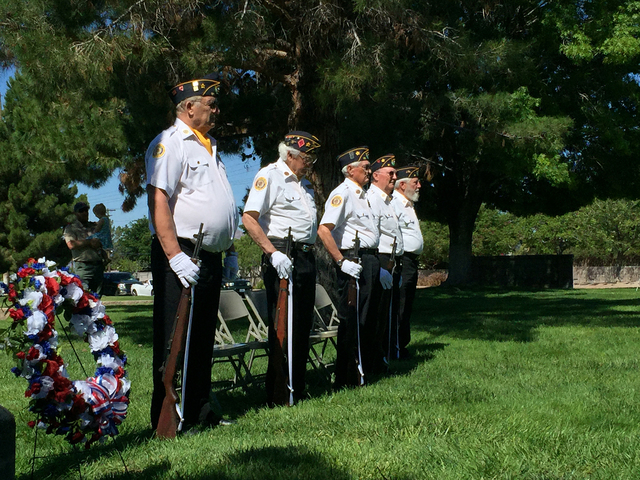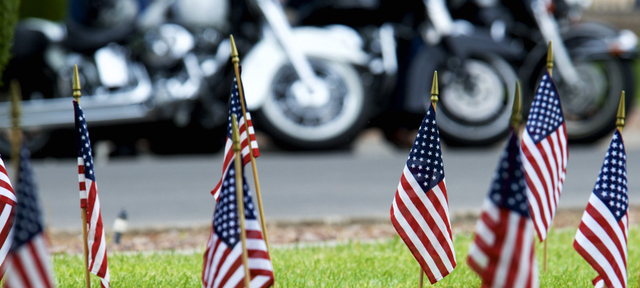 Memorial Day is bringing patriotic events aplenty to Boulder City this weekend.
The holiday weekend honoring military veterans who lost their lives serving their country will kick off Friday with the 12th annual, free-to-the-public Best Dam Barbecue Challenge. Starting at 4 p.m. Friday, more than 40 barbecue teams will gather at Bicentennial Park to show off their smoking skills and compete for cash prizes.
Attendees can take in the smells and sights of the competition Friday and Saturday, enjoy pulled pork sandwiches and racks of ribs from vendors, peruse classic cars at a car show and cheer for kids 17 years and younger in a junior barbecue competition. Veterans of Foreign Wars will gather 7 a.m. Saturday to decorate the graves of more than 30,000 military veterans with American Flags. A variety of veterans groups and as many as 450 volunteers will deck the graves in red, white and blue at Southern Nevada Veterans Memorial Cemetery, 1900 Buchanan Blvd.
The American Legion will adorn graves with flags and crosses about 10 a.m. the same morning at the Boulder City Municipal Cemetery, 551 Adams Blvd.
The Vietnam Vets – Legacy Vets motorcycle club will meet at Hoover Dam 10 a.m. Sunday for the annual Flags over the Dam parade. The club will lead 2,000 motorcycles in a procession, flags raised high, to the Veterans Memorial Cemetery where the Green Berets will present a wreath memorial, to be followed by a 21-gun salute.
American Legion Post 31 and Boy Scouts of America Troop 7 will gather 9 a.m. Monday beneath a canopy at the Boulder City Municipal Cemetery for a Memorial Day presentation.
The Veterans Memorial cemetery will welcome more than 1,000 guests at 1 p.m. Monday for the Nevada Department of Veterans' Services annual Memorial Day Ceremony. At 3 p.m. visitors will join in a National Moment of Remembrance – everyone across the country is invited to participate in a minute of silence in memory of fallen veterans.
Contact Kimber Laux at klaux@bouldercityreview.com or 702-586-9523. Find @lauxkimber on Twitter.