February 18, 2015 - 1:10 pm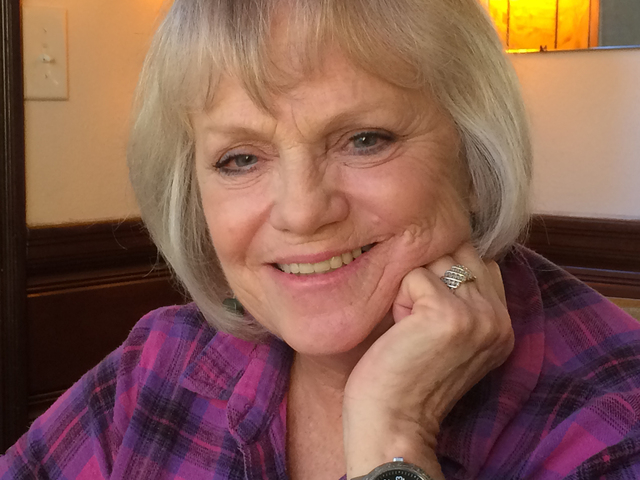 Sandra "Sandi" Shaw is a chameleon. Just when you think you have figured her out she changes appearances.
"The only person to call me Sandra was my angry mother or teachers," Shaw said.
Shaw's father, Priestly James, was highly decorated during his military service and received Silver and Bronze stars medals as well as the Purple Heart.
"My Dad did not believe in educating girls! He thought girls should be nurses or homemakers."
So Shaw has been getting educated ever since.
"I consider myself to be an 'artsy' person," she said.
After attending school at Ohio State for a few months she transferred to art classes and shortly after was discovered by Bergdorf Goodman.
"They were the top-of-the-line fashion designers." Shaw said. "So I dropped out of Ohio State and went to New York City.
"Those were the days of Studio 54, Twiggy, the Rolling Stones and so many other famous people," Shaw said.
She did makeup for commercials as well as the Miss Universe Pageant and world-famous Don Seidman photography.
"During those days, I was always in a kitchen whether it was mine or someone else's. When I was growing up my Mom didn't cook so I just learned as I went along," Shaw said.
Growing up in a Jewish and Italian neighborhood in Columbus, Ohio, was a big influence on the things she likes and her taste in food.
She soon became a respected makeup artist and traveled extensively through Europe and most of the United States learning to mix makeup compounds and doing makeup.
Life in the fast lane seemed to agree with her and eventually she was recruited by the Warner Corp. to come to Las Vegas and do makeup for the models at the new Fashion Show mall.
"When I got here I was shocked at the Nevada culture," she said. "The Fashion Show mall wasn't ready and the promised several times a day shows were not happening so I went to work at the Broadway."
Preferring to dine instead of just eat gave her a great respect for traditional dishes yet her adventurous side was not to be denied.
"As I am cooking I measure nothing and I go by what looks right and what tastes correct. After all taste is a verb," she said.
"I am constantly reinventing dishes to suit my taste and style. I am always looking for fresh ingredients and grow a lot of my own herbs in the backyard," Shaw said. "I shop everywhere and I am constantly looking for new tastes and new twists on old standard dishes."
Between cooking for friends and family, her involvement with the Grace Community Church, travelling and entertaining she is constantly on the go.
When asked why she chose to stop in Boulder City she gets excited again.
"We are active as Friends of the Nevada Conservatory and usher at the UNLV shows. Boulder City has culture and history, and the neighbors are just incredible," Shaw said.
Sauteed Scallops in Garlic Emmental and Gruyere Cheese Sauce
SCALLOPS
2 pounds scallops
1 teaspoon sea salt
White pepper
¼ cup garlic, chopped
¼ pound butter
Olive oil
½ cup flour
Wash scallops and blot dry with paper towels. Season with salt and pepper and lightly dust with flour (you can use a baggie to drop them in and shake them). Empty into a colander to remove excess flour.
In a 16-inch sauté pan, cover the bottom with olive oil. Add butter and melt over a moderate heat.
Add scallops, being careful not to overcrowd your pan. Make two batches, if necessary. Stir scallops until golden brown. Remove from pan and set aside. Cover and keep warm in the oven.
SAUCE
¼ cup butter
¼ pound Emmental cheese
¼ pound Gruyere cheese
2 tablespoons sweet cooking brandy
1 tablespoon cornstarch, if needed
1 clove garlic, minced
1 cup dry white wine (Riesling or dry champagne)
Sea salt and pepper to taste
Pinch of nutmeg
½ cup crème fraîche
½ cup plain Greek yogurt
Sauté garlic and wine together. Set aside uncovered. Melt butter in pan over medium-low heat; add crème fraîche, and both cheeses, stirring gently, folding, until melted. Add garlic mixture to sauce; fold in until well blended. Add yogurt and nutmeg, stirring gently.
Blend in cooked scallops mixture and serve over al dente linguine. You can sprinkle with saffron and parsley.
Serves 4.
Chinese Chicken or Pork
1 tablespoon olive oil
3-4 boneless chicken breasts, sliced or
3-4 pork tenderloins, sliced
¼ teaspoon ginger
½ teaspoon minced garlic, fresh preferred
2¼ cups chicken broth
1 tablespoon light soy sauce
Five-spice powder
Asian vegetable blend, fresh or frozen, chopped fine
Asian noodles or spaghetti
Bok choy
Heat oil in a 12-18-inch skillet on medium-high heat. Add seasonings and meat and cook for 3-4 minutes or until golden brown. Add chicken broth and simmer for 15 minutes.
Add vegetables and cook until tender. Sprinkle with five-spices powder to taste while simmering.
Break noodles in half and cook according to package. Drain and add to meat. Put in bowls for serving and sprinkle with finely chopped bok choy or you can put the bok choy in the bottom of the bowls.