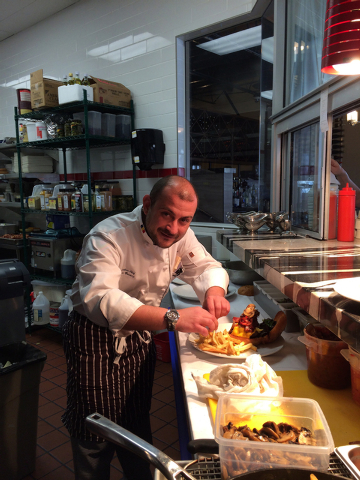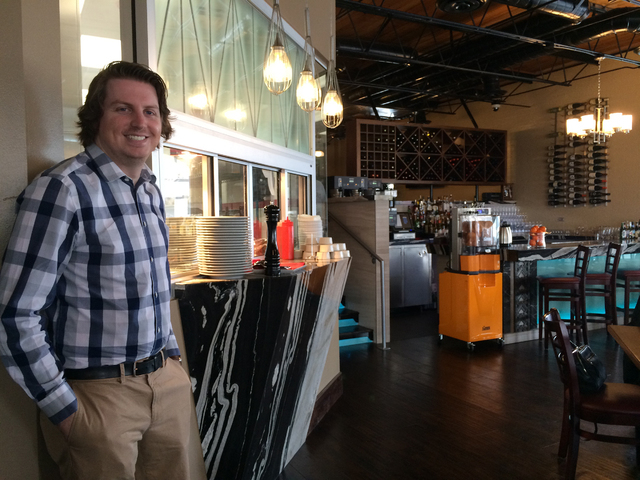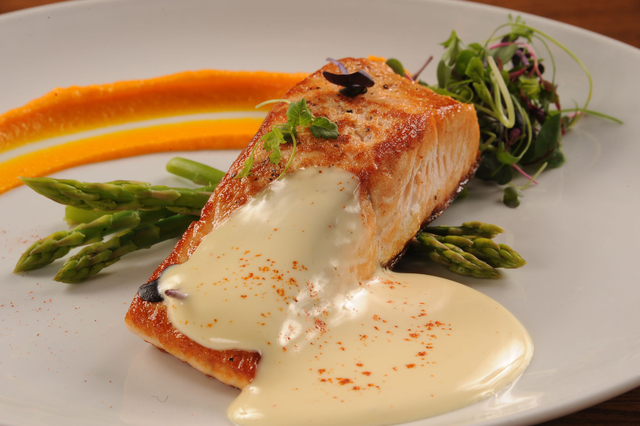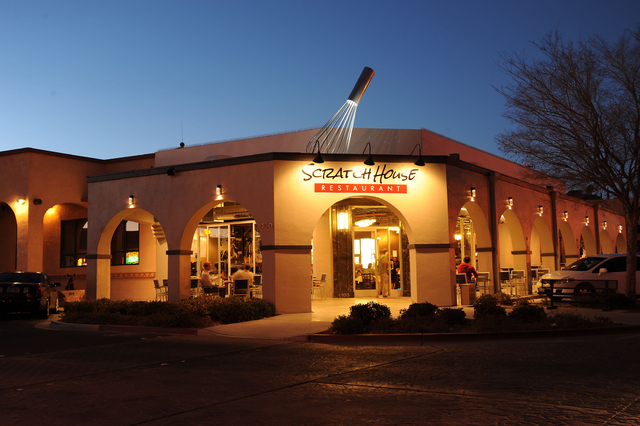 Editor's Note: This article is part of an occasional series showcasing new businesses in town.
Jared Baker would be the first to admit that he and business partner Charles Lawson's idea to create a restaurant that focused on providing a unique experience and not worrying about profits was crazy.
From the inception, Scratch House was destined to be a place where Boulder City residents could get a quality meal in a quality setting, Baker said.
"Our restaurant offers a beautiful environment, an incredible staff and real integrity of food," he said.
The Boulder City eatery, which had a soft opening at the end of January, prides itself on creating everything from scratch using the best quality ingredients possible, in an atmosphere that is equally focused on a quality experience.
"Our focus is on the guest experience," Baker said. "We clearly go out of our way to make food from actual ingredients. Everything is made from scratch. We make our own ketchup. We make our own soups. Our breads are baked here."
He said the salmon and chicken penne pasta have been best sellers at dinner. He also said steak people shouldn't miss the chef's filet with its sauces. Baker's favorite dish is the Chilean sea bass, as is the fried brie with the house-made cranberry preserves.
Although Baker said they have a "base menu" they plan to add seasonal specials, "without question" and they are listening to comments from the community "to see what they want."
"We built this for Boulder City residents specifically and are happy to have suggestions," Baker said.
Already they are ironing out a few kinks based on feedback they have received from customers, and Baker said they will never stop seeking ways to improve their environment and approach.
Response since they opened has been "overwhelmingly positive."
Baker said their very concept was to make Scratch House a part of the community and a place for the community to come together. It's one of the reasons why dishes intended to be shared were put on the menu, he said.
"We want to serve Boulder City. It's our town that we love," he said. "We learned that a lot of residents do not come downtown and enjoy the downtown experience. We want to promote and encourage that."
Most importantly, the restaurant was designed to be a part of Boulder City and pay homage to the city's history. Borrowing many elements used in the construction of Hoover Dam, art deco touches can be found throughout Scratch House. These include three large pieces of art commissioned for the restaurant from Heather Hermann, known as the Duchess of Deco, and metal chevron panels accenting the bar that were originally on the Marshall Field's building in Chicago.
"We really wanted something unique and that spoke to Boulder City. Our building is a perfect metaphor for Scratch House's philosophy. We ripped out three layers of ceilings and started from scratch."
They also want to be part of the community and have already served as a sponsor for the Dam Short Film Festival. Lawson also has several other opportunities in mind.
They also created a canine-friendly atmosphere on the patios surrounding the restaurant, with "doggy hitching posts" near the outdoor tables.
An admitted "coffee geek," Baker said the restaurant obtained a Victoria Arduino Black Eagle espresso machine, the same model used at the World Barista Championships and priced at more than $21,000, to offer specialty coffee drinks.
"We're not about cutting corners," Baker said. "It's a brilliant adjunct … I love an espresso after-dinner drink or to start the day."
Although neither Baker nor Lawson have any previous restaurant experience, both are adept at assembling expert teams, they said.
The two spent about one year planning every little detail of the restaurant, taking expert guidance from Executive Chef Silviu Briceag and General Manager Matt McMillan, who have been on board since the property was purchased.
"We're maniacal about the details," Baker said. "We were not in a hurry to open our doors just to ring the register."
Romania-born Briceag is a classically trained French chef who worked at Michelin-rated restaurants in London before joining the team at Scratch House.
Baker said having Briceag on board from the start allowed them to "build their dream kitchen, from the wants and desires of the chef."
This includes equipment such as a sous vide machine, proofing and baking ovens and large flat top.
"It was built to function." Baker said.
McMillian drew upon his time with Marche Baccus, a French bistro and wine shop in Summerlin, to help with the restaurant's wine selection and pairings. He also gained a great deal of knowledge through UNLV's hospitality program.
Baker said staff was trained for a month before the first customer walked into the restaurant to guarantee the service was up to the quality that they wanted to offer.
They also were assisted by Jim Amstutz, whom Baker said was "invaluable" in helping them gauge the community's wants and needs as well as working with city officials to get the necessary permits and inspections completed.
Currently, Scratch House offers grab-and-go coffee and pastries in the morning, lunch and dinner. A full breakfast and Sunday brunch will be added soon, Baker said.
"We made the decision not to serve breakfast right out of the gate to address the challenges … We want to deliver a breakfast that is up to our standards," he said.
Another change will be eliminating the two-hour period between 3-5 p.m. that the restaurant is currently closed to transition from lunch to dinner service. According to Baker, as they work out issues the gap in service will be narrowed until it is eliminated.
Hali Bernstein Saylor is editor of the Boulder City Review. She can be reached at hsaylor@bouldercityreview.com or at 702-586-9523. Follow @HalisComment on Twitter.