Local couple mark 67 years together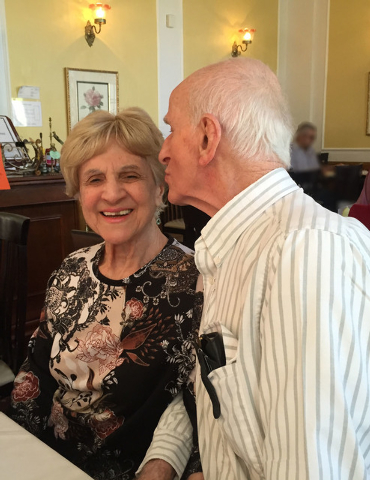 When Louis and Linda Kish got married on April 3, 1948, the United States was still adjusting to life after World War II.
On Friday, the Boulder City couple celebrated their 67th anniversary with a breakfast at the Boulder Dam Hotel. Four generations of family were together, some coming from California, others from Washington D.C., all for the sake of celebrating the Kishes' marriage.
The Kishes married in Torrington, Conn., a town 28 miles west of Hartford. Louis was 23 and Linda was 19. After establishing their marriage in New England, the Kishes moved to Westminster, Calif., about 50 years ago. In 1987, they decided to call Boulder City home.
Louis Kish, who worked in construction as a tile setter, was facetious when asked how he and his wife have managed to stay together so long.
"We just go our separate ways. We meet once a day for a meal and that's it," he joked. "It just works. It's been very exciting."
The Kishes have four children, five grandchildren and seven great-grandchildren. Janis Bloomquist, the couple's oldest daughter who lives in Coronado, Calif., said her parents haven't done anything special to make their marriage last so long. To her, it just works, and it always has.
"They've been great role models. They're just very respectful and enjoy being together. They just work things out," Bloomquist said. "It's just natural, that's all."
Linda, who worked in computer data services for TRW Inc., said she and her husband have always been complete opposites. But that's part of what makes them work, she added.
"We're very opposite. He's very cool, calm and collected, and I'm very fiery," she said.
"It's also the Italian in her," Bloomquist said as the rest of the family laughed.
The Kishes often can be found walking early in the morning around town, visiting the senior center, or window shopping at some of the shops in the historic district.
"We just try to keep away from our kids," Louis said with a laugh.
Contact reporter Steven Slivka at sslivka@bouldercityreview.com or at 702-586-9401. Follow him on Twitter @StevenSlivka.