Lend A Hand thanks volunteers with fiesta
April 16, 2015 - 11:51 am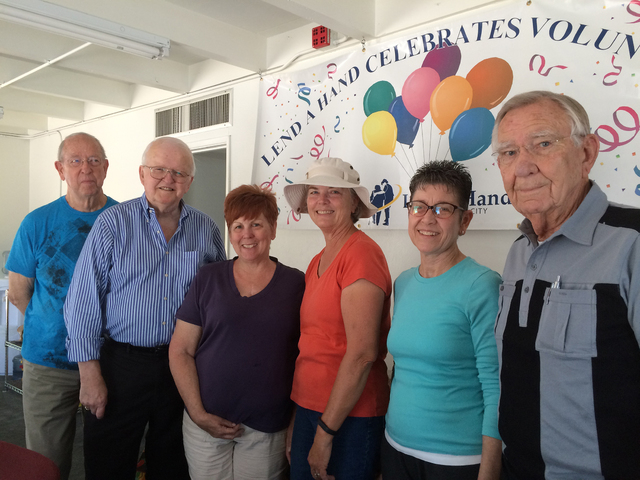 Lend A Hand showed its appreciation to its volunteers April 14 with a Mexican fiesta.
The annual event provided an opportunity for staff members to thank the volunteers for their time and effort on behalf of the nonprofit organization. They also were treated to snacks and given a small gift.
As of July 1, when the group's fiscal year began, the organization's 75 volunteers have donated 3,428 hours.
Additionally, volunteers have driven 41,236 miles on 1,288 trips, running errands for Boulder City senior citizens and disabled residents or taking them to doctor appointments. Since the organization was founded, volunteers have driven 960,981 miles.
Christina Lodge, Lend A Hand's program director, said she was impressed at the dedication of their volunteers.
"It's a way to give back to the community," said Bart Hoppe, who attended the appreciation event.
In addition to helping others, he thinks Lend A Hand is a "wonderful community service."
He has been volunteering for about 10 years, first providing small home repairs for those in need and driving the "long hauls" to Henderson and Las Vegas.
Before becoming ill, his wife also would volunteer. Hoppe said one year she won an award for driving the most miles.
Another "long hauler," Ross Wright, said he welcomed the opportunity to do something for others after retiring.
Karen Buell, who has volunteered for the past six years, said the same thing.
"I love it," she said, adding she enjoys talking with people. "There are never strangers, just friends I haven't met yet."
"Without them, we'd never be able to operate," Lodge said.
She said they always are looking for new volunteers and will present a training class from 9 a.m. to 1:30 p.m. Tuesday at the Lend A Hand office, 400 Utah St.
For more information about the nonprofit or to register for the volunteering training class, call 702-294-2363.