Lend A Hand fair to showcase services for caregivers
January 13, 2016 - 3:59 pm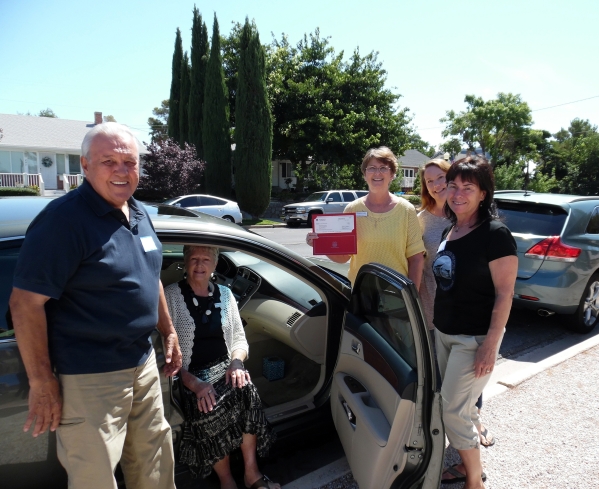 As part of its ongoing effort to better the lives of Boulder City's senior citizens, Lend A Hand will present its inaugural Caregiver Fair from noon to 2 p.m. Jan. 23 in the Boulder City Library.
The event is designed to provide caregivers with information on community resources and services to assist them with their roles as well as provide details on ways they can get temporary respite from their duties.
"It's free for the public to come and it is free for exhibitors to come out and check it out," said Patty Miller, a social worker for Lend A Hand. "We have 26 exhibitors coming and Lend A Hand is sponsoring the event, so we're looking for a great turn out."
On average, Lend A Hand helps 135 seniors per month who are in need of respite care services, said Program Director Christina Lodge.
The fair, which is hoped to become an annual event, will give interested family caregivers an opportunity to learn how they could qualify to receive relief from their daily responsibilities.
Last year, the MGM Resorts Foundation gave Lend A Hand a $45,000 grant that made it possible for the organization to expand its services to include respite care. Through other grants from the city and state, the group was able to cover over 80 percent of its funding needs for the 2015-2016 year.
The mission of respite care, as best described by the National Respite Network, "is to assist and promote the the development of quality respite and crisis care programs; to help families locate respite and crisis care services in their communities; and to serve as a strong voice for respite in all forums."
Lend A Hand has been a constant support system for the elderly residents of Boulder City for more than 25 years. It assists the frail elderly and anyone with disabling disorders or chronic illnesses, allowing them to remain independent in their homes.
Those who qualify for care provided by Lend A Hand must be older than 60 and a resident of Boulder City, or disabled if they are younger than 60.
Services provided to those who qualify include escorted transportation and in-home services. Over 85 volunteers are trained and ready to provide compassionate help to those in need, Lodge said.
According to Lodge, Lend A Hand is a happy to help out the community any way it can.
"Our service is our gift to you," said Lodge lovingly. "We are always happy to help anyone in need."
Refreshments at the Caregiver Fair will be provided by Albertsons. Flu shots also will be offered by Sav-On Drugs.
The library is at 701 Adams Blvd.
For more information about the Caregiver Fair, call 702-294-2363 or visit www.lendahandbouldercity.org.
Contact reporter Juan Diego Pergentili at jpergentili@bouldercityreview.com or at 702-586-9401. Follow him on Twitter @jdpbcreview.