Informal classes about bighorn on tap at park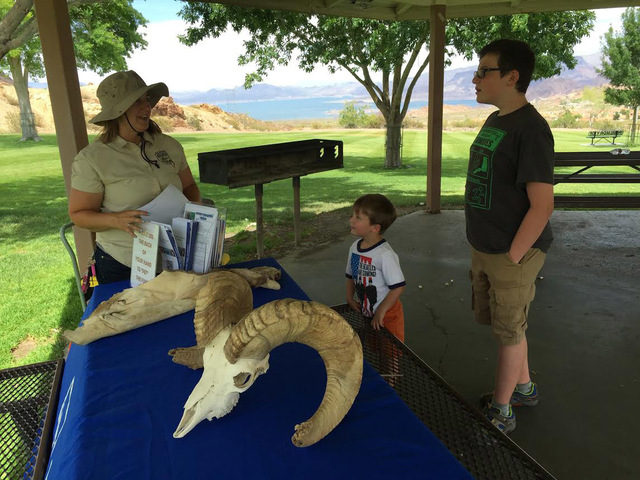 Desert bighorn sheep are frequent visitors of Hemenway Park, so the Nevada Department of Wildlife wants to make sure that people who come to see them know how to respect them.
The department is holding weekly educational meetings at Hemenway Park to help tourists and locals gain a better appreciation for the sheep that walk around just feet away from where people play basketball and tennis.
According to NDOW volunteer Abbey Czarnecki, safety is one of the biggest components of the informal class.
"The sheep need their distance. Our animals are wild, even though they come to the park to hang out," she said. "It's safety for them, safety for us."
NDOW will have a representative at the park from 1:30-4:30 p.m. on various Tuesdays and Thursdays throughout September to offer information and answer questions. The focus relies on safety and education, and guests are encouraged to read the six interpretive panels that provide background information about the sheep.
Michelle Burke, who lives near the park, brought her two sons to hear what Czarnecki had to say. She said it's not uncommon to see sheep in front of her driveway or fighting in the middle of the street.
She brought her boys, 13-year-old Nolan and 4-year-old Mack, to the program with the hopes of getting some of her questions answered. She plans to bring her sons to as many NDOW educational meetings as possible.
"We feel like we're great neighbors to the sheep, but we feel like we're ignorant neighbors," she said. "They're part of the charm of Boulder City. They're kind of family."
Burke said there are times when sheep hang around her neighbors' yards until midnight. She wanted to know why they waited so long to back to the mountain.
"We've read a lot of papers about the sheep, so this just really explains some of the things you read about but can't really put into perspective," she said.
Czarnecki said it's important to know that a few of the sheep have pneumonia, and getting too close can be dangerous. She recommended that people leave about 20 feet between them and the sheep, as the sheep have a tendency to kick and butt with their horns if they feel threatened.
"Give them some space," she said. "Enjoy their beauty but leave them alone. Keep the wild wild."
Contact reporter Steven Slivka at sslivka@bouldercityreview.com or 702-586-9401. Follow him on Twitter @StevenSlivka.