Improper recycling waste of time, hazardous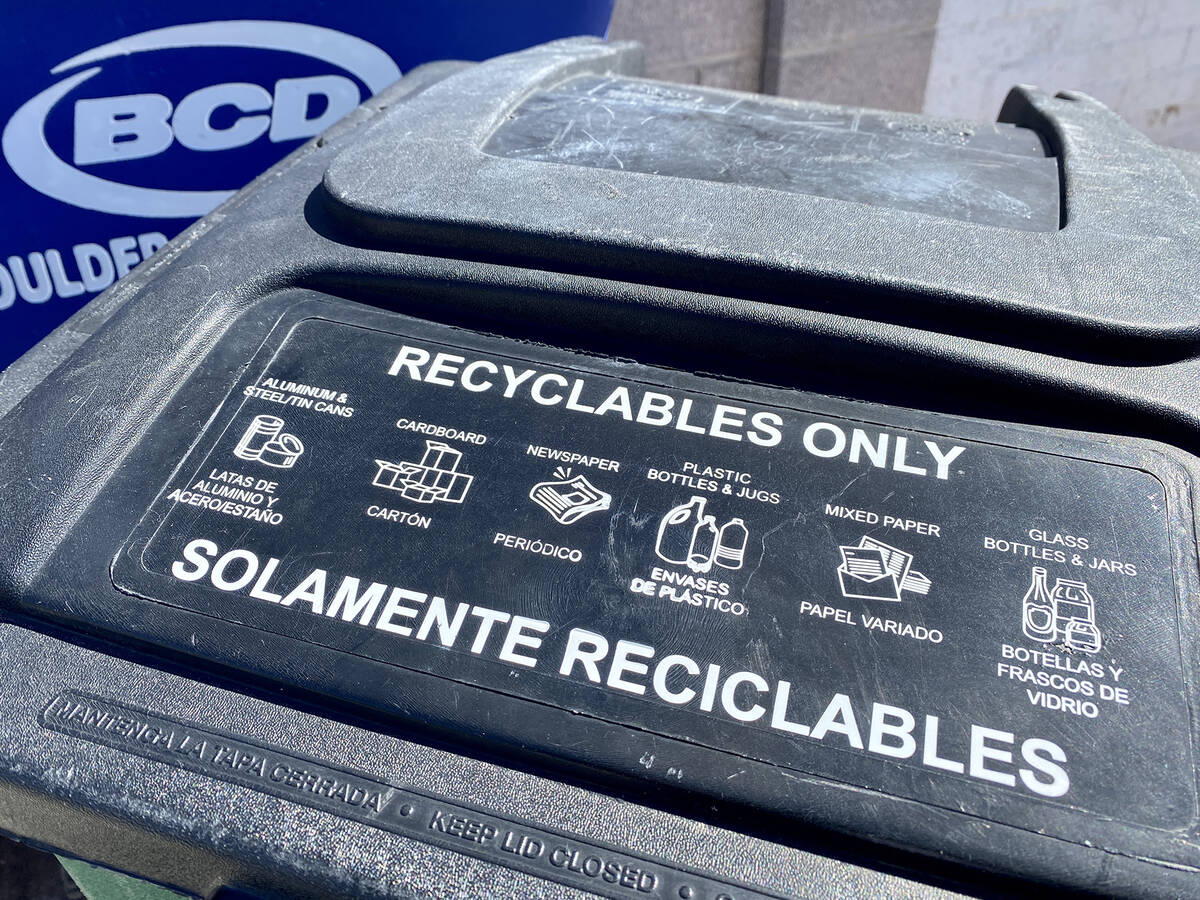 We all know the importance of recycling: lessen the load in landfills, ease the need for raw materials from the Earth, reduce pollution, create jobs, etc. The list of environmental, societal and economic benefits of recycling is long, but only if you're doing it right. Evidently, Boulder City residents could be doing a better job.
We're fortunate to live in a city that has arguably the best recycling program in Nevada. Boulder City has a comprehensive "no sort" recycling program (also known as single-stream and fully commingled), which makes recycling easy for residents. All recyclables get tossed in one cart as opposed to having to separate recyclables by type. The problem is we're tossing willy-nilly, which is causing too much of it to be rejected by the recycler.
According to Cory Delperdang, operations manager at Boulder City Disposal, 20 to 30 percent of it is being refused by Lunas Recycling in Las Vegas, and ends up being trashed. What a waste, literally.
I'm certain that most residents aren't committing recycling no-no's because they don't care, but rather because they don't know, or don't have the right information based on our recycling program.
For example, while living in Los Angeles, I was admonished for rinsing my recyclables because today's recycling facilities can handle food left in containers and I was wasting precious water, so I was told. For our city's recycling program, the exact opposite is true; rinsing is an absolute must.
As Delperdang firmly pointed out, "Anything with food on it will contaminate an entire load and will be refused at Lunas." As for wasting water, "any water in Boulder City that goes down the drain is recycled and ends up back in Lake Mead."
Know that labels do not need to be removed from jars, cans, etc.
Another big recycling no-no is contaminating loads with nonrecyclables. Just because something is metal or plastic doesn't mean it can be recycled in our program. In fact, there's quite the finite list of what can go in our recycle carts, and B.C. Disposal has them clearly labeled on the cart lid. Perhaps it should read "Recycle these items only," but just know that you mustn't take liberties on what can and can't go in.
Common nonrecyclable culprits are garden hoses, Styrofoam, plastic bags, hard plastics (like a laundry bin) and hangers — all not accepted. Oh, and soiled pizza boxes are not recyclable.
Remember anything that has food on it will be rejected by the recycler.
Here's another biggie: Recyclables should be loose, never bagged.
"Residents should know that if drivers see a lot of trash in a recycling load, they document it and take a picture of the 'dirty load' and it gets automatically landfilled," Delperdang explains.
There are also hazards from disposing improperly. Drivers can be injured handling chemicals and shards from things like fluorescent bulbs that implode (and release traces of mercury). Fires are another risk from tossing chemicals (especially pool chemicals) and batteries. "When a blade comes down on a battery and sparks, it can easily start a fire in the truck," Delperdang warns.
The good news is all of these trash and recycling "don'ts" can be properly handled right here at Boulder City Landfill, operated by B.C. Disposal, and for free. They accept all batteries, all household light bulbs, tires, paint cans, aerosol cans, motor oil, hydraulic fluid, Freon, transmission fuel and cooking oil. They do not accept any gasoline or diesel. For a flat fee you may also dispose of your refrigerator and air-conditioning unit, where they properly remove the cooling agent before disposal.
Boulder City Disposal is open for disposal seven days a week, 7 a.m. to 5 p.m. and only closed four days a year: New Year's Day, Fourth of July, Thanksgiving and Christmas. We really have no excuse not to recycle and dispose properly. For more info, call 702-293-2276 or visit BCWasteFree.com.
"Everyone needs to be doing their part … If we could get everyone one on the same page we'd be doing the Earth a great service," Delperdang concludes.
Norma Vally is a seasoned veteran of home improvement; her career includes four seasons as host of Discovery Home Channel's Emmy-nominated series "Toolbelt Diva." A columnist and author, Vally splits her time in Southern Nevada, Los Angeles and New York City. Follow her on Facebook at Norma Vally "Toolbelt Diva" and visit her at www.NormaVally.com. Email Norma@NormaVally.com.