Hometown Heroes: Agostini eager to help; perennial volunteer especially enjoys making kids happy
September 7, 2016 - 1:59 pm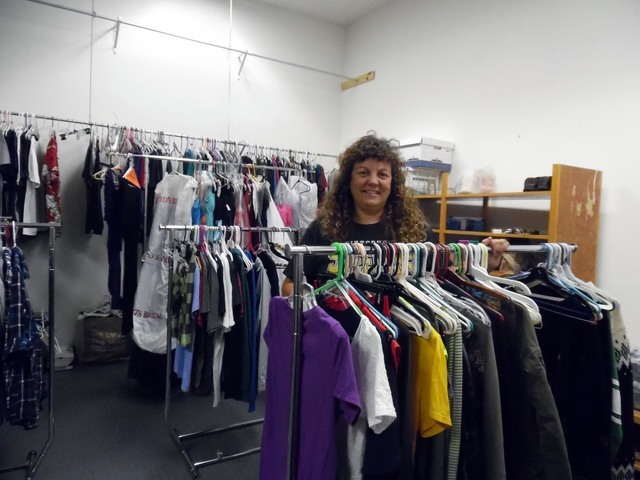 Go to practically any event in Boulder City and it would probably be more surprising not to find Barbara Agostini there than to see her volunteering — again.
With her ever-present smile, can-do attitude and curly locks, Agostini is an easily recognizable figure — that is if you can catch her in one place long enough. More often than not, she is bouncing from one place to another ensuring that community events run smoothly and solving whatever problems crop up.
"Barb is the first person that comes to mind when I think of an event or activity that requires go-to people that will get the job done," said Jill Rowland-Lagan, CEO of the Boulder City Chamber of Commerce.
Not only will Agostini get the job done, she rarely says no to anyone who asks for help.
Organizations that have benefited from her efforts include the Rotary Club of Boulder City, Boulder City Chamber of Commerce, Emergency Aid of Boulder City, the Community Education Advisory Board, St. Andrew's Church and the Josh Stevens Foundation.
Her list of activities that she volunteers for is extensive and includes Spring Jam, Wurstfest, Best Dam Barbecue Challenge, Trunk or Treat, Every 15 Minutes, Damboree, National Night Out, Tricky Tray, Santa's Electric Night Parade and the Boulder City Fire Department pancake breakfast.
Like a parent being asked which child is his or her favorite, or an artist being asked about a favorite creation, Agostini said she just enjoys doing things that make kids happy.
She may be least known for one of her most selfless actions: running the Eagles Closet at the Boulder City High School, where she has worked since 1999.
The closet contains clothing, toiletries and school supplies, as well as the adjunct pantry, where those in need — regardless of whether or not they are a student at the high school — can get what they need.
Agostini started the project about five years ago just because she "saw a need for it at our school."
She said students, or others in need, don't have to qualify to receive help.
All of the items in the Eagles Closet are donated by the community, with an occasional boost through fundraisers by Interact members.
In addition to her work as registrar at the school, Agostini serves as the adviser for the Interact club and assists with the school's honor society.
A native of Pennsylvania, Agostini was raised in Las Vegas. She moved to Boulder City on July 4, 1997, because she wanted to raise her son, John Boyle, and daughter, Stephanie Boyle, here.
Little did she know that day as she did her best to circumvent the Damboree parade as she towed a trailer with all her belongings that two short years later she would be on the committee helping organize the event.
And she has been helping practically everyone ever since.
"She never leans away from hard jobs and she is always willing to try. She gets the importance of civic engagement in this amazing community," Rowland-Lagan said.
As an expert volunteer, it makes sense that she is the go-to person if groups and civic organizations need assistance with an event. Not only does she offer her own services, she helps connect high school students who need volunteer hours with those who need a few extra hands.
Although Agostini has been volunteering with the local Rotary clubs for the past 15 years, she didn't join the organization until a few years ago, she said.
With her son and daughter now 26 and 24, respectively, Agostini has a little bit more free time to spend time with her parents, Walter and Carol Agostini, as well as friends.
Sports also play a role in her life, as she helps with Boulder City Parks and Recreation Department events and takes tickets at BCHS games. She is a devoted Pittsburgh Steelers fan and she said it is her dream to go to one of their home games.
If all this were not enough to keep Agostini busy, she also volunteers in the records department at the Boulder City Police Department twice a week.
She has been recognized for her efforts by the Chamber of Commerce, Beta Sigma Phi sorority and Friends of the Boulder City Police Department, and was presented with the Excellence in Education award from Clark County School District in 2013.
But it's the thank you notes she gets from the students she helps that mean the most to her.
"When I get a thank you note that says 'I wouldn't have been able to survive without the school,' that's the best. It makes it all worthwhile," she said.
Hali Bernstein Saylor is editor of the Boulder City Review. She can be reached at hsaylor@bouldercityreview.com or at 702-586-9523. Follow @HalisComment on Twitter.