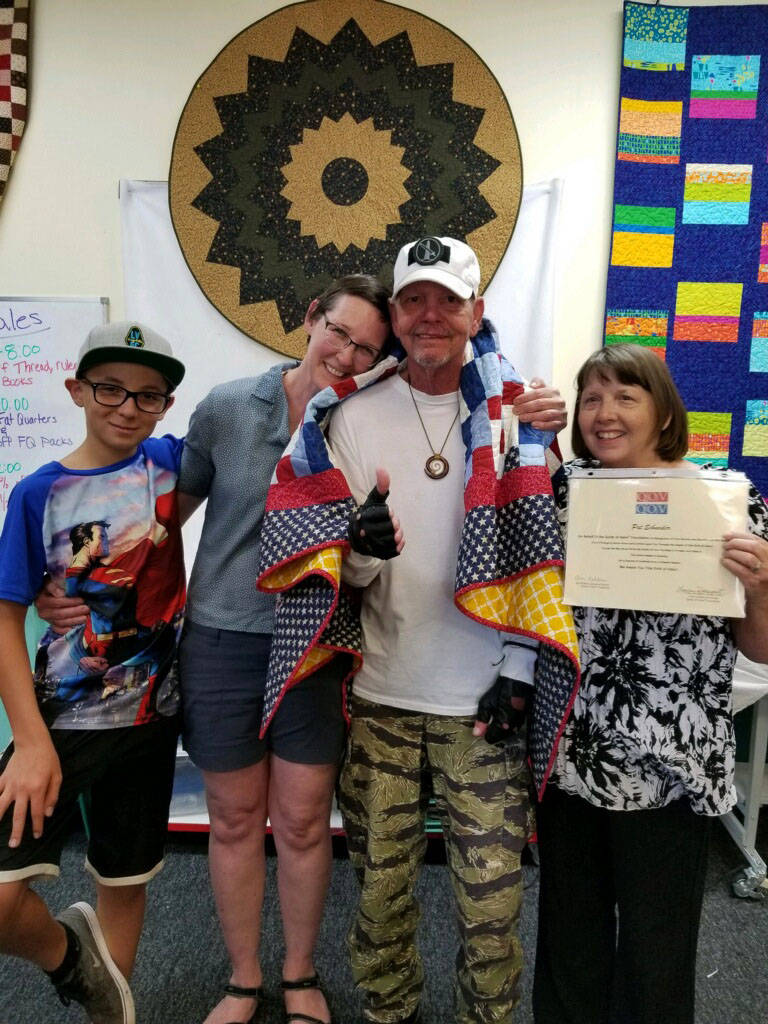 Patrick Schneider, a Boulder City resident and Vietnam War veteran, was recognized by the Quilts of Valor Foundation for his service on Sunday, June 24, with the presentation of a homemade quilt.
"They just pick out a soldier who served his country, no matter what, and they want to honor him for serving his country," he said.
Schneider, known to those around him as "Biker Pat," served in the 3rd U.S. Infantry at Arlington National Cemetery during the Vietnam War.
Since it began in 2003, the Quilts of Valor Foundation has awarded over 190,000 quilts to service members across the United States. The foundation's mission is to "cover all service members and veterans touched by war with comforting and healing quilts of valor."
"You have to be nominated. I have a feeling I know who nominated me, but they wouldn't tell me," Schneider said.
The award was a surprise to Schneider, who said he had no idea why he had been brought to a fabric store in Las Vegas on a Sunday afternoon.
"I'm like, I need a new dress, and the people that were with me were laughing," he said. "So I went into the fabric store and I'm looking around. All of a sudden these little old ladies are pulling me into this back room, and in this back room there's quilts all over the walls.
"They said, this is the quilt of valor, and we'd like to award you with a quilt," Schneider recalled. "They all got up and walked out and they all hugged me one at a time. Every one of them had to shake my hand and hug me. It was an honor."
According to Schneider, awards like these help veterans see that people still care.
In addition to serving at Arlington, "I slept in the White House three nights with a gun."
"I did a lot of interesting things," Schneider said about his service.
The Old Guard, as the division is known, is the oldest active-duty infantry unit in the Army, serving the nation since 1784. It maintains a 24-hour vigil at the Tomb of the Unknowns, escorts the president and is the Army's official ceremonial unit.
He said he also "did three football games, three Washington Redskins football games."
Schneider came to Southern Nevada from Florida in 1974 after he left the service.
"(Las) Vegas in 1974 was nothing but a brown spot in the middle of the desert." He said he took one look at Las Vegas and said, "I can't live here." He found himself at home in Boulder City, where he has been for the past 43 years. He worked as a carpenter and is responsible for building many houses in town.
"I'd be in Vegas and then my boss would say, 'You're not going to believe this. We got like 18 houses in Boulder City,'" Schneider said. "I would be like, I want them!"
Schneider is a member of the Boulder City Elks, Lodge 1682, and the Shane Patton Foundation, which strives to get community residents to remember its current and past service members.
Contact reporter Jayme Sileo at jsileo@bouldercityreview.com.