Home's for the holidays: AAUW's tour showcases town's residences, charm
November 29, 2017 - 4:25 pm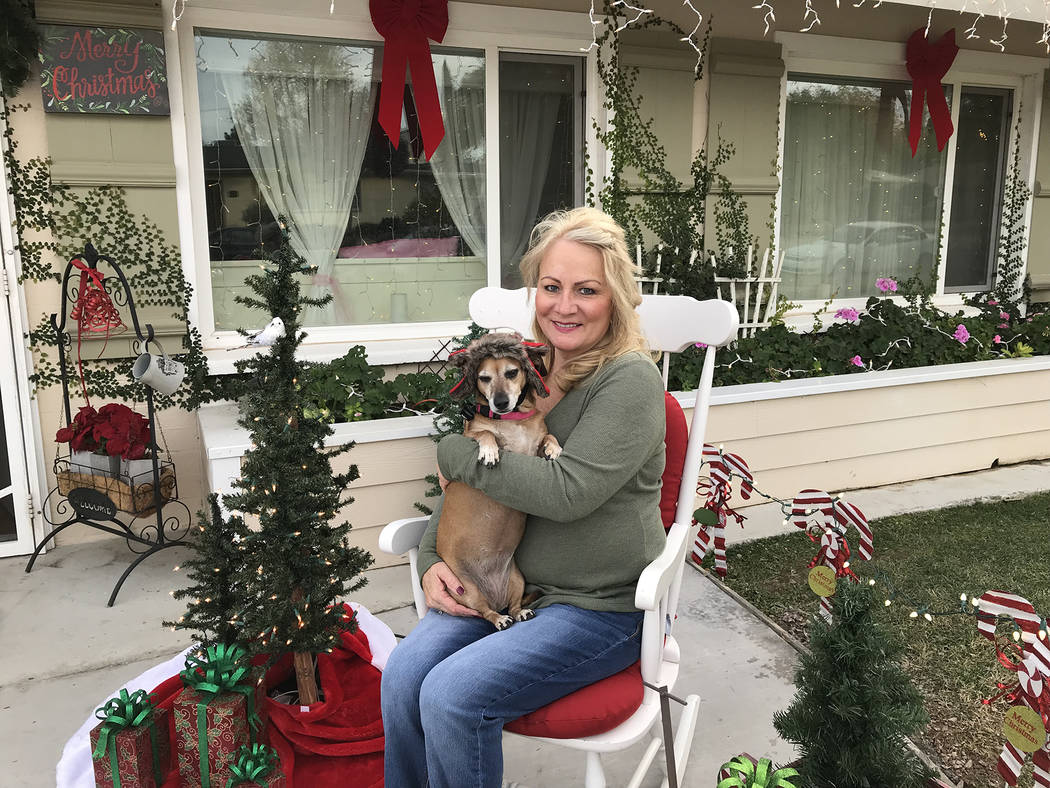 A magical visit to Grandma Land is among the treats to be offered this holiday season as the Boulder City branch of the American Association of University Women hosts its 42nd annual home tour.
Resplendent in holiday decor, Grandma Land, the home of Leah Carter, is a treat for all the senses from the moment you walk into the door. Christmas music, twinkling lights and the aroma of cinnamon greet you from every corner of her home. It's almost like walking into a living gingerbread house with its snowy-white decor accented with reds and greens everywhere.
She said her most treasured decoration is a small clay snowman her oldest daughter, Amy, made when she was in kindergarten.
Carter's home is one of seven stops on the tour, scheduled from 1 to 4 p.m. Saturday, Dec. 9. Proceeds from the tour benefit the nonprofit's scholarship fund.
Decorating her home for Christmas is her hobby, she said. After her husband died and she became a grandmother, Carter devoted herself to making her new home comfortable for her grandchildren and transforming it into a magical place to spend the holiday. She has four grandchildren, ranging from infancy to 4, who live in Boulder City and Las Vegas.
Her decorating efforts are not just inside her home; her front and back yards are equally decked out. Carter said they often spend holidays on her back patio.
Lue Ann Amburn, event chairman, said the homes featured on the tour, like Carter's, are expected to be decorated for the holidays.
"Two people are putting up multiple Christmas trees," she said.
The tour is a holiday staple among locals, and it also draws people from Henderson and Las Vegas, Amburn said.
She said the tour gives people a good idea about the types of homes available, even though none of those featured in the past 10 years has been for sale. It also serves as a good way to promote Boulder City.
"When I started going on the home tour, I became aware of what it does for the community because it gave me a chance to talk to people," she said.
Amburn said organizers hope to surpass last year's attendance of about 400.
Another home on the tour is the Santa Fe-inspired residence of Merrianne Metzger and Tony Baby. Built in the 1960s in a modern style filled with squares and rectangles, it was converted to its present style by former owner, Chuck Binot, and features three fireplaces, a fountain and Mexican tile accents.
Metzger said the home is filled with family heirlooms and original art and furniture made by her husband. She said it just fit their style and furnishings and they knew instantly when they saw it that it would be their home.
Tour participants are welcome to visit the homes in any order. Maps to the locations will be given out at the first stop, Boulder Dam Hotel, 1305 Arizona St.
The aviation room, which won the Great Hotel Flip contest earlier this year, will be showcased at the hotel. The room is a tribute to Howard Hughes and is done in shades of brown, gray and silver with a pop of color courtesy of a painting of a male peacock.
Highlights include a small model airplane hanging in a corner, a leather chair with an airplane wing wrapped around the exterior and a larger map of the world.
Hali Bernstein Saylor is editor of the Boulder City Review. She can be reached at hsaylor@bouldercityreview.com or at 702-586-9523. Follow @HalisComment on Twitter.
If you go
What: AAUW's 42nd annual Home Tour
When: 1-4 p.m. Saturday, Dec. 9
Where: Seven Boulder City locations
Cost: $10 per person
Info: 702-338-8862 or lueamburn2@cox.net