Holiday decor finds new life through recycling
December 14, 2016 - 2:53 pm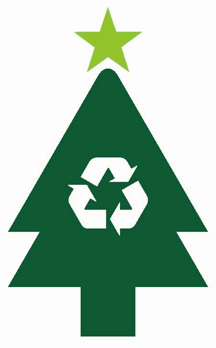 The holiday season is supposed to be all about love, family and giving, but wrapped up in all of that Christmas cheer is one inconvenient side effect: a whole lot of extra waste headed to your neighborhood landfill.
A large part of that comes from one of the most recognizable holiday traditions, the Christmas tree, as many families will have a live tree inside their home. On Jan. 1, those trees will have little life left in them, and many of those families will be looking for a way to dispose of them.
Luckily, B.C. Waste Free is happy to take those drying trees off residents' hands as, for the third year in a row, it will be working in conjunction with the Christmas Tree Recycling Program to keep as many trees as possible out of the landfills.
For the three years the program has been in place in Boulder City, between 250 and 275 trees have been collected and, Caryn Wright, the environmental coordinator for the Boulder City Public Works Department, would love to see that number increase.
"Last year, we saw the number drop a little and I think, in part, that's because a lot of families have fake trees now, but there are still many that end up in the landfills," Wright said. "They're a lot bigger than your average trash so every tree collected helps, but we hope to get even more people participating."
From Dec. 26 through Jan. 11, residents may drop their trees off for free, any time of day, at the Bravo Ball Field parking lot adjacent to the public pool and racquetball complex at the corner of Sixth Street and Eagles Drive. All lights, decorations and nonorganic objects must be removed from the trees for them to be donated. Trees then will be transported to Henderson, where they will be transformed into mulch.
Not only is the recycling program good for the environment, but as a bonus residents will be able to pick up mulch for free, on a first-come first-served basis, from Dec. 28 through Jan. 13 at Acacia Park, 50 Casa Del Fuego St., Henderson. Those who plan to do so should bring a shovel and a container.
While the trees are big contributors, most of that additional waste comes from discarded boxes, cards and paper littering the floor once the presents are open. During the holidays, the average American generates an extra 25 percent more garbage than normal and, according to Republic Services, roughly 80 percent of what is thrown away could be reused or recycled instead.
Residents can make a real difference by recycling things like wrapping paper, cards and product packaging, according to Len Christopher, Republic Services' general manager of recycling. People also should avoid nonrecyclable items like packing peanuts and replace them with newspapers and junk mail. One of his biggest worries is that people might not consider reusing items.
"Recycling is a far better way to dispose of your waste than just a landfill," Christopher said. "But even better is to reuse products one more time first. Use boxes you receive to ship or wrap your own gifts, and hang onto to bows and ribbons that can't be recycled for the next gift you wrap."
B.C. Waste Free also offers a number of recycling options, including no-sort recycling bins at most homes and apartments, as well as the landfill's buy-back center, which will pay residents for items such as aluminum cans, some plastics and mixed paper.
The buy-back center is open from 7 a.m. to 3 p.m. Monday through Saturday and the landfill is at 2500 Utah St.
For more information on the Christmas Tree Recycling program, call 702-299-9301 or visit http://bit.ly/1dSnBbj.
For more information on recycling, call 702-293-2276 or visit http://bcwastefree.com/basics.html.