High school students make a difference
November 19, 2014 - 3:19 pm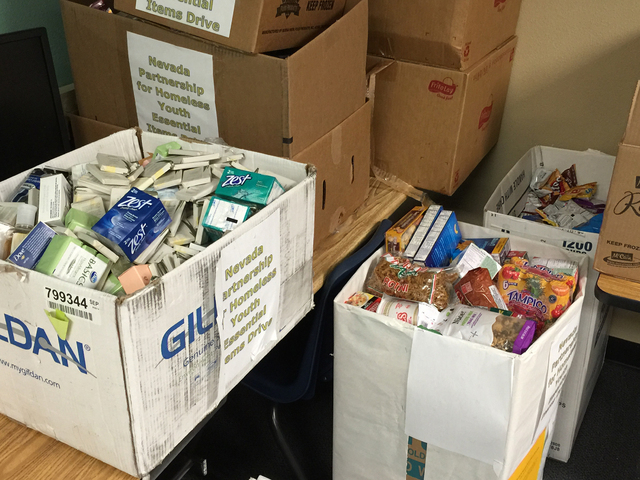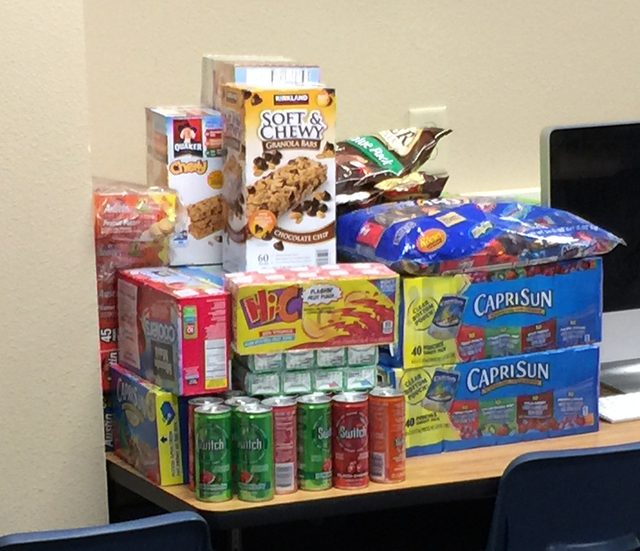 Boulder City High School students know they can make a difference in the community. Their recent drive for donations of everyday essentials proved that by the thousands.
In 10 school days, they collected 10,342 items such as soap, toothbrushes and snacks that will be donated to the Nevada Partnership for Homeless Youth, as well as given to needy teens who attend the high school.
The drive was part of a districtwide event through the We R Community program offered in high schools throughout the Clark County School District. BCHS, with the smallest school population, received the most donations among all the participants, said Joshua Fisher, who teaches marketing and advises the We R Community program for the school.
"At first it was a little stressful about what to do and how to get the whole school on board, junior Monte Morris said.
But, with some skillful negotiations for a schoolwide reward and contest between teachers with a competitive streak, they set a lofty goal of 10,000 items.
"Even though we did this as a group, there are only so many of us. Everyone had to be a part of it," senior Alex Howard said.
Junior Rylee Dosch, who headed the project for the class, said she knew it was important to get the entire school involved and educate her peers about the need for the everyday essentials.
"We have kids in our own school who might need these items. I know I've never had to struggle about where I was going to get my next meal or a toothbrush or have to do my homework under a streetlight."
Although they set a high goal for their project, Dosch said she was surprised and "superpumped" when they exceeded that number.
"They thought they might get about 5,000 items," Fisher said.
Junior Anthony Carvalho, who is in his third year of the We R Community program, said he feels being part of a small community gave BCHS an advantage. Knowing the "back story" of people's needs motivated the students to do more. "It brings an already close community closer."
"As a smaller community, we care for the whole community more," Morris said.
Junior Rachel Whitman said many of the items they collected were things most of us take for granted, day-to-day essentials such as deodorant, socks and razors.
"It provided us an opportunity to give to our community things they might not otherwise have," Carvalho said. "You realize everyone is not untouchable. Just because you have stuff doesn't mean everyone else does."
We R Community was established in 2008 by the Public Education Foundation to provide an opportunity for students to learn about making a positive difference in their community. It combines principles of leadership and volunteerism.
"Instead of having a curriculum we are told to learn, we have the opportunity to see the results and value of our work," Howard said.
"We get to take our own paths to success, and not the road our teachers usually make us take," Morris said.
Each month they have a special project to work on and November's was getting the donations for homeless youths.
The project was especially meaningful to the students, who chose to focus on hunger and homelessness in the community as their primary goal this year.
"They had to create a mission statement about what they feel the community needs the most help with," Fisher said.
From there, they narrowed down a field of 30 ideas to the top five. Once those were selected, Fisher said the teens presented the information to their peers.
In addition to the projects, Fisher said they are given a $5,000 grant each year, with funds coming from community and corporate sponsors, to create a miniature foundation to seek and awards funds to deserving nonprofit organizations. Boulder City High's grant came primarily from the Boulder City Chamber of Commerce, he said.
Last year, they sent out about 50 applications to local nonprofit groups as possible grant recipients. They received eight completed applications and funded four, Fisher said.
"It opens your eyes to things you would not normally see," Carvalho said.
Fisher's marketing I and II classes were "volunteered" to participate in the program. It is in the second year of its second two-year curriculum.
"We were chosen to be the We R Community class. It might seem like we didn't have a choice, but we all chose to be part," Morris said.
"It's mandatory, but none of us feel like it is," Carvalho added.
In addition to their efforts at school, volunteering in the community is a key component of the program.
"You can never go wrong with community service," said Dosch, who volunteers with her family at several organizations including the Three Square food bank.
"It gives you a better community to live in," agreed Morris, who volunteers with his church.