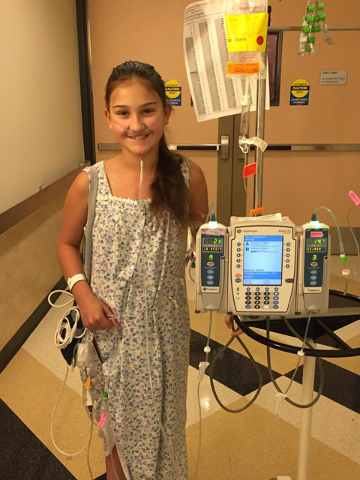 You wouldn't be surprised to learn that two young girls have a things for hearts. However, you might be taken aback when you discover that for one of those girls, a heart is a matter of life and death, and for the other, it's how big hers has grown.
The girls are both students at King Elementary School. They have never met, but they are connected at the heart.
Fifth-grader Madison Elizondo, 11, is at the Children's Hospital of Los Angeles where she is awaiting a heart transplant.
Third-grader Kiley Flowers, 9, is doing everything she can to help raise money for Madison's family.
"I wanted to help," Kiley said.
Madison was born with with hypoplastic left heart syndrome, a form of congenital heart disease where the entire left half of the heart, including the aorta, aortic valve, left ventricle and mitral valve, is underdeveloped. She has already had six open-heart surgeries and has a pacemaker.
Kiley learned about Madison from her teacher, Nicole Rowe, who is best friends with Madison's mother, Gina Elizondo, a special education teacher at King.
All of the classes at the school were involved in a coin war, gathering pennies that were put in empty gallon milk jugs, with all the money donated to the Elizondo family.
Although there were a few days when they were allowed to bring in silver coins, Kiley brought them in whenever she had some.
"My (students) knew that whatever money they collected it was all for Maddy," Rowe said.
Then, Kiley took it a step further. She brought in $25 in rolled pennies, enough so that everyone in the class could put a roll of pennies into the jug, Rowe said.
Still, that wasn't enough. On her own, Kiley asked her friend Myra Davis, a member of the Rotary Club of Boulder City, if she could ask them for some help.
In all, Kiley raised $809.51. But even that wasn't enough. She also opened a lemonade stand on Saturday morning, where she raised an additional $14 and then appealed to those attending the Best Dam Barbecue Challenge in Bicentennial Park.
She got up on stage, read a letter about why Madison needs help and then, along with three friends, her parents, Kelly and Curt Flowers, and her teacher, Kiley passed jugs around the park asking for donations to help Madison.
"It feels so good that people come together for her and her battle with this," said Paul Elizondo, Madison's father and an officer with Metropolitan Police Department in Las Vegas.
Through it all, Madison has remained happy and positive, Elizondo said.
"She's nothing but smiles," he said of his daughter. "It's gotten to the point that when she gets a shot, she doesn't even flinch. It's been her life, but my 21-year-old will come to tears."
For the past two months, Madison and her mother have been in Los Angeles, with Madison as a patient at the Children's Hospital.
Elizondo said he and their three other children, Mathew, 21; Alex, 13; and Allyssa, 8, try to visit periodically.
"It's very stressful … the family is split right now."
But, they are hopeful that a heart will be found. He said they were told that all of Madison's other organs are "in perfect working order," her blood type is universal and she can accept the heart of someone up to 30 years old.
"It opens a lot of windows for a transplant," he said.
Even with insurance, the costs to keep Madison in the hospital and pay for her medical expenses, as well as the family's living expenses, are staggering. Elizondo said he is doing the best he can, but appreciates the efforts of everyone who has been helping raise money.
"We're kind of in a position where we know what we need to do. … We'll circle the wagons and bring resources together and do what we need to do."
The Elizondo family lives in Henderson, but Paul and Gina were born in Boulder City. Additionally, their children attend school in town.
"The Boulder City community is tremendous," Paul Elizondo said. "They are coming together on behalf of my daughter. I embrace that, our family embraces that and it is greatly appreciated."
He said he is especially touched by the efforts of the students at King Elementary, and Kiley in particular.
Kiley said she has no plans to stop raising money to help Madison get her new heart. She and her family have collected more milk jugs, which they will decorate and place in businesses throughout town.
"Kiley and I had a conversation that if we were ever put in a position like this we would hope there would be more Kileys like us to help," Kelly Flowers said.
Kiley said she hopes to meet Maddy some day.
"That would mean she got a new heart," she said with a smile.
Those who would like to help the Elizondo family can make donations at http://www.gofundme.com/madisonelizondo.
Hali Bernstein Saylor is editor of the Boulder City Review. She can be reached at hsaylor@bouldercityreview.com or at 702-586-9523. Follow @HalisComment on Twitter.