November 21, 2018 - 4:10 pm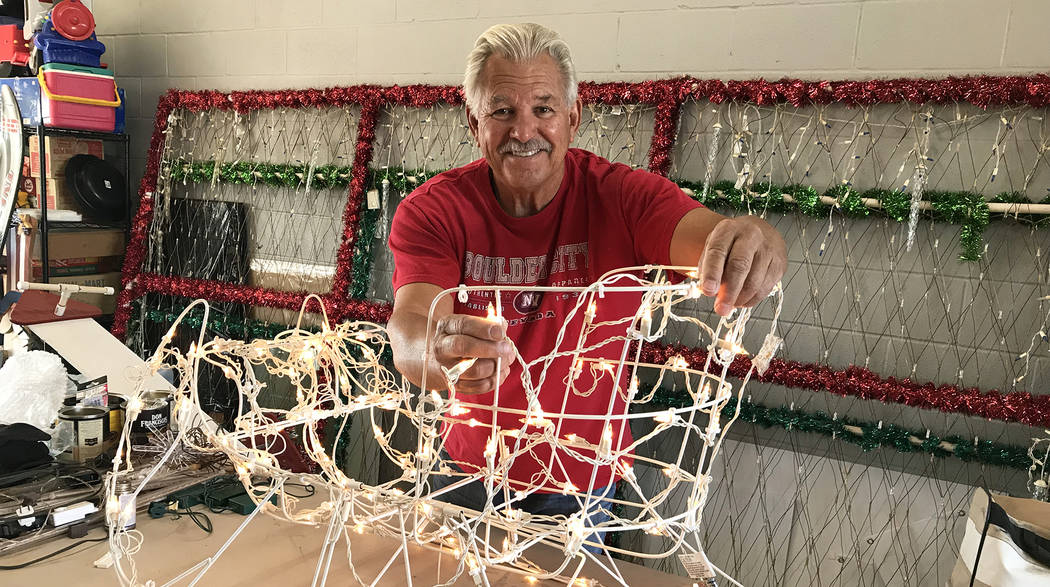 Boulder City may lack the cold, snowy atmosphere of the North Pole, but it has its very own Santa who devotes his life to making Christmas spectacular for those around him.
For Dale Ryan, Christmas is more than just a one-day holiday each year. It's a way of living.
Whether greeting visitors to the Fifth Street home he shares with wife, Dyanah Musgrave, each night throughout December, setting up decorations, taking them down, making repairs or creating new additions, barely a day goes by when Christmas is not on his mind.
"It's always on my mind. You never know when something will inspire you," he said.
This will be the 15th year Ryan has decorated their house at 1525 Fifth St. for Christmas. Last year, 18,000 people walked through the display; the year before 25,000 people visited.
Ryan said he started decorating their house as a tribute to their parents, who instilled a love of Christmas at an early age.
"It's all in their honor," he said, adding that before their deaths they would help him and Musgrave tie lights to poles and repaint bulbs with translucent nail polish.
In Cleveland, Ohio, where they both grew up, Ryan and Musgrave said fanciful holiday displays were something they looked forward to seeing each year.
Ryan said he would press his nose against the big windows in front of the department stores to get a better look at the displays.
"I was like little Ralphie," he said of the character from the movie "A Christmas Story."
Six hundred hours
He said it takes him 600 hours just to assemble his displays, which includes a train, ski lift, roller coaster and Ferris wheel, and wire all the lights — more than 100,000 colorful, twinkling bulbs.
Ryan said he puts up and takes down most of the display by himself. Occasionally, he will get Musgrave to lend a hand and he has three friends — Andy Anderson, Chris Gatlin and Mike O'Donnell — who help him lift the heavy things, particularly those that go on the roof.
He starts mentally planning how the decorations will be put up in September and then spends the next two months putting them together. He tests every light, though he does that during the day so nothing takes away from the official lighting ceremony, held each year before the city lights its Christmas tree.
Then, he and Musgrave spend every night in December from dusk until 9 p.m. in their front yard greeting visitors who come to see the decorations.
All told, he is out there every day for four months. Additionally, he spends a month taking everything down and putting it away plus time he devotes each summer to creating something new.
For Ryan, part of the fun is having visitors trying to figure out what he's added each year.
International attention
The two said they are surprised at the effect their decorations have bringing visitors and recognition to Boulder City. Earlier in the year when they were traveling, people in Mississippi and other parts of the United States knew about their Christmas house and had seen them on television in 2016 when they won ABC's "The Great Christmas Light Fight."
They also get visitors from around the world who make a special trip to Boulder City during their vacations in Las Vegas.
Creating the holiday display does take a toll on him physically.
Musgrave said he comes into the house with his hands bleeding and his knees raw from climbing on the roof, and usually loses between 10-15 pounds each year because he works so hard.
"He will work until he can't work anymore," she said.
While he devotes time to installing the display, Musgrave makes sure he has plenty of food and beverages as well as tending to their business.
Ryan said his biggest challenge is finding incandescent light bulbs, either to replace those that burned out or color faded, or for new elements of the display. He said he prefers the old-fashioned bulbs vs. LED lights because they have a warm glow that remind him of his childhood.
Community support
In return for their efforts, Ryan and Musgrave said they feel the love and support from the community.
"It's an incredible experience," she said.
"All day long people stop to see what I'm doing," Ryan said of the time spent preparing the display.
They also drop off donations of holiday decor.
Both Ryan and Musgrave said their neighbors are great and "never complain" about the traffic their display brings. Instead, they have been joining in on the fun and gradually creating bigger displays in their own yards.
At the moment, Ryan said he has no idea how many more years he will continue to put up the Christmas display.
"I take it one year at a time."
Yet the love he has for what he is doing is so clearly evident, odds are he'll be up on that roof just like Santa next year and for many years go come.
Hali Bernstein Saylor is editor of the Boulder City Review. She can be reached at hsaylor@bouldercityreview.com or at 702-586-9523. Follow @HalisComment on Twitter.