Guild's annual winter art festival takes on holiday spirit along with new name
October 31, 2018 - 3:13 pm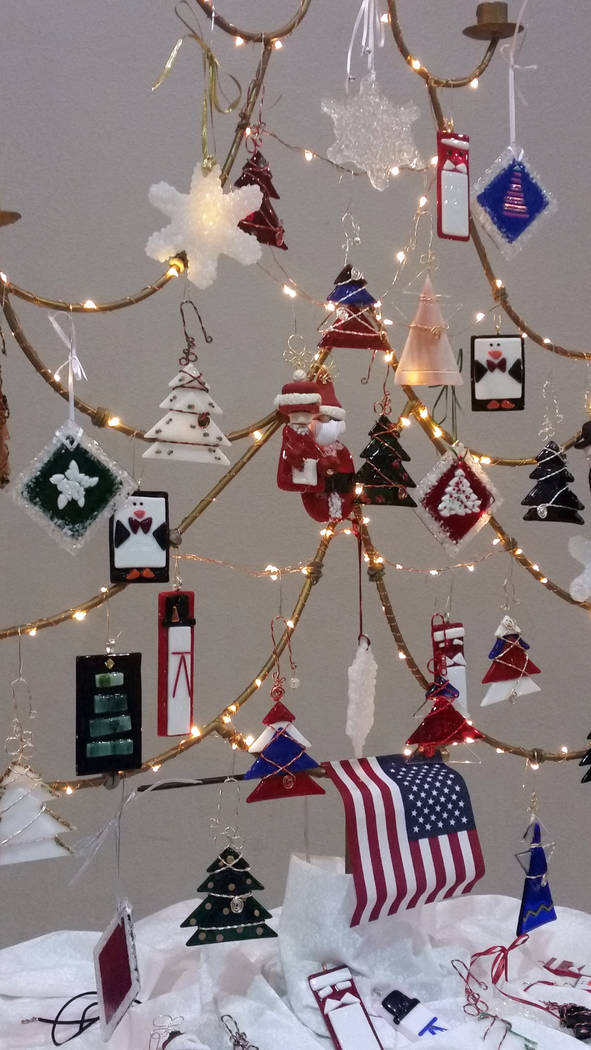 With a new name and re-energized spirit, the Holiday Fine Arts and Crafts Show returns to the city's parks and recreation center Nov. 10 and 11.
Presented by the Boulder City Art Guild, the two-day winter art festival will showcase fine arts and crafts by about 40 artisans. Many of the items will be holiday oriented.
Diana Meyer, the show's coordinator, said the annual event was previously known as the Winter ArtFest. Guild members changed the show's name in hopes of attracting more attendees, she said.
The show will feature works in a variety of media, including watercolors, acrylics, oils, glass, ceramics and jewelry. In addition, there will be several displays of fine arts, according to Meyer.
Guild member Diane Ricks will display her nationally recognized handmade gowns, designed and sewn with silk materials she has created. She calls her designs wearable art.
Meyer said Ricks begins with pieces of raw silk, which are then dyed and painted before they are sewn into pieces of clothing.
She also noted that artist Julie Townsend will participate in the show. Townsend created the piece of art used on the event poster. The winter scene depicts Townsend and her brother at their grandmother's farm when they were children.
Meyer said the piece is available for purchase.
Townsend also will feature her often whimsical drawings and paintings.
In addition to the show, there will be a raffle drawing featuring three pieces of award-winning art.
Because it is being held on Veterans Day weekend, there will be a tribute to veterans, Meyer said.
Proceeds from the festival benefit the guild's scholarships, which are presented to Boulder City High School seniors pursuing additional art education, as well as to pay for tuition for area youths to attend classes at the city's art center.
Show hours are 9 a.m. to 4 p.m. both days at the recreation center, 900 Arizona St.
Admission to the show is free.
Hali Bernstein Saylor is editor of the Boulder City Review. She can be reached at hsaylor@bouldercityreview.com or at 702-586-9523. Follow @HalisComment on Twitter.
If you go
What: Holiday Fine Arts and Crafts Show
When: 9 a.m. to 4 p.m. Nov. 10 and 11
Where: Boulder City Recreation Center, 900 Arizona St.
Cost: Free
Info: 702-280-3985 or http://www.bouldercityartguild.com