Guild's 31st annual spring festival showcases fine arts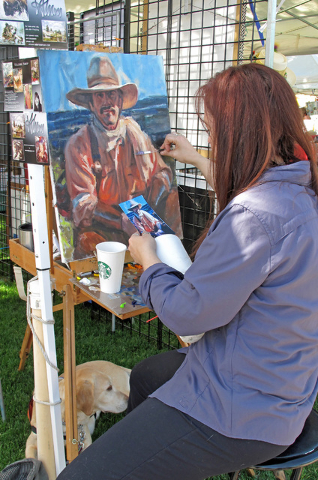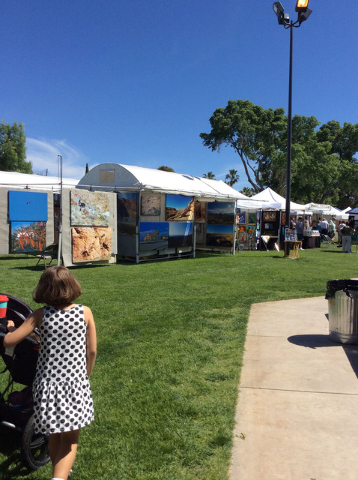 Spring has sprung, and that means more than 130 artists from the Southwest will flock to Boulder City's Bicentennial Park next weekend to show their work off to an anticipated 15,000-plus visitors.
Artists from Nevada, Colorado, New Mexico, Arizona, California, Idaho and Utah will exhibit paintings, sculptures, fine art crafts, handmade jewelry, photography, pottery and more April 16 and 17 at the 2016 Spring Art Festival.
The 31st annual festival is a fundraiser for the Boulder City Art Guild, a nonprofit organization that has been sponsoring the event since it began in 1985.
From 10 a.m. to 5 p.m. April 16 and 10 a.m. to 4 p.m. April 17, attendees can peruse artwork while they enjoy live entertainment by a barbershop quartet, snack on tacos from Phoenix-based Taste the Nation, burgers from Salt Lake City's All-American Grill and shaved ice from Iceland, and sip on lemonade from the Twisted Lemon.
There will be free drawings and a fine art raffle to raise money for scholarships to help local high school seniors take art classes in college. Support also funds scholarships to the Boulder City Art Center, which will be awarded to "deserving youngsters and seniors," according to the Boulder City Art Guild's website.
Admission to the event is free, as is a new kids zone where children can make art projects from 11 a.m. to 3 p.m. both days.
Event organizer Diana Meyer said she wants people of all ages to enjoy this year's festival.
"Our biggest thing this year is we're partnering with City of the World art gallery to bring in a 'kids' art bus,'" she said.
The bus was donated to the Las Vegas gallery by the Regional Transportation Commission, gutted and filled with easels and art displays for children to tour, Meyer said. City of the World President Roz Knight invited volunteer artists from her gallery to lead children in three projects at the festival, including planting seedlings and using sequins to make galaxy-inspired belts.
The festival's featured artist, 46-year-old Valerie Amon, said she and her mother will show more than 40 paintings together.
"Subject-wise, I paint across the board," Amon said. The Boulder City native, who now lives near Denver, paints landscapes, portraits and almost anything outdoors to keep herself challenged. "It keeps your work interesting."
Amon and her mother, Pat, have been exhibiting their work together at the Spring Art Festival for 12 years. She said her mother has been displaying work at the festival for about 20 years.
"I grew up in Boulder City," Amon said. "I used to go to the festival to support my mom, and then we started showing together."
Amon graduated from Boulder City High School in 1987, graduated from Northern Arizona University with two degrees in advertising and marketing and later went back to school at Arizona State University to take a few art classes.
"I couldn't stop and have been painting ever since," she said. "You never retire from painting — my grandmother painted with my mother and I into her 90s."
This is the second time Amon has been approached by the Boulder City Art Guild and asked to be the Spring Art Festival's featured artist; the first time was at least five years ago, she said.
Amon and her mother will be at the festival both days. Pat Amon will be doing the talking and Valerie Amon will most likely be found in her element, behind an easel, paintbrush in hand, she said with a laugh.
"I can't sit still, so I'll be painting all weekend," she said.
Contact Kimber Laux at klaux@bouldercityreview.com or 702-586-9401. Find her on Twitter: @lauxkimber