Girl Scouts strike gold helping others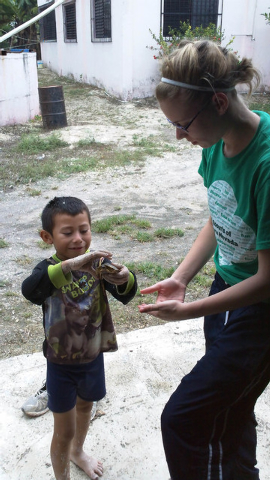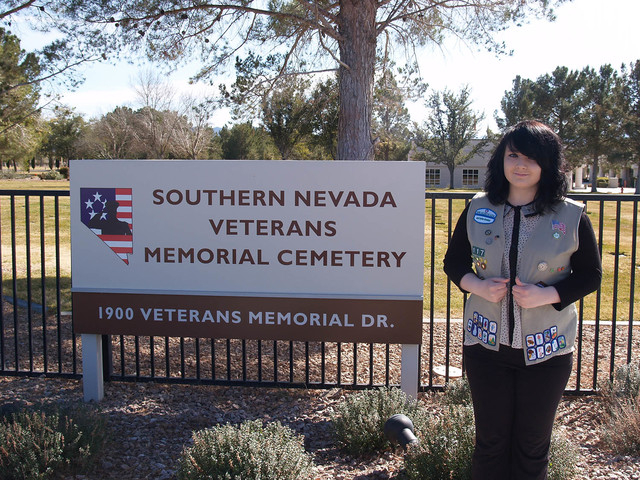 For teenagers Meghan Chase and Ashley Smith, there's no greater feeling than bringing happiness to others.
The girls received the Girl Scouts' Gold Award, the organization's highest honor, this year after completing their most difficult humanitarian effort to date. The Gold Award, the equivalent of the Eagle Scout rank given to Boy Scouts, was awarded to nine girls in Southern Nevada in 2014.
"The challenging thing about a Gold Award is that is has to be long-lasting," said Emily Smith, chief operating officer for the Girl Scouts of Southern Nevada. "It really helps girls think beyond themselves and their local communities."
Chase and Smith, 17-year-olds with Boulder City ties, spent months working on their projects and, through the trying times, enjoyed working hard on their humanitarian efforts.
Chase, a Boulder City teen who attends high school at the Southeast Career Technical Academy in Las Vegas for cosmetology, traveled to Mexico to help build a water cistern for local families.
Before she was able to take her humanitarian efforts south of the border, she had to get her project approved by the local Girl Scouts Gold Award committee. She presented the committee with a multimedia description of what she hoped to accomplish and, with the help of more than 30 people and organizations, raised $3,600 to help fund her trip.
Chase and her father flew seven hours to Cancun in April, then drove four hours to the town of Xpujil on the Yucatan Peninsula close to the Guatemalan border, where they met up with a group of five others from North Carolina, as well as humanitarian Todd Luke, who helped orchestrate the effort.
Chase's group spent the entire week learning the town's customs and, with the help of a few locals, built a cistern so women and children would no longer be forced to hike several miles to get to the nearest supply of clean water.
The cistern, which holds 6,300 gallons of water, stores rainwater in a concrete reservoir so people can get fresh water instead of using the main water supply that Chase described as "dirty."
Chase recounted a story about an older Mexican man who lived in the area and how he ran back and forth getting sand for the foundation when they built the cistern.
"He was just so excited for the fresh water," she said.
When the cistern was completed, Chase and her group received overwhelming thanks from the community.
"We went to Mass with them on Sunday, and they all waited outside the church for us," she said. "They would shake our hand as a sign of 'God bless you.' We shook everyone's hand in the church."
Now that Chase is nearing the end of her Girl Scouts career, a journey that began when she was 5, she'll continue her humanitarian efforts to make life better for the less fortunate.
"There's not really a feeling to describe it; it's just really great. It just feels really perfect," Chase said about completing her latest project. "It feels really good because I know I did something really well, and I know that it actually helped a lot of people."
Smith earned her Gold Award after spending months digitally preserving more than 3,300 graves at Southern Nevada Veterans Memorial Cemetery for the website findagrave.com, which allows people to search for those who have died.
Smith said she got the idea for her project because she felt Boulder City deserved better.
"When we started the project, the percentage of Veterans Memorial Cemetery (digitally preserved collection) was only 23 percent," she said. "I thought that that was a real shame, and so I decided I wanted to make that my project."
Smith spent months taking pictures of headstones and alphabetically uploading them to the website so friends and family members could reconnect with their loved ones online.
By the time she finished her project, Smith bumped the digital preservation of Southern Nevada Veterans Memorial Cemetery from 23 percent to 49 percent. Her work also garnered positive feedback from the community, she said.
"One time we went up there to take pictures and a man asked us what we were doing," she said. "We told him about the project, and he thanked us for starting it. It felt amazing."
The project didn't come without its share of difficulties, though, as Smith recalled a time when computer problems forced her to have to remake 100 profiles. But even after the mishap, Smith said she gained a sense of satisfaction because her efforts were helping to preserve Boulder City's rich history.
Even after doubling the amount of graves that were originally preserved online, Smith said there's still more work that needs to be done.
"The percentage should be higher for what Boulder City embodies," she said.
Though Smith's Girl Scouts career is almost over and she received the highest award possible, she said she plans to work on more humanitarian projects.
" … I think that's very special when working on these sort of projects," she said.
Contact reporter Steven Slivka at sslivka@bouldercity review.com or at 702-586-9401. Follow @StevenSlivka on Twitter.