Garrett students show support for military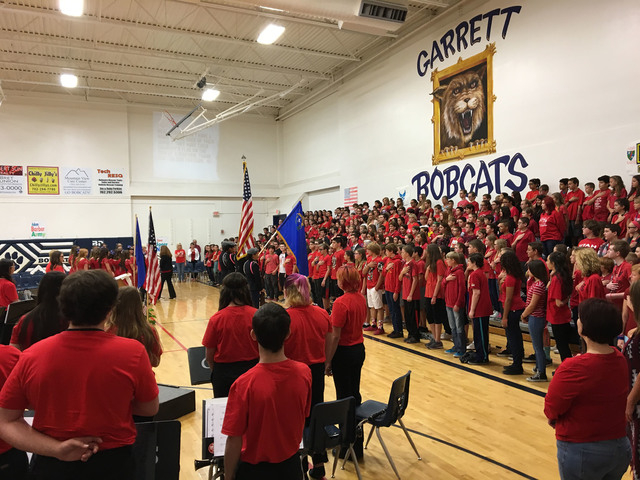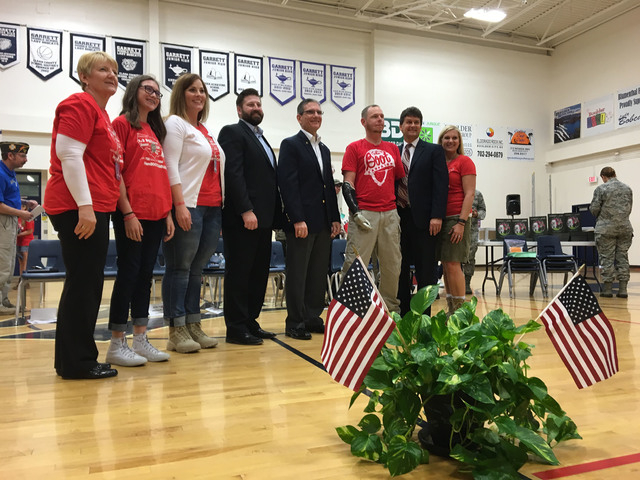 A group of 448 students gathered in the patriotic-poster-lined gym of Garrett Junior High School on Friday morning to honor veterans' service with an assembly and donate $3,600 to a nonprofit veterans help group.
Special guests included Nevada Rep. Joe Heck, retired U.S. Marine Sgt. Mark Burleson and Boulder City Mayor Rod Woodbury, who spoke to a sea of students in red shirts about the importance of serving and patriotism and thanked them for their fundraising efforts.
Burleson, an ambassador for Boot Campaign, lost both arms and the vision in his left eye in a roadside bomb blast when he was stationed in Afghanistan in 2011. One year later, through his rehabilitation, he learned about Boot Campaign and was immediately drawn to the organization, he said.
"There are hundreds of veterans groups across the country," Burleson said. "They were doing something different. They weren't trying to get anything out of it."
Boot Campaign, which was founded in 2009 by five women in Texas, and its young-student-geared program, Patriot League, aim to "activate the patriot" in the everyday American, Burleson said. Through the program students gather supplies for and write letters to deployed military members.
"You get to give something to someone that can't necessarily stand there and say 'Thank you,'" Burleson said.
In addition to the giant check presented by the school's student council advisers at the assembly, the junior high announced it will donate new desks and chairs and hundreds of books to the children's library at Nellis Air Force Base.
"This is really emotional," Heck said after the assembly. "When you see junior high kids going out and raising $3,600 and then the one student gave $100 out of her own pocket to the Boot Campaign, which is critically important for helping to take care of our wounded veterans, it really means a lot."
A spokesman for Boot Campaign said the public can help Garrett Junior High collect donations — including books, clothing, gift cards, board games and sporting goods — to support various family services, youth activities and facilities at Nellis Air Force Base by emailing info@bootcampaign.org.
Contact Kimber Laux at klaux@bouldercityreview.com 702-586-9401. Find her on Twitter: @lauxkimber