Friends bolster young boy's battle against leukemia
August 19, 2015 - 2:24 pm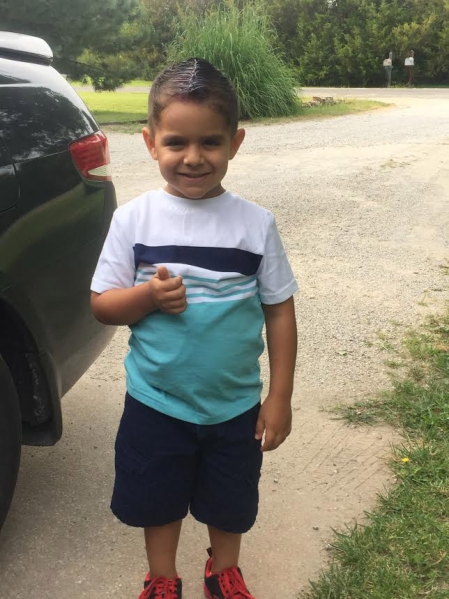 For the second time in just three years, 4-year-old Elliott Ortega is in the middle of a hard-fought battle with cancer.
When Elliott was 1, he was diagnosed with liver cancer and received a transplant in 2012. Now, he's doing his best to fight the disease that returned to his body in the form of leukemia.
Elliott was diagnosed with acute myeloid leukemia July 14 and has already endured one round of chemotherapy. The American Cancer Society estimates that nearly 19,000 people were diagnosed with acute myeloid leukemia in 2014.
Jessica Ortega, Elliott's mother, said the oncologist told her family that Elliott must undergo more chemotherapy before getting a bone marrow transplant.
"There are a lot more doctors involved this time around," she said.
Jessica Ortega and her husband, Ray Ortega, were both raised in Boulder City and graduated from Boulder City High School in 2000. They lived in town until last year when Ray took a job in Wichita, Kan.
Even though they're no longer in town, the community is looking out for them in their time of need. Ray Ortega said a few of his Boulder City friends reached out to Vinny's Pizzeria, 1632 Nevada Highway, to ask about a possible fundraiser to help the Ortegas with Elliott's treatment.
Today, from 11 a.m. to 9 p.m., Vinny's will be donating 15 percent of its sales to help support the Ortega family. A donation bucket also will be put inside the restaurant for customers who want to chip in.
Jessica said Vinny's, along other friends they've made in Boulder City, held previous fundraisers the first time Elliott had cancer. The community support, she said, was overwhelming.
"It was absolutely amazing," she said. "They raised so much money that until now, we haven't had to pay anything out of pocket."
The silver lining of Elliott's disease is that he hasn't shown any side effects from the chemotherapy, and Jessica said her son's been in good spirits throughout it all.
"He's been amazing. You would never think he's sick," she said. "He deals with it really, really well."
Unfortunately, Elliott is starting to question why he constantly has to visit the doctor, and why he has two tubes hooked up to his chest.
"He's just more alert of what's going on," Ray Ortega said.
Elliott could spend anywhere from one to three months in the hospital after receiving his bone marrow transplant. Jessica said the family will soon meet with doctors in Kansas City for more details.
The ride has been tough, the Ortegas said, but the help of friends and family, as well as their son's positive attitude, has made it easier.
"It shows us how good our friends are, as well as how a small town like Boulder City can pull together to help a family in need," Ray said. "It means the world to us."
Contact reporter Steven Slivka at sslivka@bouldercityreview.com or at 702-586-9401. Follow @StevenSlivka on Twitter.