Former sergeant honored for saving life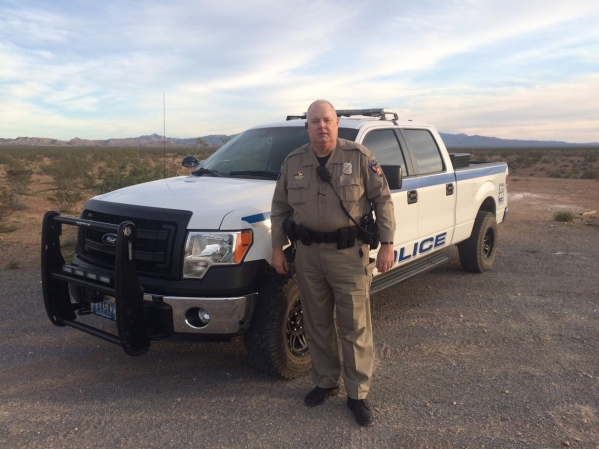 Dan Jennings was far from optimistic when he saw a 28-year-old woman laying breathless on the floor in her bathroom.
Jennings, 62, was working as an officer on the Moapa River Reservation at the time, just two years after he left the Boulder City Police Department in 2012.
He responded to the Jan. 31 call about a woman who was unconscious at her home about 30 miles north of the Las Vegas Valley. When Jennings arrived, the woman's family members guided him into the bathroom where she was laying.
"She wasn't breathing, her lips were blue and her face was lifeless," the former Boulder City Police sergeant said. "I really didn't think there was much I could do. It was a very small bathroom. I had to contort my body between a bathtub and a cabinet. I checked her vitals, cleared her airway, then started with CPR."
After about 15 minutes of CPR, the woman regained consciousness. Jennings said he was lost in the moment as he desperately tried to save the her life.
"It seemed like forever," he said. "We were told she had taken an excessive amount of alcohol. She had just come from a funeral, and I'm pretty sure there were also some drugs involved."
The woman, who laid lifeless in her bathroom when Jennings arrived, was released from the hospital the next day, he said.
The American Police Hall of Fame presented Jennings with a Life Saving Award earlier this year for his efforts. He said the roughly 72,000-acre reservation, which has approximately 270 people living on it, isn't accustomed to incidents like the one he encountered.
"There aren't a lot of calls for service, just like many other small communities," Jennings said. "It's more community policing. We don't get too many calls about 28-year-old females on the floor unconscious."
He received a similar award in 2006 when he and Boulder City Police officer Jeff Grasso revived a man who collapsed in his doorway.
Jennings, who joined the Boulder City Police Department in 2002, retired in 2012 after spending nearly 10 years as a patrol sergeant working the night shift.
He came to Boulder City from South Carolina, where he worked for the Lexington County Sheriff's Department. In 1996, Jennings was shot on duty and to this day does not have feeling in the upper part of his left foot.
He said he wasn't anticipating a long tenure in Boulder City, but was lured by the small-town charm and his fellow officers within the department.
"When I was originally hired, I thought I'd stay here for a year and go home, but it was just a great place to work," he said.
Grasso said he and Jennings were brought on at the department just a few months apart. He called Jennings a "cop's cop," someone who could always be looked upon to lead others.
"Just the level of respect he has for the job translates into the level of respect he has for the people we serve," Grasso said. "He's just a stand-up guy when it comes to law enforcement."
Jennings saved the 28-year-old woman's life just six weeks before calling it a career, a career during which he's received numerous awards and accolades.
"The big reward was saving a life," he said.
Jennings currently helps Nevada peace officers obtain advanced certifications and assists out-of-state retired officers fulfill requirements for the Law Enforcement Officer Safety Act.
Contact reporter Steven Slivka at sslivka@bouldercityreview.com or at 702-586-9401. Follow @StevenSlivka on Twitter.