First pool plunge deemed 'perfect'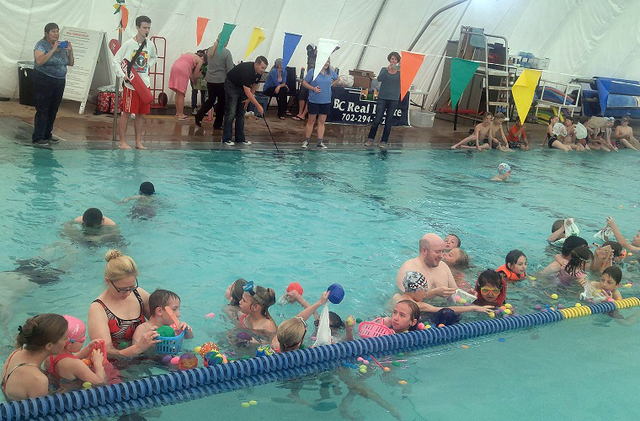 Young treasure seekers got a little wet and wild Saturday as the Boulder City Municipal Pool added a new wrinkle to the tried and true tradition of the Easter egg hunt.
This year, the aquatic facility held the first Easter Pool Plunge, where children swam and dove for dozens of plastic eggs, each carrying a special toys or prize. Most of the eggs contained small toys like plastic animals and dinosaurs or bouncy balls, but the luckiest children found eggs containing a special coin that could be traded in for larger rewards like squirt guns and inflatable guitars.
In three groups, divided by age, 39 children took their turns filling the pool and swimming with all of their might to catch the sinking treasures.
The event emigrated to Boulder City with Assistant Aquatics Coordinator Cheree Brennan, who had overseen pool plunges during her time working at the Air Force base in Mountain Home, Idaho.
"It was a perfect turnout for the first year, a bit of controlled chaos," said Brennan. "We're just happy to provide a unique new family-friendly event for the community."
The aquatics coordinators are hoping to add more special events to their calendar and thought the plunge went so well that, according to Brennan, they plan on bringing it back "even better next year."
The pool is open year-round, except for two weeks in September, when it closes to put up the all-weather bubble, and two weeks in May, when it is taken down.
Contact reporter Hunter Terry at hterry@bouldercityreview.com or call 702-586-9565. Follow him on Twitter @HunterBCReview