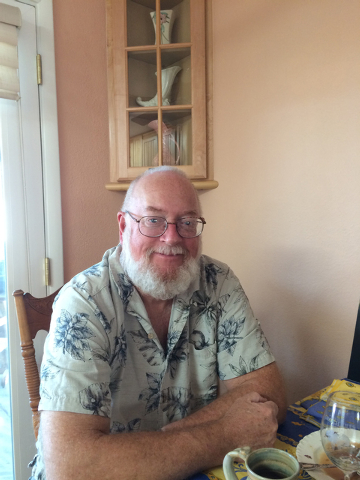 Duncan McCoy likes pie! When he asked his late wife, Mary, to make them for him many years ago she said "No!" She didn't want to do it.
So he did what he does with everything else in his life and learned how to do it himself.
"Anyone can make pie filling, but you have to learn what the pastry feels like," he said recently while standing in his kitchen. "It just wasn't her thing and, after a while, when she got tired I took over most of the cooking."
McCoy has done that with most of the things he has learned in his life.
The son of an Episcopal priest who traveled the "circuit" for many years, when he was about 12 he landed in Las Vegas, where he completed his education including degrees from UNLV in anthropology and history. He later received his master's degree in library science after spending four years in the Navy.
"I was playing guitar at Red Rocks when I met Mary; she wasn't overly impressed but I was." Married for 43 years, he lost his beloved friend and partner last year.
"We cooked together for the family gatherings, Thanksgiving and Easter, etc., and sometimes we would feed 125 or more. This year, for Easter, I'll help my sister-in-law Martha Hunsaker make the family meal," McCoy said. "I also have to make a strawberry-rhubarb pie for Mary's mom. That recipe is over 100 years old."
Their daughter, Elizabeth Stayner, attended the culinary program at College of Southern Nevada and graduated from the hotel management program at UNLV.
"She lives in Napa, Calif., now and, although she isn't cooking for a living, it is a wonderful place to visit and enjoy."
McCoy currently serves on the Boulder City Council and his additional duties are being a member of the Colorado River Commission.
He reminisces about riding motorcycles and building and repairing them while he uses brown sugar, butter, vinegar and mustard to create a sauce for vegetables. Sticking a finger in the pot to taste, he says, "always have to make sure what it tastes like before you serve it."
The kitchen in his home is small enough to stand at the stove to stir a pot with one hand while placing a fork in the sink behind him. However he proves that it's not the size of the kitchen but the love and expertise he puts into each dish he produces. His actions and movements are as practiced as those of any professional chef and all of his measurements are cursory at best. It is obvious that he enjoys making food for friends.
Having served in several major library districts, he landed in Boulder City where he worked for many years in the library program here.
McCoy is an avid photographer and sometimes turns his kitchen into his "darkroom" to create some of the intriguing pictures displayed around his home. He is an avid bike rider who has settled down to just his scooter for around town and enjoys the feel of the wind in his face as he putters around town.
"It could go a lot faster, but I don't need to go fast," he said.
Visiting with McCoy for lunch was a memorable experience that will last a long time. He opened a bottle of pinot recently acquired on a trip to Napa and gave this advice: "Be sure to write down family recipes for those who come later. They are more important than passing on the china or the silverware."
Strawberry-Rhubarb Pie
Pie pastry
3 eggs
¼ cup milk
1¾ cups granulated sugar
1/3 cup flour
1 pound rhubarb, cut into ½-inch pieces
1 cup strawberries, cut up
1 tablespoon unsalted butter
Egg wash: 1 egg and 1 tablespoon of water beaten together
Beat eggs slightly with milk in a large bowl. Beat in flour to blend with egg mixture. When flour is blended, stir in the sugar, then the strawberries and rhubarb. Pour into lower pie shell, dot with butter and cover with lattice pastry top. Brush egg wash on the pastry top.
Bake in a 400 degree oven for 60 minutes or until pastry is golden. (I bake for 55 minutes, then check and continue 5 minutes at a time until it looks right.)
Mary said this was her Grandma Hattler's recipe.
Duncan's Pie Pastry
2 cups all-purpose flour
½ teaspoon salt
1/3 cup Crisco
1/3 cup unsalted butter
1 tablespoon sugar
7 tablespoons cold tap water
Sift the flour, salt and sugar into a large bowl. Add the Crisco and butter and blend into the flour with a pastry blender until the mixture is flaky and fine.
Make a well in the center of the mixture and add the cold water. Cut the water into the mixture with a table knife until the moisture is well distributed throughout.
Knead the dough into a ball and work it until it feels smooth and uniform (this shouldn't take more than a minute or so).
Wrap the dough in wax paper and refrigerate for about 20 minutes.
I generally make the pie pastry first and make the pie filling while the dough is resting in the refrigerator.
Pork and Onions with Whiskey
½ cup all-purpose flour
Salt and pepper
6 pork chops or other pork cut
2 tablespoons butter
2 tablespoons canola oil
2 yellow onions, thinly sliced
2 cloves garlic, minced
2 tablespoons brown sugar
1¾ cups chicken broth
¼ cup good whiskey
Mix 1 teaspoon salt and ½ teaspoon pepper in with the flour. On a plate, roll the pork in the flour to coat. In a medium-hot skillet, add the oil and butter; brown the pork.
When browned, put the pork in the bottom of a slow cooker and set aside.
Sauté the onions and garlic in the skillet with the oil and pork juices for about 2 minutes or until the onions begin to soften. Add the brown sugar and cook until the onions begin to brown, another 5-8 minutes. Add the chicken broth and whiskey to deglaze the skillet and bring it to a boil.
Put the onion and broth mixture on top of the pork in the slow cooker. Cook on low for 6-8 hours.
Serve over brown rice, farro or noodles.
You can season this to taste with salt and pepper. Add a little hot sauce for some zest, whatever. It can also be cooked in a Dutch oven at 325 degrees for about an hour.
The cut of pork is not critical. I like to use the really cheap pork they sell as country-style ribs. This cooks so long that an inferior cut of meat works just fine.
Mustard Butter Sauce
3 tablespoons brown sugar
2 tablespoons cider vinegar
1 tablespoon Dijon mustard
2 tablespoons unsalted butter.
Combine sugar, vinegar, mustard and butter in a pan. Cook over medium-high heat, stirring, until the mixture bubbles vigorously.
Stir in or pour over vegetables. Season to taste with salt.
This works great with most any cooked vegetable. I've used it with steamed broccoli, Brussels sprouts, asparagus, green beans and carrots. It takes about 30 seconds to make the sauce. A small saucepan or little skillet will do.
I adapted this sauce from a recipe my daughter had. I don't know where it came from, but this is one of the handiest recipes around. It's yummy, quick and super simple to make.
Liz's Beans
16 ounces beans, soaked
2 ham hocks
1 large onion, chopped
2-4 cloves garlic
48 ounces stock or light beer
1 package bone-in short ribs, optional
If using the short ribs, brown them first.
Put it all in a slow cooker and cook on high for 8-10 hours.