Educator turns love of travel into novel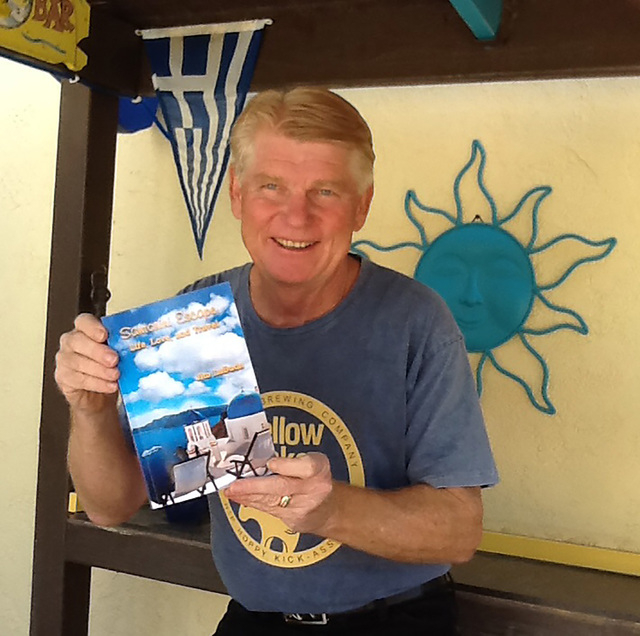 Jim LaBuda educated youngsters in Boulder City for eight years before moving on to the world of higher education and now, almost 15 years later, he has found a new calling and is sharing the stories of his travels in his first novel, "Santorini Escape."
LaBuda was a fixture in Boulder City for the better part of a decade, first as principal of King Elementary School and then Garrett Middle School around the turn of the millennium.
Since retiring from education and Nevada State College, LaBuda found himself looking for an outlet and found it in combining his skills as a writer with his love of travel.
After a few years writing the monthly column "Side Roads" for Destinations Travel Magazine, LaBuda found himself enamored with what he calls his second home, the island of Santorini in Greece.
"From our first trip to Greece nearly 10 years ago, we fell in love with the island," said LaBuda. "It's so beautiful and the people have been so kind and welcoming, now it's like we're part of the family."
LaBuda set to work on a story of love, life and travel, much of it drawn from he and his wife's experiences over the past few years, exploring and finding a new life after work.
LaBuda, who lives in Henderson, originally published the book as a romance novel but it has found a home with a second audience as a Greek travel guide, climbing as high as No. 17 on the Amazon rankings, out of well over 1,000 in the category.
LaBuda will appear for a book signing and presentation at 6:30 tonight at the Boulder City Library, 701 Adams Blvd.
"Santorini Escape" is available to order on Amazon for Kindle and at http://santoriniescape-lifeloveandtravel.com/
Contact reporter Hunter Terry at hterry@bouldercityreview.com or call 702-586-6711. Follow him on Twitter @HunterBCReview.