Eagles place second in tree decorating contest
December 12, 2013 - 5:33 am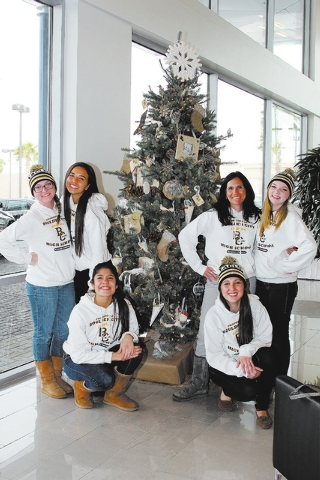 The Boulder City High School student council decorated its way to a second-place finish and a $2,000 prize in the 16th annual Christmas Tree Decorating Contest sponsored by Valley Automall in Henderson.
Four judges visited each of the 18 dealerships Dec. 3 and scored the schools on creativity, school spirit and Christmas spirit. First place and $3,000 went to Coronado's school band and third place went to Cheyenne.
Boulder City's vintage-­inspired tree was themed "The Good Old Days at Boulder High" and represented the years of tradition and growth in the city since it was established in 1941.
"We placed second in the competition out of 18 trees, and I am so proud of the kids," Eagles student council adviser Cheryl Herr said. "I think that the school's alumni will get a kick out of the tree because they may find a picture of themselves on the tree."
The Eagles' award-­winning tree at the Mercedes-­Benz of Henderson dealership and others throughout the auto mall will be on display until after the new year.
"My favorite part about decorating the tree was looking through old yearbooks," sophomore Velzani Moncayo said. "Boulder City has so much history."
The students used eggs as ornaments to represent students in their youth. Teachers were represented around the Christmas tree by various birds that nurture and encourage the students to spread their wings so that they can ultimately grow into one, independent, mighty Eagle, Herr said.
"Because Eagles fly alone, which is why there is only one Eagle on our tree, it represents all of our graduating students as they have hatched and must now go out and 'Soar like an Eagle' in the world," she said.
The Automall gave each school $300 for expenses.
"We scanned photos from yearbooks from the years 1942 to ­1967, printed the photos and used them as the main ornaments on the tree," senior Emma Herr said. "It was fun looking in the yearbooks and comparing the then-and-­now pictures of Boulder City. We had a lot of fun learning about the school, former teachers and discovering old traditions."
Part of the prize money was donated to the National Honor Society and to the school's cheerleaders to help them buy gift-card stocking stuffers for students in need. A portion of the money will be used by the student council to help fund its April trip to the Nevada Association of Student Councils state conference in Elko.
On a separate note, the student council and other students went door to door in November and collected nearly 600 cans of food that were donated to Emergency Aid of Boulder City.
"We were able to collect so much in one evening thanks to generous Boulder City residents," Cheryl Herr said.
The student council's next project is a Feb. 4 blood drive themed "Rock and Roll up Your Sleeves."