Doodlebug returns: Annual holiday bazaar features handmade crafts
December 5, 2017 - 3:55 pm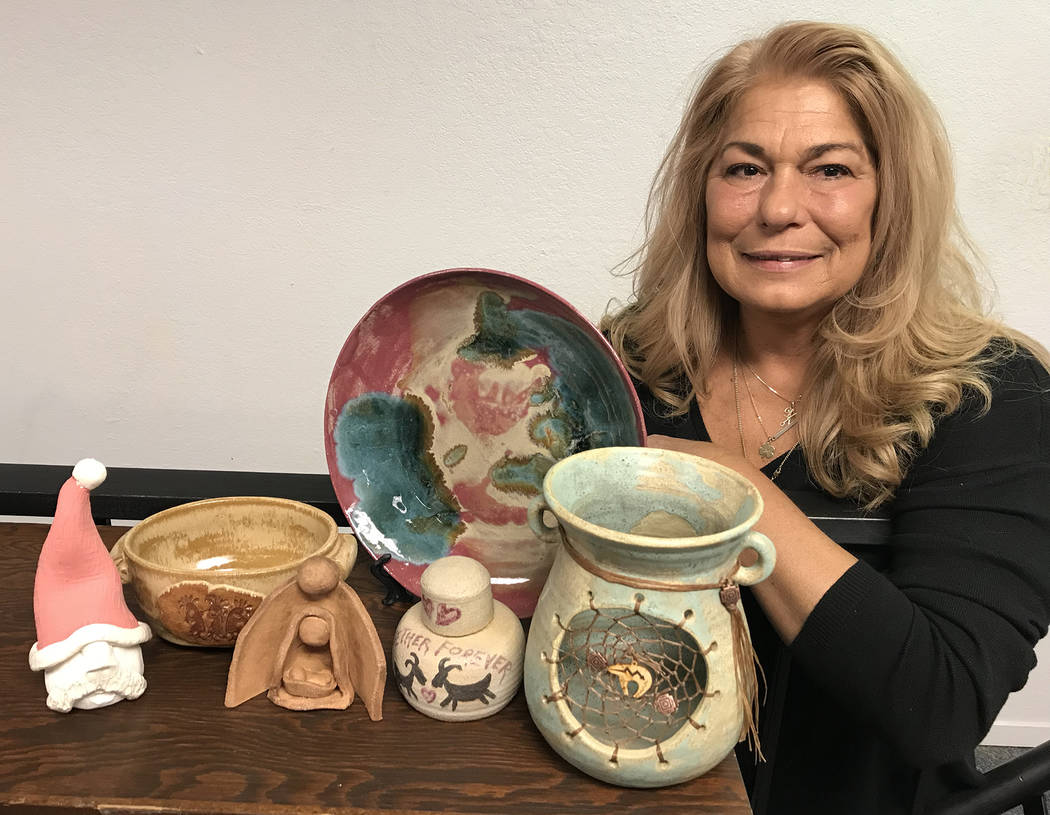 If it's the first Saturday in December, then you know hundreds of people will be heading to the Boulder City Parks and Recreation Center for the annual Doodlebug Bazaar.
The 43rd annual show, featuring a variety of homemade wares, will be held from 9 a.m. to 4 p.m. at the center, 900 Arizona St. It is presented by the Boulder City Community Club.
"Doodlebug is unique in that all craft items must be handmade, therefore the quality is exceptional," said Cindy Lochner, event chairman for the past four years.
She said there will be 135 vendors from throughout Southern Nevada, Utah and Arizona.
"Some have been with us for 15- to 20-plus years. For many of the crafters, it's a family affair with sisters, mothers and daughters, fathers and sons, and sometimes the whole family staffing a booth," she said.
Club member Debbie Hagan is a first-time vendor at the bazaar. She will showcase her wheel-thrown and handcrafted pottery and ceramics. Among the items she will have are casserole dishes, plates, vases, holiday decor and memorial urns, all of which are signed and dated, as well as kiln-fired.
Many of her pieces are inspired by the desert Southwest. She said she likes the colors and themes of the Southwest and is especially fond of kokopellis.
Hagan said she has been creating pottery since 1973 when she took a class in high school. She also taught for the parks and recreation department here and in St. Petersburg, Florida.
Hagan, a hair stylist at Bella Salon who uses the name the Hairy Potter for her work, was instrumental in starting the ceramics program at the Boulder City Art Center in ABC Park.
Though this is her first time at Doodlebug, she has exhibited and sold her pottery at shows presented by the Boulder City Art Guild. She often joined her late mother, Georgine Morelli, who was a noted watercolor artist.
One of the reasons Hagan joined the Community Club was because of the Doodlebug Bazaar.
"They do a lot of good with the money raised from the Doodlebug," she said.
All proceeds from vendor fees, food sales and raffle tickets are donated back to the community. In the past, the club has made donations to organizations such as Emergency Aid of Boulder City, Lend A Hand of Boulder City, Senior Center of Boulder City, Boulder City Animal Shelter, Boulder City Library and St. Jude's Ranch for Children.
Lochner estimates that between 2,000 and 2,500 people will attend the bazaar. It's such a holiday tradition that in 2014 Mayor Rod Woodbury declared the first Saturday in December as Doodlebug Bazaar Day.
"It is always a festive, fun atmosphere; everyone is in the holiday spirit," she said.
Lochner said she devotes time throughout the year to send out and process applications from those wanting to participate in the bazaar.
Club members also spend hours helping set up and work during the event, as well as recruiting assistance from family and friends.
"I think I speak for everyone involved. It's a labor of love and giving back to our wonderful community," Lochner said.
Hali Bernstein Saylor is editor of the Boulder City Review. She can be reached at hsaylor@bouldercityreview.com or at 702-586-9523. Follow @HalisComment on Twitter.
If you go
What: Doodlebug Bazaar
When: 9 a.m.-4 p.m. Saturday, Dec. 2
Where: Boulder City Recreation Center, 900 Arizona St.
Cost: Free