Donation adds up for students: Copper Mountain gives King Elementary funds to buy new math program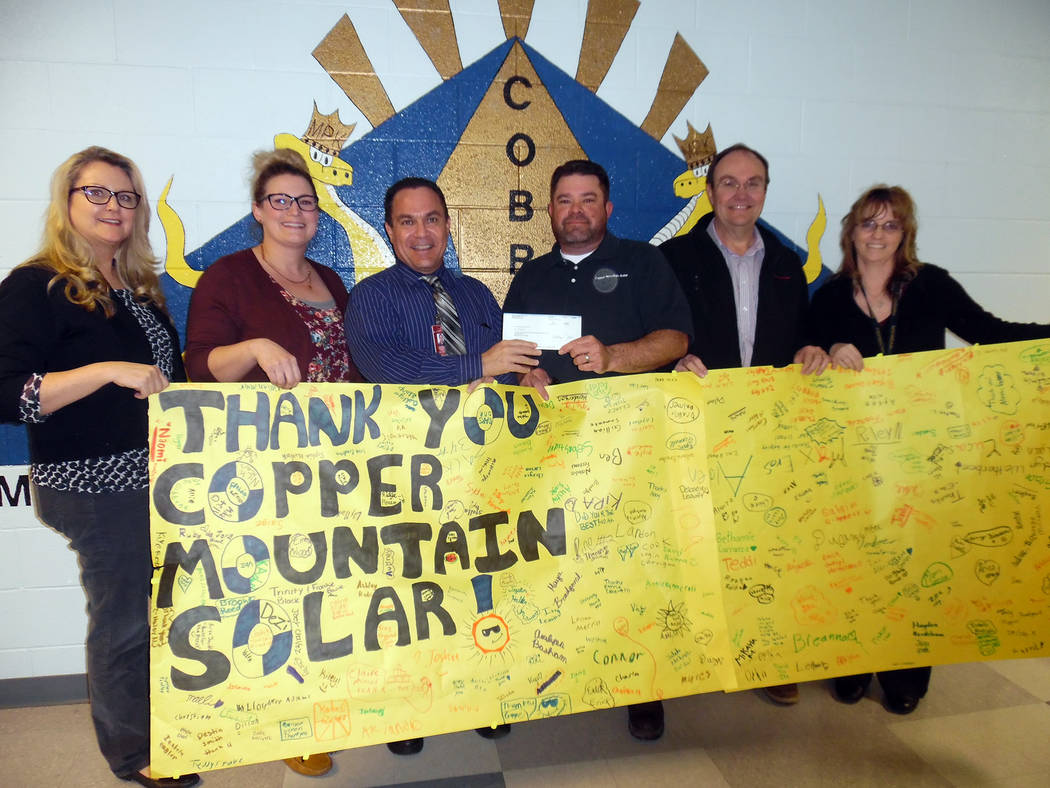 When it comes to teaching students math, it's a lot more complicated than having them use their fingers to count numbers, add or subtract. Fortunately, King Elementary School students have a new multidisciplinary program that goes beyond the basics.
EnVision 2.0, which is aligned with the school's current curriculum, offers a variety of ways to reach students, including books, manuals, online lessons, games and videos, said Annaliese Rogers, the school's math and science teacher.
The school was able to purchase the program thanks to a recent $5,000 donation from Copper Mountain Solar/Sempra Renewables.
The entire student population will benefit from the new program, according to fifth-grade teacher April Hoover.
Hoover, whose husband works for the solar energy company, arranged for a presentation of the district-approved program.
"It was very impressive. We wouldn't have known about this if April hadn't come to us," said Justin Hawkins of Copper Mountain Solar, adding that they brought the request for the donation to their corporate office for approval.
The company is a strong supporter of the community and regularly donates funds for special events and activities.
"When you give to us, you give to the whole community," Hoover told Copper Mountain officials when they came to present the donation March 2.
Principal Tony Gelsone said the program, which costs more than $5,000, was adopted during recent curriculum updates and offered to the schools, but there were no funds to implement it.
"Each school has to pay for it if they want it," he said.
Rogers said the program gives them multiple options to fit with each student's abilities. It also has a component for parents to use so they can help their children learn.
"What I really like about the program is that it pushes a higher level of thinking; it makes them dig deeper," Rogers said.
Hali Bernstein Saylor is editor of the Boulder City Review. She can be reached at hsaylor@bouldercityreview.com or at 702-586-9523. Follow @HalisComment on Twitter.